Car rentals in Oman: Most popular car rental destinations
Book a rental car in Oman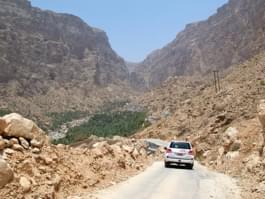 Oman by rental car
Discover Oman with a rental car on your own! Tourism is a relatively new industry in the Sultanate of Oman. If you are travelling by rental car, you will encounter some contrasts: barren deserts, green oases, endless beaches and rugged mountains. Experience the varied country of Oman with a rental car independent and flexible. The easiest way is to pick it up right after your arrival in Oman in Muscat or at one of the airports: Maskat Airport or Salalah Airport.
Which rental car model is suitable for Oman?
The most convenient way to explore the Sultanate of Oman is by rental car. This means you will always be flexible during your journey and able to explore your destinations independently. Depending on your program in Oman, a different rental car model is suitable. Below you will find a brief overview of the different types of vehicles that you can rent in Oman.
Discover the highlights of Oman by rental car
One of the most important monuments, the Sultan Qabus Mosque, is easily accessible by rental car. Whether you drive by rental car over rocky ridges or into the gorges of Oman, you will find fortresses everywhere. It is also worth driving to the various excavation sites by rental car. Discover, for example, the necropolis from the Umm-an-Nar period or the beehive graves, which are UNESCO cultural heritage sites. In the list below, you will find some examples of famous sights you can visit with your rental car in Oman.
Rimal Al Wahiba
Dschabal Schams
Wadi Shab
Wadi Tiwi
Nizwa Fort
Bait Al Zubai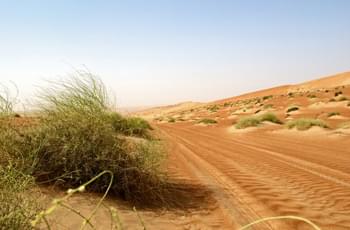 Wahiba Sands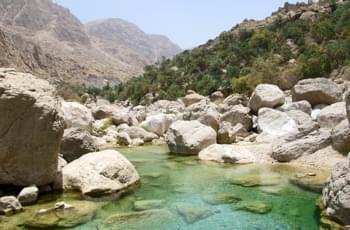 Wadi Tiwi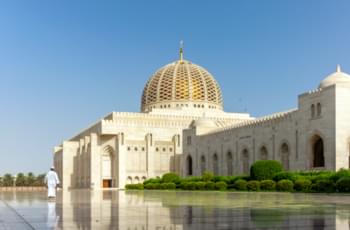 Mosque
What you should know about Oman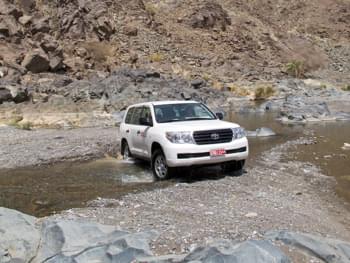 The suitable vehicle for your journey
Below, you find general tips for driving in Oman:
Oman follows right-hand traffic
Never ever run a red light
It is forbidden to use your mobile phone for calling or texting while driving
When it comes to seatbelts, all passengers are obliged to wear them
Enjoy the benefits of a rental car
With a rental car, you can enjoy the beautiful landscape of Oman. It gives you the opportunity to design your stay flexibly and independent of public transport and tourist groups.
A car rental allows visiting remote places, hidden trails or restaurants with a view, impossible to get to by taking a taxi or a bus. These special places are usually inaccessible by bus. Also, there is nothing better than a car waiting for you at the railway station or airport. Nothing more comfortable than not having to carry your luggage to the bus or tram, or paying taxi airport additional charges for it.
What are the options for my rental car?
INSURANCE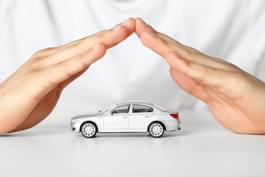 With the right insurance through Oman
Even if you drive very carefully and safely, damage may occur to the rental car. To ensure that you can continue your journey without stress, we recommend that you take out fully comprehensive insurance without excess. In the event of damage, you will have to advance the costs. However, you will be reimbursed by your insurance company after your arrival back home. Simply submit the relevant receipts when you return from Oman.
One-way rental
For those who want to do a road trip to Oman with a rental car, the one-way rental might be the best option. This means that you can pick up your rental car at the location of your choice and return it conveniently to another location. This is particularly useful if you are heading for cities that are far away from each other, such as Muscat, Salalah and Seeb.
Additional driver
What does the additional driver option actually mean? If you specify another person as an additional driver when booking, you can take turns driving the rental car. Distances in Oman are often very long. If only one person drives the rental car, this can be quite exhausting. So that the driver can sit back and relax, too, you can simply hand over the steering wheel to the additional driver.
Visit different cities with your rental car
With your hired car, you can explore a variety of different cities in Oman flexible and independent. Below you will find a list of cities that you should definetly explore with your rental car.
Muscat
Salalah
Seeb
Sohar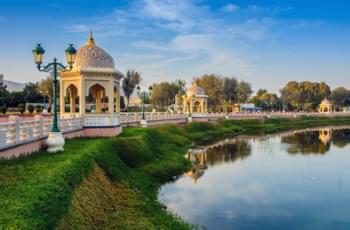 Muscat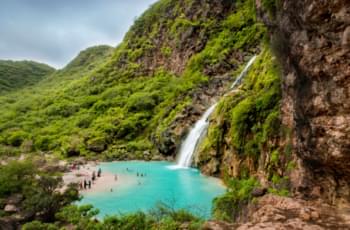 Salalah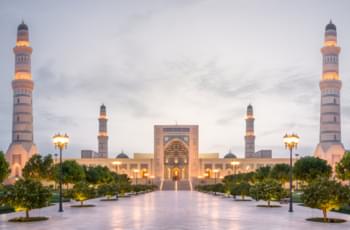 Sohar