Travel through Oman with your rental car
Ayn Khor Wasserfälle, Oman
Muscat is the capital of Oman. In recent decades, the country has developed itself from a heavily backward state to a modern wealthy state. The social and economic situation has improved considerably. More than 4,6 Million people count Oman as their home. Nearly 1,7 Million of them live in the capital. The best way to explore the country is to rent a car. The condition of public transport is not very good, the distances are far. When choosing a rental car you are flexible and independent.
Car hire in the city of Muscat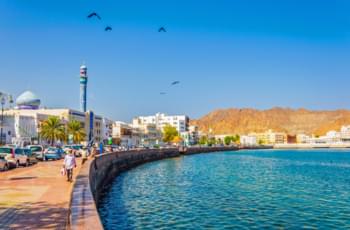 Muttrah district, Mascat
Most of the rental car stations are at airports and train stations. You will not only find rental cars at the airport though. There are also many partners in city areas. Please remember that there is always a deposit required for car rentals in Oman. Usually it is just possible to pay the deposit with an internationally accepted Credit card. Further information can always be found in the rental conditions of the chosen offer. What are rental conditions? If you have any further questions, our service team will be happy to help you by e-mail or telephone. What insurance do I need for a rental car? There are usually two different types of insurances which are offered on Driveboo by our partners. The first one is fully comprehensive insurance with deductible. This covers damage to the rental vehicle. However, you are also liable for a certain amount by yourself. That is why you will be required to pay a deposit. There is also fully comprehensive insurance without excess. If you decide to book an offer including this insurance, the car rental station will keep your deposit in case of damage. However, the supplier will refund this amount. Therefore you are not liable for any costs, that is why we would recommend this insurance to you.
Where can I find car rental stations at the Airport of Muscat?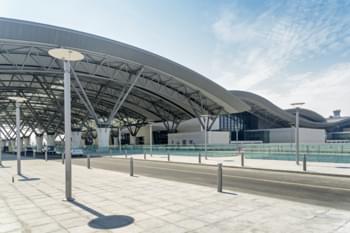 Muscat International Airport - MCT is the country's most important airport. You will be able to find a lot of different car rental stations located directly at the airport. It can happen that car rental offers for airport are very expensive. That's why it is best to book online in advance. Where can I book rental cars online? Driveboo offers you not just to compare prices online, but also to set filters to find the perfect car for your demands. You need a compact car? No problem, select different car categories. You want to be fully insured? Don't worry you can chose all included services exactly how you would like them to be. If you have any further questions during or after the booking, our service team would be happy to receive a call or mail from you. How do I fly to Muscat airport? There are many airlines flying to Oman from all over Europe.
Which car rental stations can I chose from on Driveboo?
Here you find our current partners offering rental cars at the airport.
Avis

Budget
Dollar
Europcar
Hertz
Interrent
Thrifty
What are the opening times of the car rental suppliers at the airport?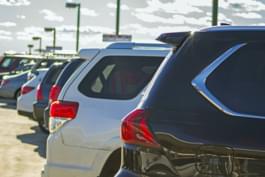 All stations are open 24 hours a day. That is why it really doesn't matter if your plane arrives at 5 AM in the morning, or 10 PM in the night. You will still be able to pick up your car. You are directly prepared for your roadtrip in Oman with the right car. Where can I find car rental stations at Muscat Airport? When passing the security check, you will find a car rental center with all internationally known suppliers in the arrivals area.
Trips with your rental car from Muscat
What things can I do outside of the city center of Muscat? The capital is located in the middle of Oman. With your rental car from Driveboo you will have an easy time driving to the different sights and cities of the country. It's worth getting to know the surroundings of the Mascat region. So you can easily experience the country and its people with your rental car.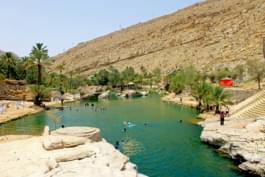 Have you always wanted to see an oasis? Experience the home of Arab nomads in Oman. Wadi Bani Khalid is a valley filled with water in the sand dunes in the middle of the desert. Deep bluewater with palm trees, here you can find a real oasis. Traveling with the hired car you reach this natural spectacle after only a short time of driving. When approaching, you should definitely drive along the Wadi
.
Discover the beautiful sunrises and sunsets in the desert of Oman. The Wahiba Sands are 180km long desert next to the coast. You can also find some camels. It is best to drive your rental car along the roads and simply stop where ever you want. Be careful not to forget to turn on the air conditioning.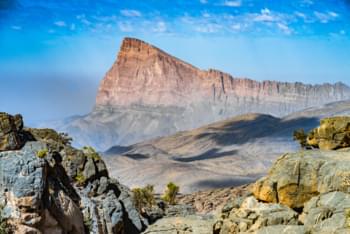 The altitude of Jebel Sham is more than 3000m. Therefore it is the highest mountain of the country. It can be climbed without mountaineering experience. The mountain can be explored by car or on foot. So you can either park your rental car at the bottom of the summit or drive up the complete mountain as a day trip with the rental car. However, you should always choose an SUV or four-wheel drive vehicle.
How far are these important destinations to Muscat City?