Rent a car at Milan-Malpensa Airport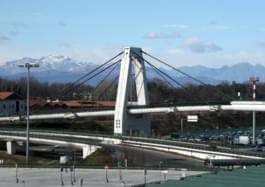 Milan Airport
With a rental car from Milan-Malpensa airport MXP you are on your way to the beautiful region of Lombardy in Northern Italy. Numerous lakes, mountains and the mild climate invite you to explore with a rental car. By booking your rental vehicle through the price comparison you can easily and conveniently choose your desired offer including additional services from the numerous car rental companies at the airport. Thus, nothing stands in the way of a relaxed journey to Milan!
Starting spring with a rental car from Milan Malpensa Airport
Get ready for a big load of dolce vita in Milan in spring. The Italian fashion metropolis lures with exciting sights and lots of shopping. Feast your way through the gelato shops, cafés, trattorias and much more. The perfect spring weather in Milan will give you an unforgettable short trip. The best thing to do is to rent a car at Milan Malpensa Airport. This way you are not dependent on public transport. If you are mainly in the city center during your spring vacation, you can also reach many things on foot. Visit the most beautiful sights, such as the Milan Cathedral or the Galleria Vittorio Emanuele II and then relax in the park in the spring sunshine. Flowering wisterias immerse Italy's fashion metropolis in a splendor of colors. Milan will definitely not disappoint you. Let the spring evenings fade away in one of the bars or restaurants with wine and Italian delicacies. Make sure to try cannoncino, risotto alla Milanese and panettone. This will make your gourmet heart beat faster. Well, are you ready for your trip to Milan in spring?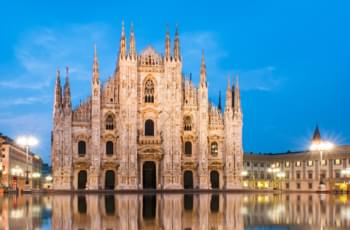 Milan Cathedral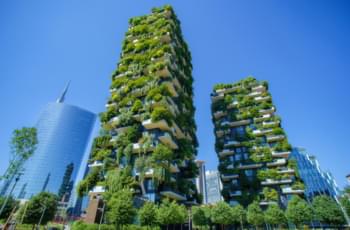 Bosco Verticale, Milan
Car rentals at Milan-Malpensa Airport
If you would like to rent a car at Milan Malpensa Airport, the following car rental companies are at your disposal:
Car Europe
Avis
Budget
Hertz
Locauto
Maggiore
Europcar
Sixt
Which airlines fly to Milan Malpensa Airport?
Many airlines fly from Germany, Austria and Switzerland to Milan and back. But also long-haul flights, such as to New York City are offered from Malpensa Airport. You can find a selection of airlines and their destinations in the German-speaking world here:
By rental car, bus and taxi to Milan Airport
The Malpensa Express express train leaves Milan Cadorna station every half hour to Malpensa airport. The journey takes about 40 minutes, tickets are available at the ticket machine or online. On the way the train stops in Milan-Bovisa, Saronno and Busto Arsizio. Members of the Lufthansa Miles&More bonus program can redeem their award miles for one trip or earn new miles by presenting their customer card. There are several shuttle buses to Milano Centrale station, such as the Malpensa shuttle, which leaves every 20 minutes. Taxi stands are located in the arrivals area of Terminal 1 at Exits 4 and 5 and in the arrivals area of Terminal 2.50 km from the centre of Milan, Malpensa Airport is easily accessible by rental car.
Facilities at the airport
Free Internet access via WLAN available throughout the airport and can be used without registration. The speed is reduced to 512 Kbps, but there is no time limit. Discover the wide range of bars and restaurants at Milano Malpensa Airport. Many delicious refreshments and culinary delicacies whet your appetite! Terminal 1 offers you the most gastronomic offers, but you don't have to search long in Terminal 2 either. Shopping and last-minute shopping is also possible at the airport. There are branches of the well-known brands and designer labels as well as a Carrefour supermarket, kiosks and of course a Dufry duty-free shop.
Rent a car and explore the city of Milan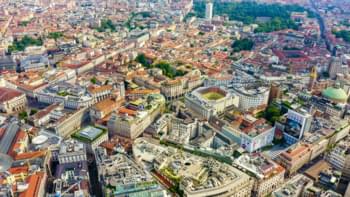 Blick über Mailand
Milan is Italy's financial capital and, together with Paris, one of the world's fashion capitals. In the Middle Ages and early modern times, Italy's present-day economic metropolis was one of the most important trading and finance centres south of the Alps, alongside Venice and Florence. Since the Roman Empire, every era has left its architectural mark on the city. Under the influence of the Dukes of Milan, the city developed into a nucleus of the Italian Renaissance. The artist Leonardo da Vinci, who is regarded as the epitome of the universal genius, has worked here for a total of 25 years of his life. Some of his few surviving works can be found in the collections of various Milan museums. His mural "The Last Supper" in the monastery of Santa Maria delle Grazie is now a UNESCO World Heritage Site. The city's fashion and textile industry is world-renowned. Terms such as Milanese design and Milanese chic are regarded as trademarks for goods from the high-price segment. As a tourist destination, Milan is therefore particularly interesting for cultural and shopping tourism.