Explore Milan and Italy with a rental car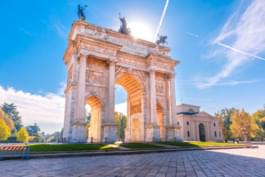 Arc of Peace, Milan
Milan is the ideal starting point for a trip through Lombardy by rental car. With 1.3 million inhabitants, Milan is the second largest city in Italy. Due to the high volume of traffic, you should always be alert when you are traveling by rental car. However, the outskirts of the world-famous fashion metropolis can be ideally explored by rental car. With our car rental check you can compare the offers of car rental companies in Milan and book a rental car online. Enjoy the advantages of independent travel and reach your destination quickly and easily.
Explore the fashion metropolis Milan in autumn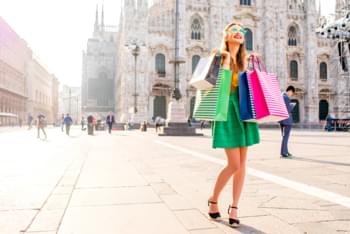 Shopping in Milan
The beautiful weather in autumn attracts many visitors to the Italian fashion metropolis Milan. In the months of September, October and November the temperatures in Milan are still very pleasant. Use the beautiful autumn weather to visit the most popular sights in Milan. In addition, the Milan Autumn Fashion Week Milano Moda Donna takes place at this time of year. Then the most important fashion designers in Milan set the trends for the coming season. Be there live and then plunge into the summer sales. Get the best bargains in all of Milan or alternatively take a relaxed approach. Stroll through the streets of Milan and soak up the sun again. This will be your autumn in Milan.
Where can I rent a car in Milan?
Whether in the city itself, at one of the three airports - Malpensa (MXP), Linate (LIN) and Orio al Serio (BGY) - or at the central station, you will find numerous car rental companies. Depending on where you start your journey, you have many options available to you. Take advantage of DriveBoo and get a detailed overview of the providers and available vehicles.
Benefits of renting a car at the airport:
Competitively priced offers
Many different providers in one location
Higher availability of vehicles
Longer opening hours
No transfer to car rental necessary
Are there any toll roads in Milan?
In Milan, since 2012, there has been a city toll within the city ring "Cerchia dei Bastioni". A day ticket costs 5 euros. The fee is charged on weekdays between 7.30am and 7.30pm. Tickets are available at Milan's transport services outlets and newspaper and tobacco shops.
Where can I park my rental car for free in Milan?
In the city centre, parking is charged almost everywhere. It is free only within the white-marked parking zones. Blue parking zones are chargeable, yellow parking zones are reserved for residents with parking permits and pink parking zones are for pregnant women and people with children. Parking is prohibited on all of the black-yellow and yellow marked curbs.
What are the speed limits in Italy?
In Italy, there are fewer traffic controls than in most Western European countries, but they still exist. In addition to the conventional speed controls, Italy has the so-called "tutor" control system, which determines an average speed with several measurements along the way. All of the measuring points are always marked. Exceeding the speed limits can be quite expensive. If you drive up to 20 km/h above the permitted speed, you will have to pay at least 150 euros and if you drive more than 50 km/h too fast, you can be fined over 530 euros!
Other useful information about driving a rental car in Italy
On the highway and outside urban areas, you must drive with your low beam or daytime running lights on at all times. If you are caught driving without your lights on, you will have to pay a fine of 41 euros. In addition, it is mandatory to carry a safety vest. In Italy, there are strict traffic rules and heavy fines. Therefore, it is advisable to always follow the guidelines closely.
Do I have to pay a higher deposit in Milan?
It is the norm all over the world to pay a deposit before you drive off in a rental car. Compared to other countries, deposits in Italy are very high. A deposit of €2,000 for a compact car is not uncommon. You must therefore present a valid credit card at the time of hiring—this will be charged the amount of the deposit. Make sure that the credit limit of your card is sufficient to cover the deposit. Examine the car carefully during the pick-up and have every scratch confirmed in writing. This is the only way to prove that you have not caused any damage when returning the car.
Including an additional driver for a rental car in Milan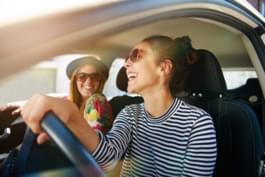 Additional driver option: making vacations twice as much fun
If you plan to share the driving between two of you, it is necessary to register the additional driver. You can do this online or on site. Otherwise, your insurance would only be valid if the registered driver was behind the wheel. Many car rental companies include an additional driver for free. Sometimes a small fee is charged. An online comparison is definitely advisable.
With the additional driver option you will have twice the fun during your vacation in Milan!
What phone numbers should I know while driving in Italy?
What are the best highlights of Milan?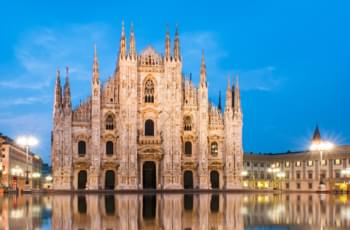 Milan Cathedral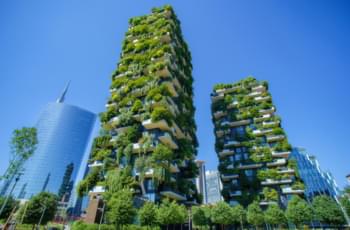 Bosco Verticale, Milan
Duomo di Milano
Duomo Rooftops
Bosco Verticale
Arce dela Pace
Galleria Vittorio Emanuele
Giardini di Villa Reale
Navigli district
Palazzo Reale
Castello Sforzesco
Excursions with a rental car in the surroundings of Milan
While the best way to explore Milan's historic centre is on foot, it is well worth renting a car in order to take a trip around the city's surrounding areas. You can, for example, go for a swim to Lake Como, nestled between the high mountains of the Alps. The enchanting city of Verona, known as the setting of Romeo and Juliet, is also an ideal trip destination. Another exceptionally beautiful spot is the hilltop town of Bergamo, east of Milan.