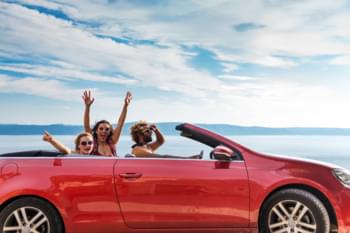 Book a convertible for your holiday
Basically, we recommend a small car for the city, which you can get in Ibiza from 226 $ per week. With a small car you will fit in every parking space easily.
If you are travelling with the whole family, we recommend booking a family car suitable for already 284 $ per week.
However, if you want to go to remote places, it is worth renting an SUV. This way you will always be comfortable on the road and you will not have to worry about whether the vehicle is suitable for the terrain. A suitable off-road vehicle is available in Ibiza from as little as 254 $ per week.
Do you want to feel the wind in your hair and the sun on your skin? We offer convertibles convertible from 362 $ per week as a rental car.
You can find an overview of all different car categories here.