Questions from our customers about car rental in Ibiza
Questions from our customers
That's why travelers choose Driveboo

Booking in only 3 steps. Simple and transparent.

Cancellation free of charge up to 24 hours before pick-up.

Personal advice from our experts.
In Ibiza we recommend the following car rental offers
Frequently asked questions about car rental booking Ibiza
How much does a rental car cost in Ibiza?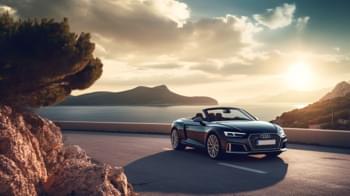 Book a cheap rental car for your trip
A cheap rental car is available from as little as 39 $ per week. We compare the prices of all reputable car rental companies and show you the best offer. Enjoy your holiday with a cheap rental car from Driveboo.
If you only need a rental car for one day, you can rent it for as low as 6 $ per day.
Which rental car is best for a vacation in Ibiza?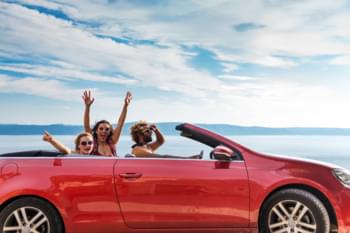 Book a convertible for your holiday
Basically, we recommend a small car for the city, which you can get in Ibiza from 39 $ per week. With a small car you will fit in every parking space easily.
If you are travelling with the whole family, we recommend booking a family car suitable for already 74 $ per week.
However, if you want to go to remote places, it is worth renting an SUV. This way you will always be comfortable on the road and you will not have to worry about whether the vehicle is suitable for the terrain. A suitable off-road vehicle is available in Ibiza from as little as 68 $ per week.
Do you want to feel the wind in your hair and the sun on your skin? We offer convertibles convertible from 89 $ per week as a rental car.
You can find an overview of all different car categories here.
What is there to consider when returning the rental car in Ibiza?
Remember to refuel the rental car before returning it, depending on the refueling regulations.
For the return of the rental car in Ibiza, plan enough time on site. Have the condition of the rental car documented and take the protocol with you. Depending on the provider, you can usually return the car at any time, even outside opening hours. Simply leave the key in the key box provided for this purpose.
Can I book a rental car in Ibiza without a credit card?
A rental car without credit card is available from 38 $ per day. Simply check the box "Bookable without credit card" in the search mask. Depending on the rental company, you can pay by invoice, direct debit, on site with EC card or even with PayPal. Thus, the appropriate means of payment is possible for everyone.
In addition, you can rent a car without deposit already from 38 $ per day. To do this, simply check the box "Bookable without deposit" in the search mask.
What is the minimum age to rent a car in Ibiza?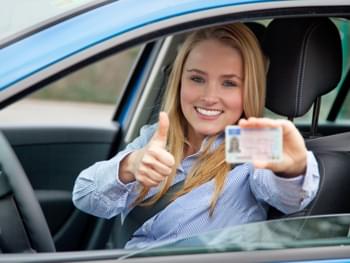 You can already book your own rental car at the age of 18. To do this, simply enter the age in the search mask and select the appropriate rental car for your plans in Ibiza. For drivers under 25 years, there is usually a so-called "young driver fee", which is already included in the displayed rental price. You will not have to pay any additional fees for this on the spot. You will find more information in the rental conditions.
Which sights are a must-see in Ibiza?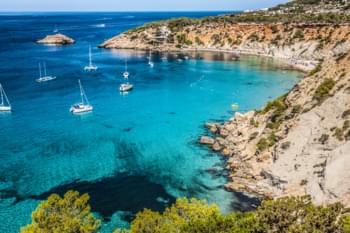 Es Vedrà
There are numerous sights to discover in Ibiza, which you can reach anytime mobile and in the fastest way with your own rental car. We recommend some of the following sights:
Cathedral Santa Maria
Es Vedrà
La Galería Elefante
Cova de Can Marca
Ushuaia Ibiza Beach Club
Which insurance should I choose for my rental car in Ibiza?
For your rental car we always recommend a fully comprehensive insurance without deductible. The legal liability insurance is already included in all offers on Driveboo. Pay attention to a particularly high cover sum.
If you want to explore remote regions in Ibiza, you can also consider an underbody insurance. Optionally you can take out a glass and tire insurance.
You can find more information about the necessary insurances for your rental car in our blog post.
Can I cancel the rental car free of charge?
Cancellation 24 hours before rental is free of charge during our opening hours. If you are unable to make the trip due to coronavirus or other illnesses, you are on the safe side with Driveboo.
Rental car Ibiza - party, sun and great nature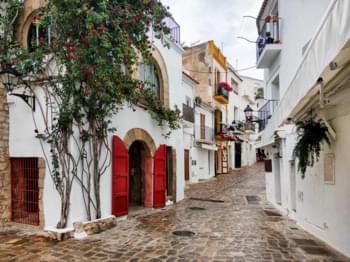 Exploring Ibiza
Explore Ibiza by rental car and discover idyllic places. The Balearic island of Ibiza ranks high among the most popular travel destinations. Rent a car in Ibiza and take a turn through beautiful country roads along the coast. Compare car rentals in Ibiza in our online price comparison. It is best to pick up your rental car at Ibiza Airport. In this way you will be mobile right from the start of your holiday. The streets of the island are perfect for an excursion. Depending on what kind of car you rent in Ibiza, you can also explore the forest paths of the mountains. A trip to Ibiza City is also worthwhile. Mallorca and the other attractive islands of the Balearic Islands are particularly popular among sun worshippers. But Ibiza has a lot to offer as well.
Get to know Spain from its most beautiful side during a road trip
The tourist infrastructure in Spain is very well developed. You can rent good accommodations everywhere. In almost every city in Spain there are branches of car rental companies as well as restaurants and bars with irresistibly delicious offers that are waiting for hungry guests. On the Balearic Islands alone there are three international airports:
If you want to explore the island of Ibiza on your own and independent from public transport, a rental car is the best way to go. With Driveboo you can not only find a suitable rental car easily, but also book it cheaply. With the practical comparison calculator you can choose the best one for you from a variety of offers.
Rental car Ibiza: Eivissa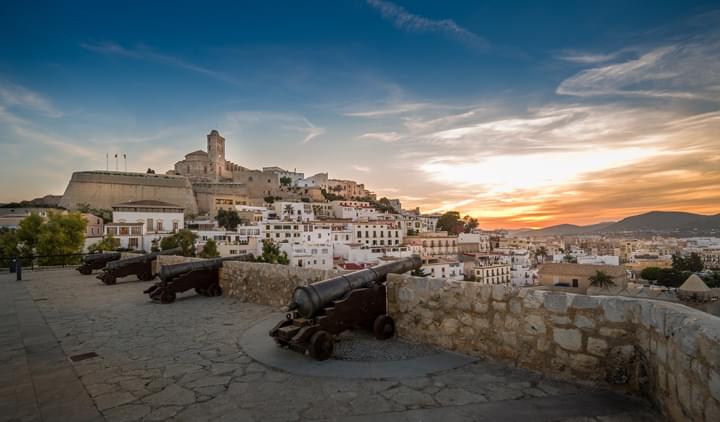 Eivissa City
Eivissa, as Ibiza City is called in Catalan, is the most populated island city with about 50,000 inhabitants. The port city is located on the southeastern coast of Ibiza. The city has been declared a World Heritage Site by UNESCO. Visitors who are interested in the exciting history can book a guide and be guided to the most interesting places and sights.
Go on an Ibiza round trip
Once you've gotten to know and love Eivissa, it's time to move on. We suggest that you circle the island clockwise. But of course it is also possible the other way round.
Take off from the airport and head south. The journey goes past extensive salt mines and salt mountains. You will certainly not forget this sight. Then it is time for a trip to one of the most beautiful beaches of Spain. The choice is yours: Platja d'es Cavallet or Platja de Ses Salines?
Continue west to Sant Josep de sa Talaia. You should not miss the ascent to the mountain throne sa Talaia. The alternative to a rental car is a walk. If you decide for this hike, you can enjoy a wonderful view from the mountain throne.
Have you recovered from the mountain tour? Then we recommend that you drive your rental car northbound. Destination is Port de Sant Miquel. Nearby, famous stalactite caves await curious visitors.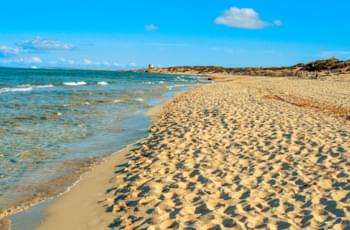 Es Cavallet Beach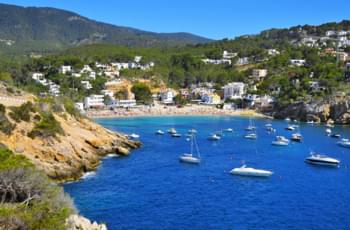 Sant Josep de Sa Talaia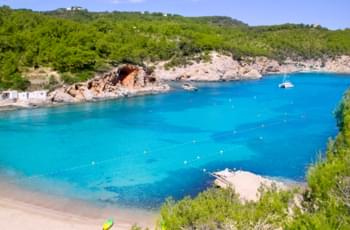 Port of Sant Miquel
Car rental Ibiza: Cheap offers for rental cars
There are some things you need to keep in mind when you will pick up your rental vehicle. Here you will find a few tips for your next rental.
Don't forget to bring your credit card for the deposit, the voucher of the booking, your drivers license and your passport to the rental car station.

Which fuel regulations have you booked? Check the fuel level according to the rental conditions.

Is there any damage or contamination to the rental car? If so, contact the landlord directly.

Aren't you travelling alone? Additional drivers must be registered when booking or picking up the rental car. Otherwise the insurance benefits are nothing and void.