Book a rental car in Colonia de Sant Jordi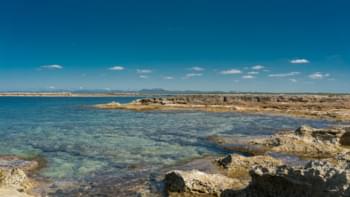 Colonia de Sant Jordi
The sun is shining, the crystal clear waters of the Mediterranean are sparkling away and Colonia de Sant Jordi in Mallorca is just waiting for you to be explored by rental car. Summer is an ideal time to explore the island on your own with a rental car. Enjoy the sun on the numerous beaches, take a hike through the breathtaking nature near Colonia de Sant Jordi or stroll through the picturesque streets of the old town. In the south of Mallorca you will spend an unforgettable vacation and can enjoy the unique charm of the island to the fullest. With Driveboo.com you can find great deals on the right rental car from the comfort of your own home.
Autumn and spring vacation in Colonia de Sant Jordi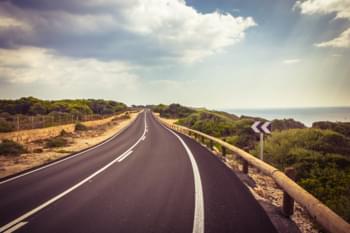 Exploring Mallorca in autumn and spring
Also the spring and autumn months can be used very well in Colonia de Sant Jordi on Mallorca. While in other parts of Europe it is already getting very rainy and gray, Mallorca is an optimal destination for a late year vacation. The temperatures are still very pleasant and even a bathing vacation is possible in autumn and spring due to the high water temperature. If you like to be active outdoors, you can plan a hiking vacation in Mallorca. With a rental car you can reach great starting points for routes through impressive nature. For example, hike through the Llevant Nature Park or on the Alcúdia peninsula. The island can also be easily explored by bike. In Mallorca you will find more than 60 wineries that offer regional products and have their own special charm.
Why do I need a rental car in Mallorca?
Mallorca has been one of the most popular vacation destinations in Europe for several years now. Every year, thousands of tourists are drawn to the island to indulge in the Spanish Mediterranean flair and spend a relaxing vacation. In the surroundings of Colonia de Sant Jordi you can do numerous activities. Be it hiking, scuba diving, taking a sailing course or going for a spin on a bike, the south of Mallorca has a lot to offer its visitors. Although the distances in Mallorca between the different points of visit are not very large, the easiest way to cover them is with a vehicle. So, a rental car is the perfect solution to quickly get from one point of the island to another.
What are the advantages of renting a car in Mallorca?
Flexibility: you are free to decide when you want to go where.
Cost savings: You save costs on alternative means of transportation such as overpriced cabs or buses for sightseeing tours.
Privacy: Instead of squeezing into crowded buses, you can stay relaxed among family or your group of friends with your rental car.
Save time: When you travel with a rental car, you are not dependent on the times of other means of transportation and can set your own travel rhythm.
Where to pick up the rental car in Mallorca?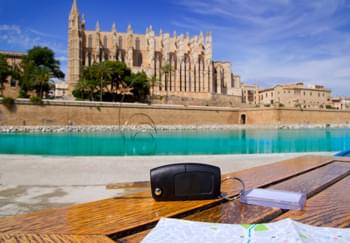 Palma de Mallorca
Mallorca is a popular island that attracts a large number of tourists every year. If you have booked your accommodation in Colonia de Sant Jordi, you can pick up and return the rental car directly there. However, if you reach Mallorca by plane and thus arrive first at Palma de Mallorca Airport, you can also pick up the rental car at the airport. Our local partners are represented at numerous locations on the island, so you will have no difficulty in booking a rental car quickly and cheaply at a location that suits you well. Basically we recommend you to book the rental car comfortably from home and then simply pick it up upon arrival.
Where can you pick up the rental car in Mallorca?
Palma de Mallorca Airport
Palma de Mallorca Stadt
Peguera
Alcudia
Cala d'Or
Can Pastilla
Port de Sóller
Puerto de Pollensa
Sights around Colonia de Sant Jordi
In the south of the island lies the charming and picturesque fishing village of Colonia de Sant Jordi. It is located further away from the island's capital La Palma de Mallorca, but can also delight numerous visitors every year. If you have booked accommodation in Colonia de Sant Jordi, you can easily reach numerous sightseeing points from here by rental car. What should you not miss in the city itself and in the surroundings of Colonia de Sant Jordi?
BEACHES NEAR COLONIA DE SANT JORDI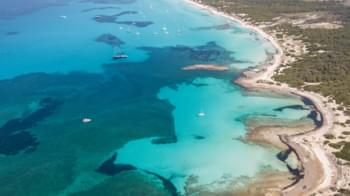 Beach near Colonia de Sant Jordi
Most vacationers visit Mallorca to enjoy time on the picturesque beaches and soak up some proper sun. There are also great beaches near Sant Jordi for your beach vacation. Visit with the rental car, for example, the beach of Es Trenc, which can impress with 3 kilometers in length and is one of the most beautiful beaches on the island. Nearby, located east of Colonia de Sant Jordi, you will find the beach Playa d'es Carbo or Platja El Caragol. With a rental car you can reach all the beautiful places of the island from Sant Jordi and even explore several beaches in one day.
SALT MOUNTAINS SALINES DE LLEVANT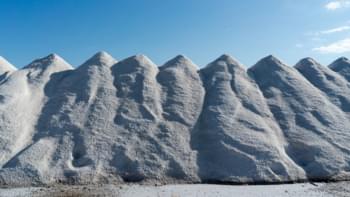 Salines de Llevant
One of the special sights of the island are the salt mountains of the Salines de Llevant. Up to 8,000 tons of table salt are produced here every year. Today the salt mountains are under nature protection and they can be visited with guided tours. During a guided tour you can learn a lot about the history of the salt mountains and afterwards you can even buy great salt mixtures like olive or lemon salt. Nature is also particularly impressive here: more than 150 species of birds live around the salt lakes and salt mountains, so you can also take great photos and enjoy a unique ambience.