Rental car Bodø: Time for an adventure in Norway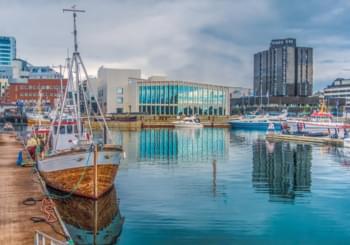 Discovering Bodø
Are you interested in a sea eagle safari, a fishing holiday or even a dive in the tidal stream Saltstraumen? Then you should definitely book a rental car and visit Bodø in Norway. You can find the right car rental in Bodø on our portal Driveboo.com. Compare the offers for car rentals in advance online and book your dream car for Norway. Our portal shows you the offers of car rental companies in Bodø and helps you to book your rental car. What are you waiting for? Book a rental car and the adventure in Bodø, Norway, can start.
Things to know about Bodø in Norway
Capital of the province Nordland
Number of inhabitants: 52.000
Polar night: 15-29 December
Midnight sun: 2 June to 10 July
Economic branches: Service offerings, Tourism
Car rental Bodø: Where you can pick up your rental car
In Bodø you can pick up your rental car either in the city centre or alternatively at Bodø Airport. In order to be mobile in Bodø from the very beginning, we recommend that you pick up your rental car directly after your arrival at the airport. In that way you do not have to rely on public transport or a taxi and can start your well-deserved holiday in Bodø without any detours. The city centre of Bodø is only 1 km away by rental car.
Which car rental model is best for a holiday in Norway?
Which car rental model you choose depends entirely on your wishes and plans for Norway. You have the choice between a small car, an SUV, a minivan, a compact class and many other models. If you're more into city trips, you'll probably be best off in a small car. It is manoeuvrable and you won't have any problems finding a parking space. Are you planning a trip to the breathtaking nature of Norway? Then it's best to use an SUV. These are suitable for off-road use and do not get stuck, especially with four-wheel drive. If, on the other hand, you travel with the whole family or have a lot of luggage or fishing equipment with you, a minivan is an excellent choice. Here you can stow everything safely.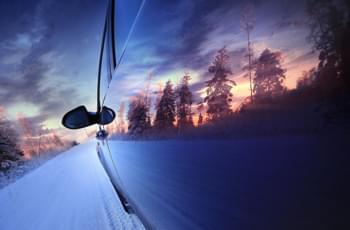 Through nature with the SUV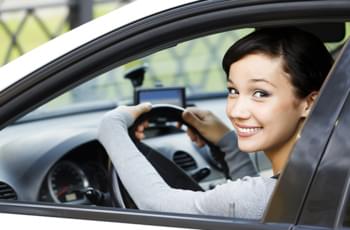 Safe parking with a small car
What sights should I not miss in Bodø?
Bodø awaits your visit with a variety of sights. Bodø has something for everyone, whether you are a culture enthusiast, nature or art lover. See Bodø for yourself as you drive through the streets in a rental car. Don't miss the following highlights:
Popular activities in Bodø
If you enjoy doing exciting things on holiday, Bodø is the place for you. If you are travelling by rental car, you can reach all your desired destinations flexibly. What do you think of the following activities in Bodø?
Experiencing the northern lights
Playing golf at night
White-tailed sea eagle safari
Fishing trip
Diving in the tidal stream Saltstraumen
Kayaking in the midnight sun
Music festivals in August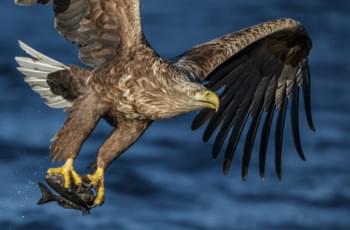 Exciting sea eagle safari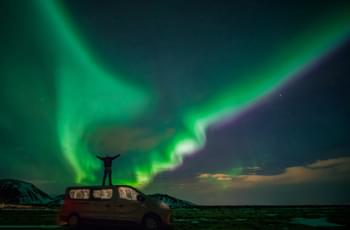 Experience the northern lights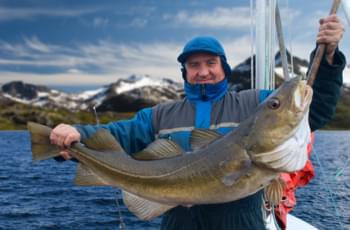 Big catch while fishing
The right insurance for my rental car
Even if you are a safe driver, there may be occasional damage to your rental car. Nobody wants such an incident on holiday. To ensure that you can continue your journey through Bodø and the rest of Norway without stress, we recommend that you take out fully comprehensive insurance without excess. This means that in the event of damage you will have to pay the costs. However, you will be reimbursed by your insurance company on your return from Norway. Simply submit all the supporting documents. You can also take out underbody, glass and tyre insurance for your rental car in Bodø. This protects you against all risks.
What should I look out for when renting a car in Norway?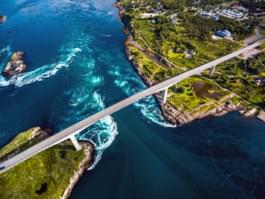 On the road in Bodø
In Norway, right-hand traffic applies.
Always pay attention to the appropriate speed limit: 50 km/h in urban areas, 80 km/h outside urban areas and 90-100 km/h on country roads and motorways.
The blood alcohol limit in Norway is relatively low at 0.2 per mille.
In Norway you have to drive with dipped headlights during the day as well as at night.
The tram always has right of way.
With the rental car to exciting cities in Norway
Oslo
When travelling to Norway, a visit to the city of Oslo is a must. Oslo is the capital of Norway and the most populous city in the country. Visit for example the Norwegian Opera, the Holmenkollen Ski Museum, the Videland Sculpture Park or the Viking Ship Museum. If you are travelling with children, you should rent a car and drive to the TusenFryd amusement park. Fun for the whole family is guaranteed.
Bergen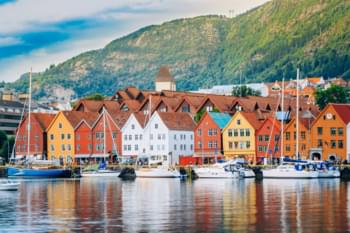 Blick auf Bergen
The city of Bergen in the southwest of Norway is the second largest city in the country. The city of Bergen is surrounded by mountains, sea and islands. It provides a dreamlike backdrop for your holiday photos. The port city is especially known by art and culture enthusiasts. If you go to Bergen by rental car, you can arrange your route individually and get to your must-sees. From Bergen you can take day trips to Bryggen, St Mary's Church, Fløyen or Mount Ulriken. Don't miss the Hardangerfjord. If you feel like an adventure, you can also go kayaking.
MORE TOWNS TO VISIT
Embark on a hike to the famous Trolltunga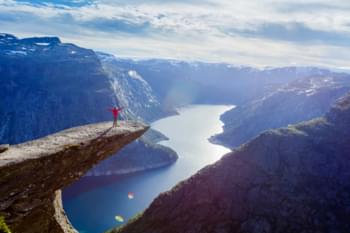 Trolltunga in Norwegen
Many people associate Norway with the famous Trolltunga or troll tongue. It is probably one of the most famous highlights in Norway. If you park your rental car and take the strenuous way, you will be rewarded with a breathtaking view. But the hike there is a tough one and should only be tackled by experienced hikers. The route extends over 20 km through the fantastic nature of Norway. However, the strenuous walk to Trolltunga is worth it. You won't forget the view from the famous rocky outcrop.