Car rentals in Turkey: Most popular car rental destinations
Discover Turkey by rental car
Turkey has become one of the most popular tourist destinations in recent years. But Turkey does not only have something to offer beach and bathing holidaymakers. Cities like Antalya also have many cultural highlights, which are worth seeing. The country is rich in cultural attractions that can be easily visited with a rental car.
Car rentals in Turkey
Compare rental cars in Turkey with Driveboo. If you arrive by plane, it is worthwhile to book your rental car directly. For example, rent a car at Antalya airport. Excursions to the excavation sites in Troy or Ankara can be carried out comfortably and without difficulty by rental car. But also the Turkish Riviera can be easily explored by rental car. With the rental car you can discover beautiful and rarely visited beaches.
Where can I pick up & return my rental car?
Depending on how and where you arrive in Turkey, you have several options from where you can pick up your rental car. On Driveboo.com you will find more information about the different rental station locations in detail.
In the list below, you will find some examples of rental stations:
Antalya Airport (AYT)
Istanbul Airport (IST)
Side City Centre
Izmir City Centre
By rental car to the eastern Mediterranean Sea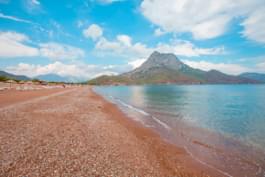 Drive to the beach by rental car
Particularly in rural areas, care should be taken when renting a car, as poor road conditions and potholes can often occur there. The use of the horn is already a daily routine for local drivers. If you hear the horn of your car in front of a curve, you should be warned and no longer overtake in the curve with your rental car. According to the Turkish friendliness, you don't have to fill up your car in Turkey alone, the petrol station attendant takes care of this.
Rent a car Turkey: The traffic rules
The traffic rules in Turkey are similar to those in Germany. However, there are some special features: pay attention to the cross traffic at a green traffic light and use the horn. The Turks like to honk their horns, which is why the driver only wants to draw attention to himself, for example when overtaking. Bus and truck drivers are cautious to enjoy, because they are under enormous time pressure. Danger points such as potholes are often barely marked and can thus possibly be overlooked. The vehicles are often not illuminated at all or insufficiently at night.
Overview of traffic rules in Turkey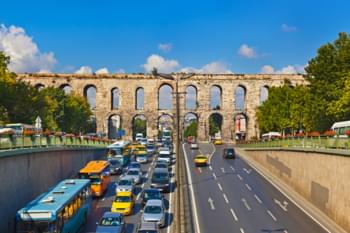 Traffic in Istanbul, Turkey
Green insurance card: compulsory
Right-hand traffic: yes
Alcohol and alcohol limit: 0.5 per mille for cars, for all other vehicles 0.0 per mille.
Lighting obligation: no
Safety vest requirement: no
Seat belt compulsory: yes
Obligation to carry: first-aid kit, 2 warning triangles, warning vest and fire extinguisher
Motorway tolls Turkey: no motorway tolls
What speed do limits apply in Turkey?
Inner cities: 50 km/h
Out of town/expressway: 90 km/h
Motorway: 120 km/h
Translation of Turkish signs