Car rental at Rome Fiumicino Airport (FCO)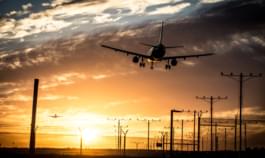 By rental car from Rome airport
Rome is also known as the Eternal City and is a popular destination in Italy, which is best explored with a rental car from Rome Fiumicino Airport. There is a lot to discover here, because sights and insider tips are so numerous that you will need more than one day in Rome to really see it all. Book your rental car online in advance. This way you can compare the prices of car rentals at Rome airport and book the best offer.
Rome-Fiumicino Airport: Why you should travel to Rome in Winter
Rome in winter has a very special charm. We give you 5 reasons why you should fly to Rome-Fiumicino Airport, especially in winter:
At Christmas and also at New Year there is a lot going on in Rome. During this time of the year you can enjoy the large nativity scene in St. Peter's Square and the wintery decorated city center of Rome. Those who travel to Rome on New Year's Eve can look forward to a free concert at the Circus Maximus.
The winter months in Rome are perfect for a visit to a museum. Since fewer tourists travel to Rome in winter, you can enjoy the museums in peace and quiet. Simply park your rental car in one of the designated parking spaces and enjoy your visit.
Shopping enthusiasts pay attention: Those who travel to Rome in January can look forward to a true bargain paradise. Right after New Year's Day the winter sales start and you can buy well-known brands at bargain prices.
Roman cuisine is a heavy cuisine and fits perfectly to the cold season. Have you ever tried fried artichokes? If not, winter is the perfect opportunity to do so. Rome also offers you culinary highlights such as zucchini flowers, stockfish, stuffed olives and potato croquettes. Well, already hungry?
Last but not least: a winter visit to the Colosseum in Rome. It is considered the most visited museum in Italy and for good reason. So that you don't have to queue too long in the winter cold, we recommend that you book your tickets in advance.
Could we convince you of a trip to Rome in winter with these 5 reasons? We think so and wish you a pleasant trip with many unforgettable impressions.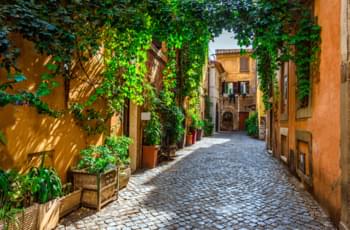 Discovering Rome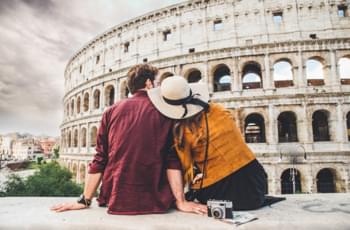 A couple in love in front of the Colosseum
General information about Rome-Fiumicino Airport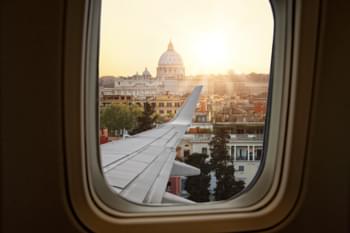 By plane to Rome
The Rome-Fiumicino (FCO) Airport is located in the west of Rome, about 35 km from the city center.
At Leonardo da Vinci Airport, there are various restaurants and bars in each of the five terminals. Among other things you can eat à la carte and order complete menus there. In addition, you can have a small snack in the bars or just sit down for a coffee or other drinks.
In all terminals there are bank counters where you can do various banking transactions or get money. In addition, there are various ATMs throughout the entire grounds, which you can use around the clock. You can change money at the various exchange offices at FCO airport.
There is a wide range of stores, with more than 130 shops inviting you to shop. There are fashion stores with noble designer brands, but also jewelers, perfumeries, bookstores and souvenir stores. These are joined by the duty free stores, which are located behind the check in counters and are only allowed for passengers.
Where are the car rental counters at Rome-Fiumicino Airport?
The car rental counters are located in the arrivals area of Rome-Fiumicino airport. Once you have picked up your luggage, simply follow the signs that will guide you to your car rental in the fastest way possible. Clarify the formalities and let the car rental staff inform you where the pick-up station for your rental car is located. You will then continue by car to your hotel.
Special features of Italian road traffic
The road traffic regulations in Italy are not very different from those in Germany. However, due to the very lively driving style, caution and attention is required in road traffic. Rent your car online at a reasonable price and explore Rome by rental car. The airport Rome-Ciampino is smaller than the airport Rome-Fiumicino.
Speed limits Italy
Rent a car in Rome: Discover the sights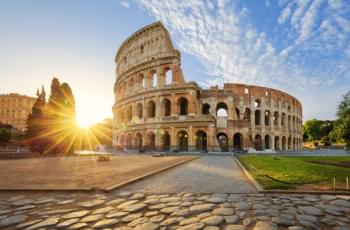 Colosseum in Rome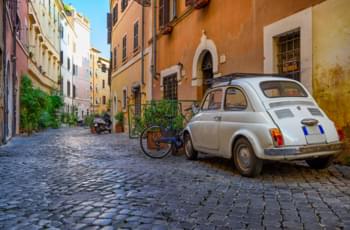 With a rental car through Rome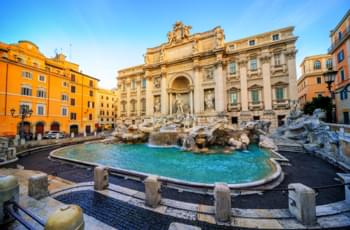 Trevi Fountain, Rome
The Vatican State is also inevitably linked to the city, as is its Sistine Chapel. The Colosseum is also one of Rome's landmarks and highlights. It is located near the idyllic Monti quarter. The museum Casa die Goethe is one of the insider tips and is located in the Centro Storico in the north. Also have a look at the southern part of the Centro Storico, which is located in the middle of the historical center. Here you will find beautiful renaissance and baroque palaces and of course other sights. Trastevere and Testaccio is the noble and club district of the city. There are many bars and clubs here, where mainly party fans meet. And don't forget to visit the Trevi Fountain! Plan plenty of time for a sightseeing tour of Rome. You can get from place to place faster with a rental car, which you can book online at a reasonable price and pick up at the car rental company at the airport Rome-Fiumicino. So many places of interest invite you to visit. With a rental car you can also explore the surroundings more flexibly.