Discover Rome and Italy by rental car
Compare offers of car rental companies in Rome and easily book a rental car online through Car rental Rome. You can discover the city of Rome and its surroundings independently by rental car. With its almost 3 million inhabitants, Rome is not only Italy's most populous city, but also the country's cultural capital - one could almost say: the cultural capital of Europe. In addition to Rome, the small villages of Italy, less than 200 kilometres from the coast and the adjacent sea, are particularly suitable for exploring with a rental car.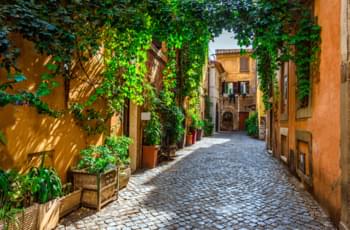 Discovering Rome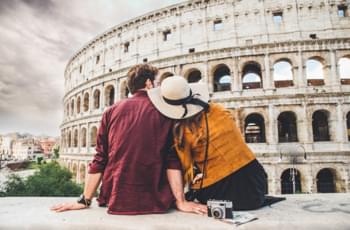 Couple in love in front of the Colosseum
Travel to Rome in winter
Rome in winter has never disappointed anyone so far. During the winter months Rome has a very special charm. Why you should travel to Rome in winter? We will tell you the reasons:
Visit the big nativity scene on St. Peter's Square at Christmas and stroll through the wintery decorated city center of Rome. If you travel to Rome on New Year's Eve you can look forward to a concert at the Circus Maximus.
Rome is a paradise especially for shopping enthusiasts: If you travel to Rome in January, you can look forward to a real bargain paradise. Because here the winter sales begin right after New Year's Day.
During the winter months you can visit the numerous museums in Rome. At this time fewer tourists travel to Rome and you can enjoy the museums in peace and quiet. The winter evenings you can then end with a delicious Italian dinner.
Where can I rent a car in Rome?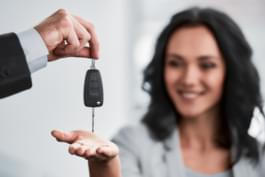 Car rentals in Rome
Choose what suits your plans best: a rental in the city or at one of the two airports. If you arrive by plane at the airport of Fiumicino (FCO) or Ciampino (CIA), you can rent a car directly at the airport at a reasonable price. Learn more about the different categories for rental cars: For example, treat yourself to a convertible and enjoy the Italian Dolce Vita "topless". Experience the price comparison and get a detailed overview with the suppliers and available vehicles!
Is there a toll in Italy?
Yes, for cars (Category A) one pays an average of approx. 0.07 EUR toll per kilometre. Toll charges may vary per route segment or operating company. The procedure is quite simple. When you enter the motorway, you will receive a ticket from the vending machine and when you leave the motorway, you will submit your ticket and pay for the section of the road.
You should always have cash ready for payment. Credit card payments are not accepted on all routes.
All the motorways in Sicily and Sardinia as well as the section from Salerno to Reggio Calabria on the A4 are toll-free.
Here you can park your rental car free of charge in Rome and Italy
In general, the following applies:
White curbs: Free parking for three hours with parking disk
Blue zones: parking from 08:00 to 20:00 for 1,50 Euro per hour
Green parking areas: on weekdays between 8:00 a. m. and 9:30 a. m. a parking ban applies, also between 2:30 p. m. and 4:00 p. m. you are not allowed to park there.
Black and yellow stripes: Attention! It is absolutely forbidden to park here!
Even if there are free parking spaces in theory, car parks in Italy and especially Rome are often scarce. Fines are very expensive, and illegal parking in Rome is quickly stopped and your rental car is towed. You can also park your rental car in one of the numerous multi-storey car parks for around 2.20 euros per hour to see the city centre of Rome on foot.
What are the speed limits in Italy?
Discover Rome and its surroundings by rental car
Rome is one of the most historic cities in Europe and a popular tourist destination. The city on the Tiber has everything from culture and good food to a varied nightlife. Immerse yourself in the bustle of this unique city and be enchanted by the roman flair.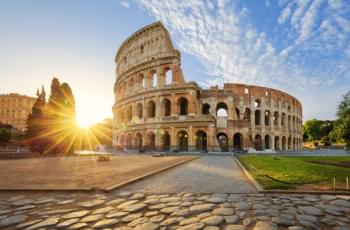 Colosseum in Rome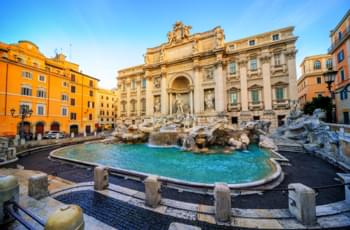 Trevi Fountain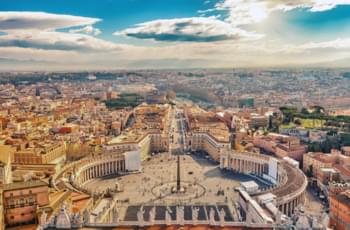 Vatican, Rome
These highlights should be on your to-do list:
The Colosseum, the largest amphitheatre in the world
Forum Romanum
Castel Sant'Angelo
The Pantheon
The Trevi Fountain
The Vatican with St. Peter's Square
Travel through the surroundings of Rome with your rental car
Follow the course of the Tiber to the sea, enjoy a day on the beach or go on various day trips around Rome. How about a delicious glass of Frascati at a wine tasting tour or a day trip to the buried city of Pompeii? All this is possible with your rental car, meaning you can enjoy your stay in and around Rome to the fullest. Other attractions in the surrounding area of Rome are listed below: