Car rental Potsdam: Highlights in and around this beautiful city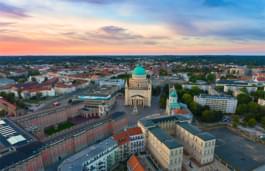 At the gates of Berlin, a city full of sights and a touch of noble elegance is waiting for you: Potsdam. Book a cheap rental car for your stay in Potsdam and be flexible and independent with the car of your choice. There are various stations for car rental to choose from. Our portal will help you find the car that meets your requirements quickly and reliably. It is important to compare favourable offers as well as to consider individual additional services. So take your time and compare the offers on our portal Driveboo.
Arriving by plane: Airports near Potsdam
Are you arriving by plane? Then, of course, your stay starts at the airport. Since the city of Potsdam does not have its own airport, the adventure begins either at Tegel Airport or at Schoenefeld Airport in Berlin. You can book your rental car online and collect it at the airport right after your arrival. No matter whether you already get your car at the airport or collect it in the city centre, Potsdam will inspire you!
Potsdam - You can rely on your rental car
The countless parks offer picturesque and breathtaking scenery. The city of Potsdam is a great recommendation for single travellers as well as for couples. Especially if you are enthusiastic about exclusive parks, gardens and castles, you will enjoy your trip to Potsdam. The rented car is cheap and you can go on discovery tours at any time. Get an overview of the possible destinations that you would like to visit with the cheaply booked rental car in advance.
Discover the historic old town
Potsdam is known far beyond its city limits for its picturesque and truly impressive Old Town. Above all, it is the imposing buildings in the baroque style that will amaze you. Park your rental car in one of the many parking lots and walk through the historic city centre. The Nikolai Church and the royal carriage stable are among the most important sights.
Explore Castle Sanssouci in your cabrio
Book a cheap cabriolet on Driveboo and drive to Sanssouci Castle in a fantastic rental car. A visit to this truly breathtaking park is a must if you are planning a holiday in this beautiful city. Even business travellers come here to see these magnificent buildings. Bring plenty of time with you as you walk along the paths of these venerable buildings.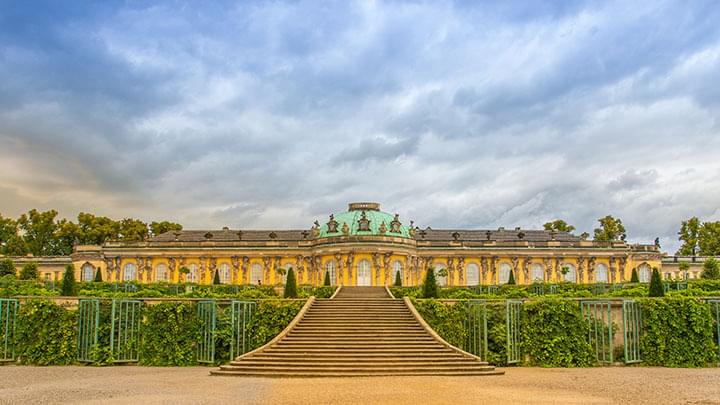 Castle Sanssouci
Insider tips for Potsdam and your rental car
The city does not hold any real secrets. Everything you should see is world-famous. After you've gotten to know the city centre a bit better and looked at some of the countless beautiful parks, we'd like to give you two more valuable tips to make your trip to Potsdam even more interesting.
Babelsberg Film Studio
Wittenberg
Road trip to Berlin
Car rental Potsdam: Facts and figures
A car rental company enables you to book a cheap rental car of your choice. No matter if you desire a compact car, a small car or even an SUV. There are a large selection and many offers. Our portal Driveboo will help you find the rental car that meets your requirements quickly and reliably. But not only the vehicle model is decisive. You can also choose different insurance options, an additional driver and free kilometres.
Compare offers: What insurance is available for the rental car?
Without insurance, the car rental company will not issue a vehicle. Therefore, when comparing the offers on our portal, pay attention to the offers of the insurance companies. There is a large number of insurances to choose from. Fully comprehensive insurance and liability insurance are compulsory insurance policies. But you can still extend your package. Many use glass and tire insurance. This will protect you in the event of a breakdown.
Fully comprehensive insurance without a deductible is not offered too often. If, however, you would like to book a rental car with fully comprehensive cover without a deductible, then simply narrow down your search. With Driveboo you have the possibility to find a car rental company that offers a fully comprehensive without excess. However, you must bear in mind that you will of course pay a little more.
One-way rental for your rental car in Potsdam
Due to Potsdam's location, one-way rentals are more than suitable. Many people rent a car cheaply in Potsdam and prefer to leave it in Berlin. It is not uncommon for trips to this city to be combined with a visit or even a longer stay in Berlin. Then, of course, it is all too practical if the one-way rental has been agreed in advance. Especially in the metropolitan area in and around Berlin, many car rental companies offer one-way rentals. Please inquire beforehand, however, whether the car rental company you have chosen has a one-way rental offer or not.