Car rental Berlin-Tegel Airport (TXL)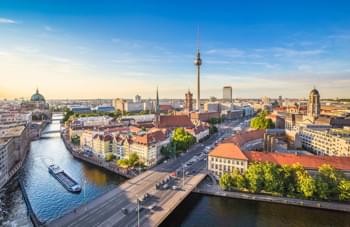 Berlin, the German capital is always worth a visit. The city is very diverse and combines German history with modernity and, above all, the multicultural. No other German city is home to as many different nations as Berlin. And this is also reflected in the cityscape. If you want to be independent of public transport such as bus or train and the local tour operators, but you have not travelled to Berlin by car yourself, it is advisable to look for a cheap rental car from a local car rental company at Berlin-Tegel Airport before travelling by comparing prices on the Internet. Pick up your rental car immediately on arrival at the pick-up station at the airport in Berlin-Tegel.
If you use a rental car to do sightseeing in Berlin, you will save a lot of time, because the city is large and there is a lot to see and discover by car in every part of the city, such as Schönefeld or Brandenburg outside of Berlin.
Start your summer vacation directly from the airport Berlin-Tegel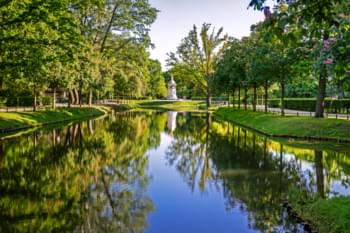 Berlin Tiergarten
In summer almost every vacation spots of the world are more beautiful than in winter, except if you like the cold and plan on doing a ski-trip. But a city-trip on the other hand, in for example the capital city of Germany, is in summer more enjoyable than ever. The summer enables to enjoy the evenings as much as the rest of the day, because it's not too cold and there is still everywhere something going on. You can, as in every big city, enjoy a relaxing day, or evening in one of the many parcs. You could buy a disposable grill and enjoy a barbeque on a picnic blanket. If you enjoy dancing or are interested in watching other people dance, then visit the beach bar called "Mitte", near the Monbijou theater. What would a rental car be better for than a drive-in cinema? In Reinickendorf is a great drive-in cinema, you definitely have to visit. And don't forget to look into and try out one of the many karaoke bars, you'll have an unforgettable evening. As you can see, you can plan a relaxing vacation in Germany and get anywhere flexible and cozy with a rental car.
How to find a cheap rental car in Berlin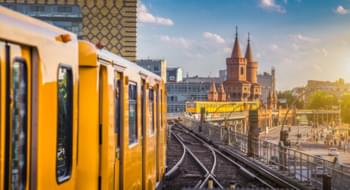 If you have decided to travel to Berlin by plane, then you need a rental car from a car hire company in the city. You can also pick up your car at the pick-up station at Berlin-Tegel Airport. Use the price comparison on Driveboo.com to find a cheap car that you can rent here immediately. You will then pick up your rental car at the terminal at Tegel Airport. Here, the rental cars of the various car rental companies are available for their customers to pick up.
The central location of Berlin -Tegel Airport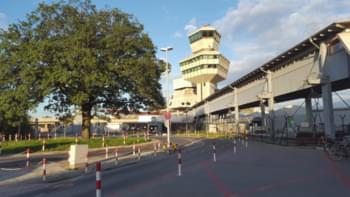 The airport Berlin/Brandenburg-Tegel TXL is centrally located, about 8 km from the city center. Berlin-Schönefeld, on the other hand, is located further down the outskirts of Berlin. Although the footpaths here at Tegel Airport are all quite short, it can still be a little confusing for passengers who arrive here for the first time and are looking for the pick-up point of the car rental company for their booked rental car. A major disadvantage is a connection to public transport. Berlin-Tegel Airport can neither be reached nor left by subway, regional or long-distance trains nor by subway.
Therefore it is advisable that you search and rent a car in advance with Driveboo.com. With the rental car, which you could rent cheaply, you are independent of the subway and the regional railway and so fast on one of the two motorways A11 or A10 which will take you accordingly to the northern or southern Berliner Ring.
Car rental station at the airport Berlin/Brandenburg-Tegel TXL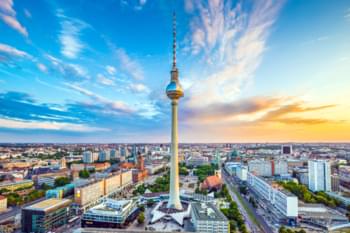 Every car rental company with a pick-up station at Berlin-Tegel Airport is accommodated in the same terminal in the so-called car rental center. So you have all stations for rental cars at a glance. This car rental center is located near Terminal E and Car Park 2, where all rental cars are located, i.e. close to your arrival. On your way from the baggage carousel through the airlock, you approach the car rental center, which is located in the immediate vicinity. If you have therefore been able to rent a car cheaply in advance via the price comparison on the Internet, you can have it ready for pickup right here at Tegel Airport. At the pick-up station of the car rental, you present your identification card and your driver's license and pay the deposit for the desired vehicle with your credit card. Of course, this will be credited to you at the end of your city trip in Berlin when you return the car.
With a rental car on the road in Berlin: what you should bear in mind
Of course, the traffic rules in Berlin apply according to German law. Therefore, you must be at least 18 years of age to drive the rental car and have a valid driver's license. The trial driving license is not valid in this case, as you are not allowed to drive the vehicle on your own responsibility.
Most of the time you will be in a closed town, so keep to the speed limit of 50 km/hour. You should also pay attention to signs for thirty traffic zones and play streets. In Berlin, the speed is controlled by speed cameras in many places. On country roads, on the other hand, 100 km/h are permitted as long as this is not regulated by other signs. The Berliner Ring is a motorway on which 130 km/h must be maintained as the maximum speed.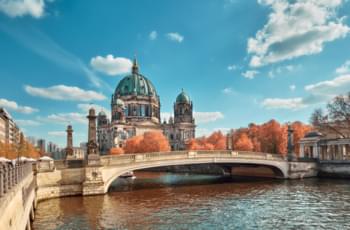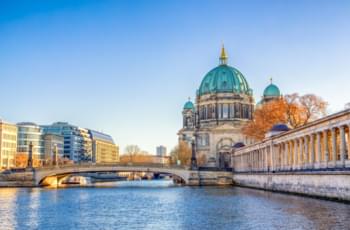 If children under the age of twelve or less than 135 cm travel with you, you should inform the car rental company before you rent the car on the Internet via the price comparison. In this way, the required child seats can be handed over to you directly at the pick-up station.
If you want to use your mobile phone to make telephone calls or take photographs while you are on the road, leave it to the co-driver, as the use of the smartphone is not permitted without a hands-free system. Follow the traffic rules for your own safety with a previously unknown car, as
Rental car tour to the sights in Berlin
If you are visiting the German capital, then you should definitely be flexible. With a car, which you have searched for and found via the online price comparison and could rent cheaply, you are independent of local travel providers and public transport in this big city. With a rental car, you can also quickly get to the airport in the city center, because it is almost completely cut off from public transport. Rail transport such as underground or suburban railways, regional trains or even long-distance rail transport does not run from here at all. Therefore, the road is the only way to get downtown. In addition to buses and taxis, there is a rental car that you could rent in advance because you can continue to use it in the city.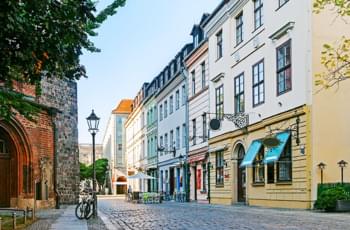 Colorful street in the center of Berlin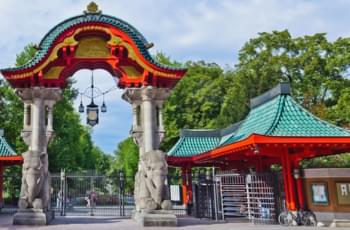 Discover the Berlin Zoo
From your booked hotel in the middle of Berlin or also outside Brandenburg you can start your sightseeing tour through Berlin and the surrounding area, or in the large new shopping center at Potsdamer Platz or on Ku-Damm and Tauentzienstraße you can have an extensive shopping day and stroll through the famous boutiques and shops. Children can go on excursions to the Berlin Zoo, which shows many interesting animals. The trendy district of Kreuzberg is an absolute must-have for young people in particular if you drive through Berlin with your rental car. You will also find many monuments in the district Schönefeld.
Discover Berlin and its surroundings by car rental
With the car that you have found and rented cheaply on the Internet, you are independent of bus and train if you want to explore the city. The rental car will quickly take you to the many sights such as the Reichstag, Brandenburg Gate, Gedächtniskirche or Check Point Charlie. Depending on whether you are interested in history or culture or both, you can experience your very own sightseeing tour through Berlin and reach everything quickly and easily by rental car.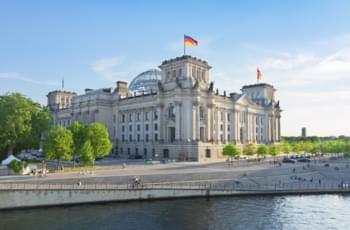 Reichstag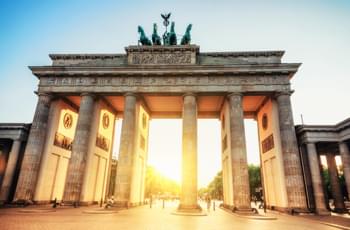 Brandenburg Gate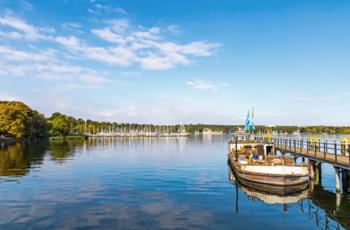 Wannasee
Many parking spaces and car parks are available in the city, so you never have to travel long distances from your parked rental car to the place of interest. The many international and multicultural restaurants and in-cafés are spread all over Berlin and with a car, which you could rent cheaply over the Internet and the price comparison also all fast for a nice meal or an evening drink attainable.
But not only the city center and the many districts of Berlin, such as Kreuzberg, but Mitte or Schönefeld also have much to offer. The excursions are also worthwhile outside the city limits. Wannsee, Potsdam with the castle or Brandenburg and the Havilland are located here in the nearby recreation area.