Rental car Berlin: Rent a car cheaply in the capital of Germany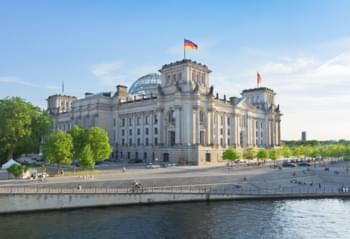 Reichstag in Berlin
The most touristic sights are placed in the city centre, which can be easily visited with a rental car. You can book your rental car online in advance, compare the prices with our Driveboo comparison service and have a pleasant stay at your holiday destination! When arriving in Berlin, you can choose to pick up the car in the city or at our car rental station at the Berlin Airport. During your stay in Berlin, you will be very flexible and independent at all time. Apart from the amazing culture that Berlin offers, you will be able to explore the countryside with your rental car, which is always worth visiting. A beautiful destination close to the city would be for example Potsdam, which only takes half an hour drive by car.
Rent a car in Berlin: Compare price offers online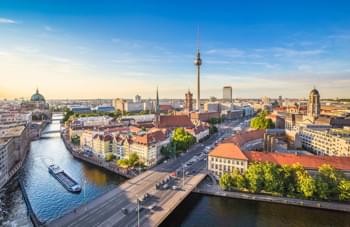 View of Berlin
It doesn't matter whether you want to rent a small car, limousine or SUV during your stay in Berlin. With our online Driveboo comparison service, you will be able to find the best offers for various car rental deals at low prices. We recommend booking good insurance, as the dense traffic in Berlin can quickly involve you in an accident with your rental car. Therefore, hiring a car in Berlin should be done with caution. But with our fully comprehensive insurance policy without a deductible, you will not have to worry about that at all and can enjoy your stay. Book via our online portal Driveboo.com and receive suitable offers for your trip.
Car hire Berlin: Which car rental companies are in Berlin?
Avis

Budget

Europcar

InterRent

Hertz

Enterprise

Tui Cars

Sunny Cars
Rental car Berlin: Is Comprehensive insurance without excess worth it?
Have you thought about sharing a car? Then look through the price comparison to find the offers not only for the rental car but also the insurance that includes an additional driver. As the insurance for a rental car is only for one driver, this could be a good option to add to your booking.
If you rent a car through the price comparison, you should always make sure that the insurance also includes a fully comprehensive insurance policy without excess. Because in such a large city like Berlin, a rear-end collision or other damage can quickly occur in dense city traffic. When booking this option, you are on the safe side. It may not appear to be so cheap at first glance, but in case of an accident, you won't have to pay any additional costs for damage.
Offers for one-way rentals
If you hire a car only for one way, then it is called one-way rental. You pick up your rental car at one location but return it to another location. For example, you may pick up the rental car at Tegel Airport, need it for a few days in Berlin, but then continue your journey by car to Hamburg. If your journey ends in Hamburg, you can return the car at the airport rental station.
When hiring a rental car, a deposit is required
Deposits are always paid when you pick up the rental car, for example at the Tegel Airport. After returning the car to the rental station, the deposit will be immediately refunded. If you have chosen the option of hiring the car with comprehensive insurance without any excess; and there is some damage found on the car, for example, due to a small rear-end collision, you will still get the full deposit refunded. With this sort of insurance, it does not matter if you have to pay the deposit. We recommend, renting a car with high insurance is cheaper than paying the costs for an accident and not getting the full deposit refunded.
Arriving by rental car at the sights of Berlin
Berlin offers most of its sights in the city centre, called Mitte. A few examples are the Reichstag, Victory Column, Brandenburg Gate and the Berlin zoo. On the outskirt are also great shopping possibilities like the KaDeWe, Europa-Center and Kurfürstendamm, which can be easily and quickly reached with your rental car. Another destination is the television tower of Berlin, where you can enjoy the stunning view of the city. A rental car gives you many advantages, as Berlin is a big city, you are independent and more flexible from public transport and can plan your trips the way you prefer. Berlin is a very special city as no other city in Germany is more diverse, multicultural, contemporary and modern. With hiring a car, you can explore all its facilities at your pace.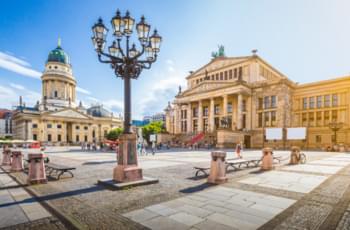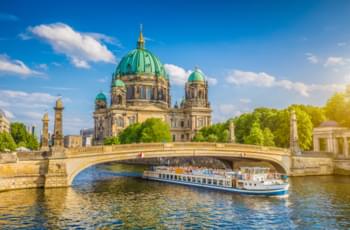 Rental car Berlin: The City of German History
Nowhere else in the history of Germany more present than in Berlin. The streets are full of historical background the city went through. You can visit some sights with your rental car, for example, the Holocaust memorial and its museum or the victory column.
As Berlin is a very multicultural and diverse city, you will find a large range of international cuisines and bars. If you are looking for a rental car for the city of Berlin only, you should hire a sedan or a small car, which is more manoeuvrable in city traffic than an SUV. If you are travelling as a couple without children, Driveboo also offers a variety of luxury and sports cars.