Discover Lanzarote and Playa Blanca by rental car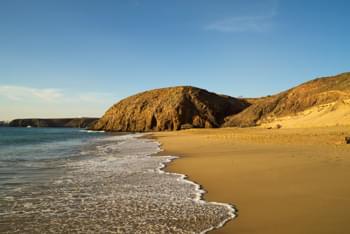 Beach in Playa Blanca
Get on the plane, fly to Lanzarote and take the rental car to Playa Blanca! Lanzarote is an island of the archipelago of the Canary Islands, which belong to Spain but are located in the Atlantic Ocean, west of the continent of Africa, more precisely about 140 km west of the Moroccan coast and at the same time more than 1000 km from the Spanish mainland. It is the northernmost of the seven major Canary Islands and it was fully declared a Biosphere Reserve by UNESCO in 1993. Playa Blanca is located on the southern "tip" of the island and is great to explore by rental car. Compare car rental offers in Playa Blanca and find the cheapest one!
Why rent a car and drive to Playa Blanca?
The quiet village of Playa Blanca is an ideal vacation spot for the whole family. The place has a wide range of hotels and services, but also bars, restaurants and stores. It is not far to the white sandy beaches. The Playas de Papagayo are just a stone's throw away. But just far enough that you'd rather use a car than a bike to get there. But beware: you cross nature reserve and therefore have to pay 3 euros if you want to go there with the rental car. Other beautiful places are el Parque Nacional de Timanfaya, El Golfo (also called the green lagoon) and the beautiful village of Yaiza. Or Las Brenas is also worth a visit. From here you can see as far as Fuerteventura, the neighboring island of Lanzarote. Or take a ferry and cross over to Fuerteventura within half an hour. No problem with a rental car.
This is what makes the Canary Islands and Playa Blanca so special:
Mild conditions all year round

Counts to Europe and the EU

High standard of living

Wild romantic nature

Variety of beaches and coasts
Spending spring and summer in Playa Blanca
You can travel to Playa Blanca in Lanzarote all year round. If you don't mind hot temperatures, summer in Playa Blanca is also suitable. If you don't like it quite so hot, then you can also travel to Playa Blanca in spring. Whether you prefer to relax on the beach or do sports, in Playa Blanca all doors are open to you. Since it can get warm in Playa Blanca in the spring and especially in the summer, we recommend a rental car with air conditioning for your trip. Drive with the rental car through the volcanic landscape or to the beach. Here you can rent a kayak, take a scuba diving course or take to the waves on a surfboard. Whatever your perfect spring and summer looks like, you'll find it all in Playa Blanca.
What is the best way to get to Playa Blanca?
As already written, you will find Playa Blanca at the southern end of the island of Lanzarote. You can get here either laboriously by ship, or quite comfortably by plane. Your destination airport is called: Lanzarote Airport (ACE). From here your vacation adventure starts. And so that you experience this as mobile as possible, you should definitely book a car with a car rental company and explore the island and perhaps the neighboring islands with it. This step is just as easy as booking your flight. Browse the offers of Driveboo.com, book online in advance and collect your chosen rental car directly at the airport. Here the selection is the largest and the prices are the cheapest. If you book and reserve the car in advance, you can go to the rental directly after picking up your luggage and get your car. After only about 30 minutes of driving you will arrive in Playa Blanca.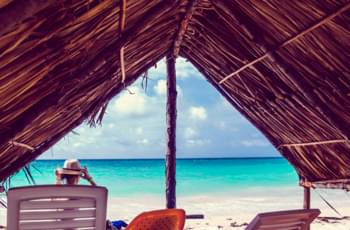 Pure relaxation on the beach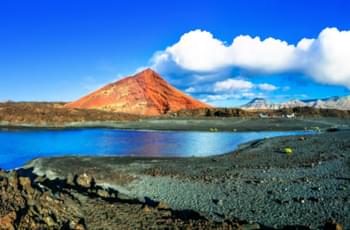 Volcanic landscape in Lanzarote
Travel preparations - what you should know about your domicile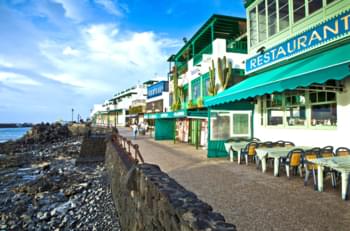 Promenade in Playa Blanca
Even if you are more than 1000 km away from the Spanish mainland, you are not in Africa, but actually in the EU. You need a passport just because of the flight. An international driver's license is also recommended. Otherwise, the laws of the EU and Spain apply. If you know Spanish, everyone will understand you. English will also get you relatively far. The food, if you don't choose restaurants that are tailor-made for Germans, is also Spanish. The islands have more or less year-round mild temperatures to offer. The sea, if you are a bit hardened, invites you to swim all year round. The proximity to the African mainland and thus to the Sahara desert can cause desert storms to swirl sand all the way to the Canary Islands. The Canary Islands are also characterized by volcanism.
You should pay attention to the following with your rental car in Playa Blanca and Lanzarote
SPEED LIMIT
Other countries, other customs. In Spain there are rough customs when you are stopped by the police for speeding or when you park wrongly, just to mention two examples. The following speed limits apply in Playa Blanca and Lanzarote:
Insurance
Regardless of where you drive: "Fully comprehensive insurance without excess" is recommended, because it represents the carefree all-round package. The liability coverage should also be high enough. We consider 7.5 million euros in total damage to be appropriate.
Additional driver
If you like to take turns driving, you should include a second driver in the contract. This may cost a little extra, but is sometimes included free of charge. Driveboo.com will clarify this question for you in the offers.
GAS STATIONS
The island is not too big. There are also not too many cars that run here. Especially in the urban areas, however, you will find gas stations in sufficient numbers. You should simply not start with an almost empty tank when exploring the island. Then you won't have any problems. Fuel prices are somewhat lower than the European average.
Excursions with the rental car in the surroundings of Playa Blanca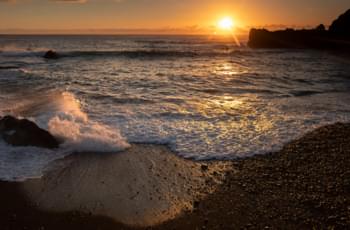 Sunset at El Golfo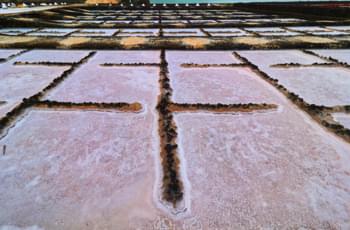 Salinas de Janubio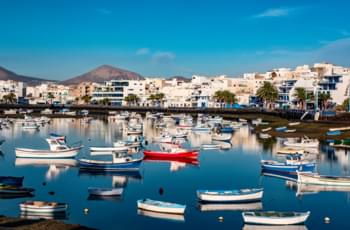 Port in Arrecife
Without a rental car your radius of movement in Lanzarote is rather small. Therefore: rent one! In the following table you will find some ideas for excursion destinations with a rental car and their distance from Playa Blanca.