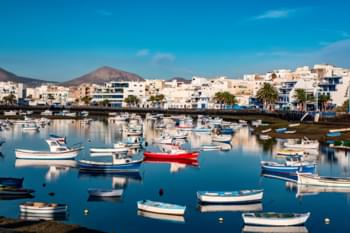 View over the harbour in Arrecife
A cheap rental car is already available from 300 $ per week. With your own rental car, you are flexible at any time and can drive to the most popular sights on Lanzarote, such as the national park Timanfaya or the beach Playa Blanca. We compare the prices of all reputable car rental companies and show you the best offer.
Small cars are especially popular, and you can rent them for as little as 300 $ per week. If you are traveling to Lanzarote with the whole family, a family car is also suitable, which you can rent from 461 $ per week. Convertibles are also available from 636 $ per week. This makes the vacation in Lanzarote twice as fun.
If you need a rental car only for one day, you can rent it already for 43 $ per day.