Car rental at Lamezia Terme Airport (SUF)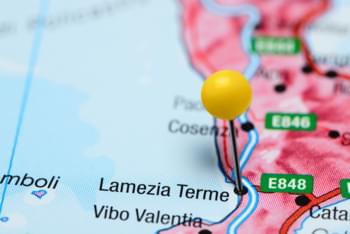 Lamezia Terme in Calabria
The airport Lamezia Terme is located in Calabria Italy and has the abbreviation SUF. Fly there from Berlin, for example, and explore the popular vacation region with a rental car that you can rent cheaply from the car rental company of your choice. The annual passenger volume of the airport is more than 1 million people, so it is rather a small airport. Nevertheless, the airport had not expected such a rush, when opening in 1976. This is of course also due to the fact that the entire region is particularly interesting for tourists. From Lamezia Terme you can also go to the cities of Catanzaro or Cosenza, which are also visitor magnets. Questions about Lamezia Terme airport can be answered by the staff at the information center, who can of course also be reached by telephone. Fly from Berlin or any other German city to SUF Airport and enjoy the Italian art of living. After landing, the rental car of the car rental company will take you comfortably to all desired excursion destinations.
Lamezia Terme Airport: enjoy autumn in Calabria with a rental car
Popular destinations in and around the airport Lamezia Terme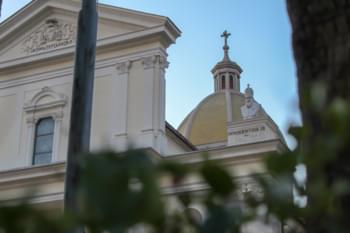 Cathedral in Lamezia Terme
With a rental car you are completely flexible and can explore numerous destinations spontaneously. Moreover, Lamezia Terme offers a lot of great sights, such as:
the cathedral St. Eufemia
the Archaeological Museum, which, among other things has exhibits from Greater Greece
the Caronte thermal baths from the second century
About 30 kilometers south of Lamezia Terme is Pizzo Calabro with a beautiful old town and breathtaking cliffs.
Information about Lamezia Terme Airport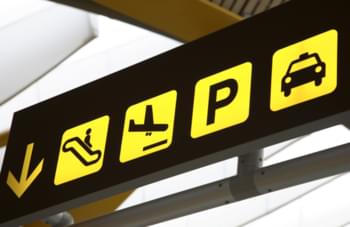 Signposting Airport
Of course you can eat and drink to your heart's content in the various bistros and the restaurant at SUF Airport. The airport in Italy offers various food and drinks suitable for the small and big appetite, no matter if it is a typical meal or the famous small snack. On the airport premises there are exchange offices where you can change your money into any currency you wish. If you want to withdraw money, you can do so at the local cash machines. You can connect to the Internet at Airport SUF via a wireless connection using a smartphone, tablet or notebook, so you can easily bridge longer waiting times. Of course, you can also access the most important news or information about the region. If you want to make a phone call, you can use various phones that are distributed throughout the airport grounds. Of course, the airport in Italy also has various stores, including duty-free stores with tobacco products and branded goods, but also restaurants with culinary delights, newspapers and magazines, a candy store, a wine store or a store with electronic devices and smartphones. Once you have received your rental car at the car rental pick up point, you can explore the surroundings of Lamezia Terme by car. Fly cheaply from Berlin to Italy and spend a relaxing vacation.
Car rental at SUF Airport
Depending on the car rental company, the location of the pickup point where you will receive your rental car may differ. The staff of the car rental company will explain the way to the pick-up station, which you can usually reach within a few minutes on foot. Afterwards, sit down in the car that you could rent cheaply from the company of your choice and cross the Calabrian region on your way to the various sights. Flights to Lamezia Terme, for example, start from Berlin.
What do I have to pay attention to when renting a car at Lamezia Terme airport?
Checklist for car rental:
Body and paint

Tread pattern

Exterior mirrors

Indicators, Lights

Alarm lights
Make sure that you have good insurance and a transfer protocol.