Car rental Hobart International Airport: Tasmania is waiting for you
Have you always wanted to drive your rental car through Tasmania? The Summer 2020 and Fall 2020 is a good time to make this wish become reality. The temperatures during the months May, June, July, August, September and October are slightly colder, as our Summer months are the Winter months in Australia, but as the temperatures are throughout the whole year more or less constant, you will be able to experience a Tasmania which is less crowded and cheaper in price. If you are looking for your perfect Winter escape, consider the months November and December for a getaway along the roads of Tasmania, as the temperatures climb up to 18 degrees, with a relatively low rain fall. Book a rental car now from home and start your trip at Hobart International Airport in Tasmania. As you may be travelling to Tasmania by plane, it is a good idea to pick up your rental car at Hobart Airport. Look forward to breathtaking scenery and exciting cities in Tasmania.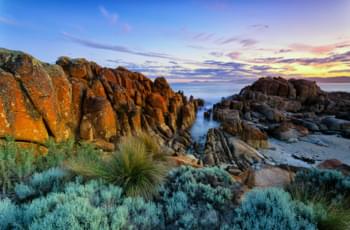 Beerbarrel Beach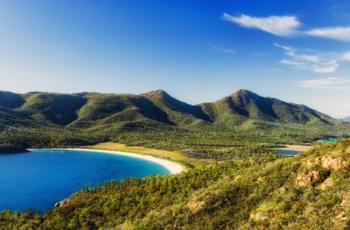 View over Wineglass Bay
If you start with your rental car at Hobart International Airport, you are mobile from the very first moment and can drive flexibly and independently to your desired destinations in Tasmania. Especially nature lovers will get their money's worth in Tasmania. You can expect dreamlike beaches, a great variety of species and countless varied hiking trails. Compare prices of car rental companies on Driveboo.com and book your dream car online. Driveboo wishes you a pleasant and safe journey and lots of fun in Tasmania!
Tasmania was discovered in 1642 by the sailor Abel Janszoon Tasman from Holland and it was also named after him.
Information about the Hobart International Airport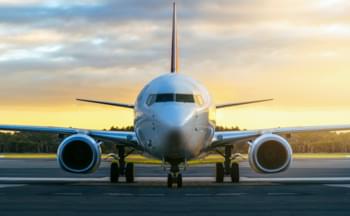 Plane at Hobart Airport
IATA code: HBA
Opening: 1956
Distance from city center Hobart: 17 km
Passengers: 1.9 million per year
Airlines: Qantas, Virgin Australia, Jetstar, Tasair
Destinations: Melbourne, Canberra, Sydney, Gold Coast, Brisbane
Car rentals can be found directly in front of the terminal of Hobart International Airport.
If you wish, you can take a sightseeing flight from Hobart International Airport. During the 30-minute flight, you will fly over numerous sights in Tasmania in a small aircraft.
Can I pick up my rental car at another location in Tasmania?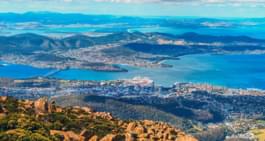 View over Hobart
If you do not wish to pick up your rental car immediately upon arrival at Hobart International Airport, you can alternatively take a taxi or bus to your accommodation. Then you can relax for the first few days in Tasmania and finally pick up your rental car in the city centre of Hobart. Alternatively, you can rent a car in Devonport, Launceston and Huonville.
Which rental car is suitable for my trip to Tasmania?
The table below gives you an overview of the car models available in Tasmania.
By rental car through the capital Hobart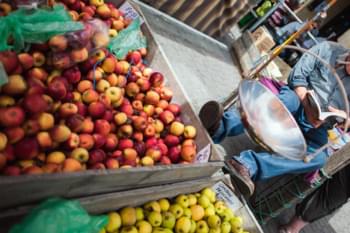 Fresh apples at the Salamanca Market
Plan a few days stay in the capital Hobart. The city is located in the south of the island, directly on the coast. As Tasmania's largest city, it has some highlights to offer. For example, visit Battery Point and stroll through Salamanca Market. A visit to the world-famous Mona Museum is also worthwhile. For day trips from Hobart a trip to Mount Wellington is worthwhile. From here you can enjoy a magnificent view over the capital. Since you are always mobile with a rental car, you can make flexible excursions in the surrounding area. Don't miss Seven Mile Beach. You can reach it comfortably with your rental car.
Discover Tasmania's nature with a rental car
Freycinet National Park
The Freycinet National Park is located on the east coast of Tasmania. The park is home to one of the most beautiful beaches in the world: Wineglass Bay. You can park your rental car safely in one of the parking lots of the Freycinet National Park. Then take the 30-minute walk to the first viewing platform, from where you have a magnificent view over the perfectly rounded bay with turquoise blue water and white sandy beach. The beach itself is a 45 minutes walk away. Feel the sand between your toes and enjoy the grandiose nature. Alternatively, you can enjoy an even more spectacular view of the bay from Mount Amos. Make sure you also visit Friendly Beaches. During the evening you can watch kangaroos at the beach.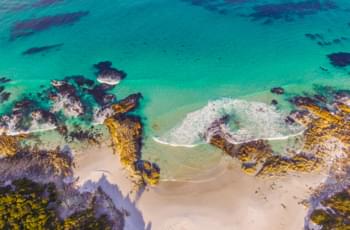 Friendly Beaches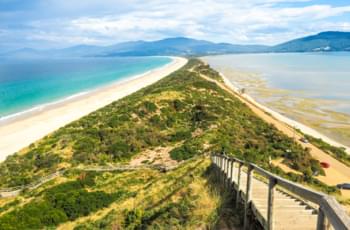 "The Neck" on Bruny Island
Bruny Island
The small island of Bruny Island lies south of Tasmania. The northern and southern half of the island are connected by a narrow headland. Are you a hiking fan? Then Bruny Island is the place for you. There are numerous hiking trails here that will take you past dreamlike bays again and again. Also a trip over the headland "The Neck" is worth a trip. If you walk to the lookout point, you have a fantastic view over the headland and the small beach. If you come here in the evening, you might even see penguins. Bruny Island can be reached by rental car via the car ferry from Kettering.
MORE HIGHLIGHTS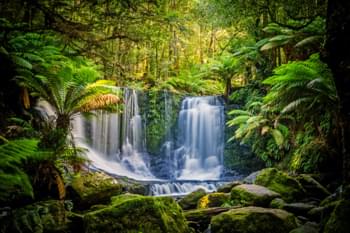 Fascinating Horseshoe Falls
Bicheno
Southwest National Park
Bay of Fires & St. Helens
Cradle Mountain-Lake St. Clair National Park
Horseshoe Falls im Mount Field National Park
Narawntapu National Park
Maria Island