Car Rental at Chicago O'hare Airport ORD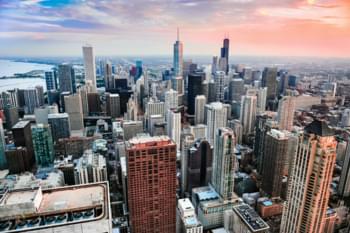 View on Chicago
You rent a rental car at Chicago O' hare Airport at Driveboo.com not only at a very reasonable price, you can also equip the car with important accessories and provide it with optimal insurance when you are searching for it. All relevant rental car details can be conveniently arranged in advance of your flight to Chicago O' Hare International Airport. When you arrive, you will be expected to arrive at Chicago Airport at the chosen car rental location with a completed rental agreement and prepared car. All you have to do is make sure that all your wishes are included in the rental agreement, sign it and then receive your rental car at Chicago O' Hare International Airport at the pick-up station.
Explore the city by Rental Car from Chicago O' Hare Airport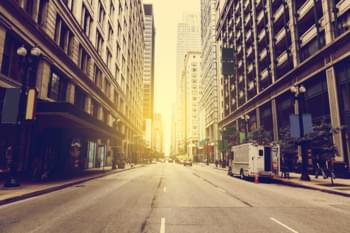 Discovering Chicago
With just under three million inhabitants, Chicago is the third largest metropolis in the United States of America. The city is located in the state of Illinois on the southwestern shore of Lake Michigan and has been an important trading center of the USA for almost 200 years. Tourists have various ways to experience Chicago, but the best overview of the megacity is provided by the tallest building, Willis Tower. Not only does it offer a breathtaking panoramic view of Chicago and Lake Michigan, but also several neighbouring countries. Seeing Chicago from a completely different perspective allows you to see the Ferris Wheel on the Navy Pier.
Winter activities in Chicago
If you travel to Chicago in winter, you can look forward to a true winter wonderland. Go ice skating in Millennium Park, enjoy a hot punch on one of the rooftop terraces with stunning views over wintry Chicago, and look forward to numerous winter events. In January, Chicago Restaurant Week is held, where you can sample food and drinks from over 70 top chefs. Also visit the Lincoln Park Conservatory. Here you can look forward to tropical temperatures even in winter and warm up a little in between.
General information about Chicago O'hare Airport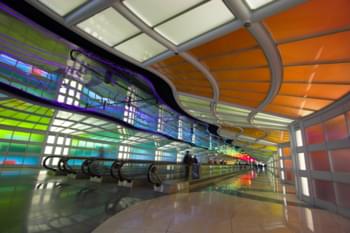 Chicago Airport
O' Hare Airport is the largest of Chicago's two airports, with seven runways and five terminals connected by shuttle buses. More than 800,000 flights take place at O' Hare Airport every year, with almost 80 million passengers departing or arriving at international airports. Regardless of which terminal your flight arrives at, you must first complete the entry formalities and take your luggage off the treadmill before you can pick up your rental car at the pick-up station of your car rental company.
At ORD Airport, every car rental company is accommodated in a car rental center, which can be reached quickly and free of charge by shuttle bus from the arrival terminal. The pick-up point for each rental car provider is located on one of the car parks in the immediate vicinity of Car-Rental-Building.
Short distances to the Chicago Airport Car Rental pick-up point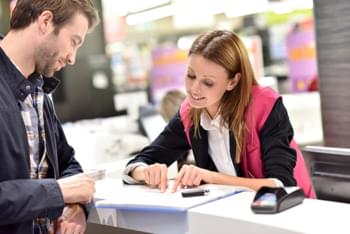 Car rental at the airport
Both at O' Hare Airport and Midway Airport, the pick-up point is not far from your car rental company. The pick-up points at the airport are located in the car parks around the car rental centers and are within walking distance. Once the formalities have been completed, you will need to check your rental car at the pick-up point. Especially if you have been able to rent a car cheaply, the car has to be checked for functional brakes and lights. In addition, you should have the car rental company include any damage to the body and paintwork that has already been done to the car body and paintwork in a list of defects. The process is extremely important so that the car rental company doesn't hold you responsible when you return the car. It is also important to comply with the US tank regulations. You rent a full tanked vehicle at each of the two airports and your car rental company will be expecting the car with full tank at each airport.
At which petrol stations at Chicago airport can you refuel your rental car?
Chicago Airport to the city by Rental Car
You can reach Chicago by rental car from the airport within minutes on wide highways in good condition. From Midway Airport, drive to downtown Chicago in about 20 minutes via Interstate 55. It takes about 30 minutes by car from ORD Airport to the city center via Interstate 90.
Which traffic regulations do you have to observe in the USA?
Traffic rules in the US
Cheap car hire always has a positive effect on the holiday funds, and in order to keep it that way, especially in the United States, the traffic rules have to be observed. Ask for the Illinois speed limit at one of the two airports, which is different in each state. Otherwise, the regulations are largely similar to our road traffic regulations. You drive on any lane in America and avoid overtaking if possible. During your stay in Chicago, you must refrain from driving under the influence of alcohol. The police will punish violations rigorously with high fines. For more details on traffic regulations, please contact your rental car provider at O' Hare Airport.
Explore the surroundings of Chicago by Rental Car
In the city of Chicago, many sightseeing attractions can be easily reached by rental car, but regular traffic jams often spoil the holiday pleasure. One more reason to rent a car at ORD airport and drive it to the surrounding area of the metropolis.
MB Financial Park at Rosemont
For example, you will have an unforgettable day in the new MB Financial Park Rosemont, which is located near the International Airport O' Hare. Here you can listen to live music by prominent artists, visit a comedy club and enjoy American and international specialties in one of the many restaurants.
Chicago Botanic Garden
A few kilometers outside the metropolis, the small town of Glencoe lies to the north. A visit to the botanical garden is particularly worthwhile. Experience the diversity of nature in a breathtaking landscape with more than 25 theme gardens. With its income, the garden supports veterans of the US Army and their relatives. Therefore, you have to pay a comparatively high parking fee for your rental car, but the visit is worthwhile.
Rockford
The town is located 90 miles from the metropolis and, due to its numerous sights, is always worth a car trip with a cheaply booked rental car. Enjoy the unique flair of Japanese gardens, visit the Victorian village and visit the world's oldest Harley Davidson workshop.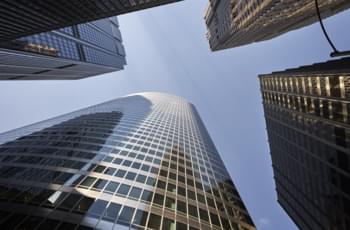 Financial District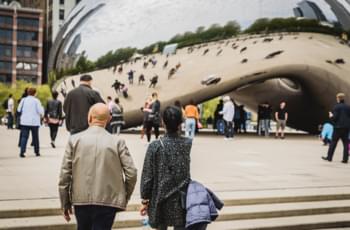 Cloud Gate
Car Rental Return at Chicago Airport ORD
Flights to Europe are handled at O' Hare Airport. For example, if you have booked a flight to Frankfurt, you must return your rental car at Airport ORD. Your provider's pick-up station is also easy to find at this airport and a shuttle bus will take you to your flight at the appropriate terminal in good time.