Exploring Abu Dhabi in the UAE by rental car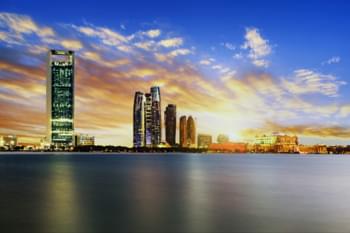 Abu Dhabi at sunset
The Abu Dhabi Emirate in the United Arab Emirates is the perfect destination for a rental car tour. Abu Dhabi is located on an island in the Persian Gulf that is off the mainland. A rental car is recommended so that you can travel flexibly in the Emirate of Abu Dhabi at all times. You don't need a taxi or public transport and can explore the city of Abu Dhabi and the rest of the emirate as you wish. Visit impressive mosques, interesting museums and enjoy the view over the city from the Etihad Towers viewing platform. If you prefer to leave your rental car at home, you can take a boat tour that takes you past all of Abu Dhabi's attractions. Whatever your perfect trip to the Abu Dhabi Emirate looks like, rent a car and be flexible and independent.
Car rental in the Abu Dhabi Emirate
In the Emirate of Abu Dhabi you will find car rental companies where you can pick up your desired vehicle at the following locations:
If you book your rental car online in advance on Driveboo.com, you can pick it up as soon as you arrive in Abu Dhabi. So you won't waste precious vacation time waiting.
Explore the highlights of Abu Dhabi with a rental car
Sheikh Zayed Grand Mosque
If you are travelling by rental car in the Abu Dhabi Emirate, you should drive to the Sheikh Zayed Grand Mosque. The large white mosque is impressive, overwhelming, unbelievable, fantastic, unforgettable and is guaranteed to leave you speechless. The Sheikh Zayed Grand Mosque is the largest mosque in the United Arab Emirates and can accommodate 40,000 people. If you visit the interior, you will find a variety of marbles and countless gold leaf decorations. You can also marvel at the largest chandelier in the world. It consists mainly of Swarovski crystals. As you can see, you should not miss a visit to the large white mosque.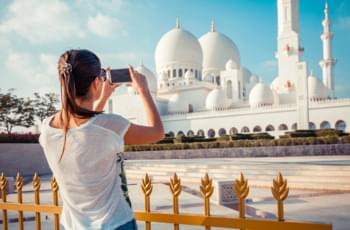 View of the Sheikh Zayed Grand Mosque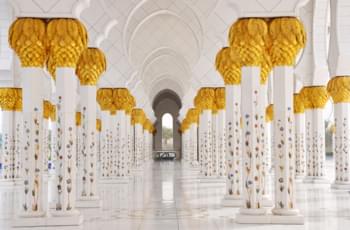 Sheikh Zayed Grand Mosque from inside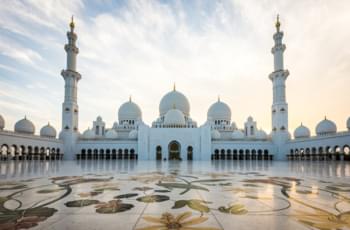 Sunset over the Sheikh Zayed Grand Mosque
Ferrari World
A visit to Ferrari World should also be on your program for Abu Dhabi. In the famous theme park you can take a ride on the fastest roller coaster in the world. It reaches a top speed of 240 km/h. Here the rental car can definitely not keep up. The entrance fees are relatively expensive, but a day at Ferrari World is worth it. Fun for the whole family is guaranteed here.
Al Ain
Al Ain is a green garden city in the middle of the desert. You can reach Al Ain by rental car after about 150 km from Abu Dhabi. The oasis is located on the border to Oman and is the second largest city in Abu Dhabi. Al Ain has all kinds of sights to offer. Relax between palm trees, visit the Al-Jahili fortress and experience a traditional souk with spices, robes, coffee and much more. Visit a camel market in any case.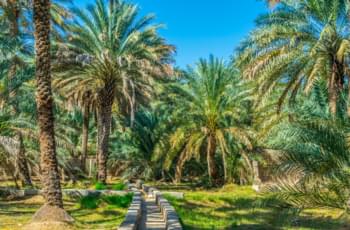 Palm oasis Al Ain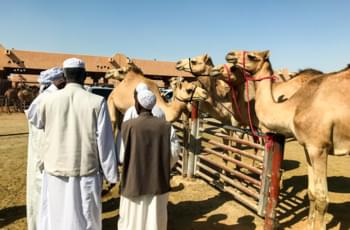 Camel market in Al Ain
More Highlights
In the following table you will find further must-sees in the Emirate Abu Dhabi as well as their distance from Abu Dhabi Airport.
| Destination | Distance from AUH Airport |
| --- | --- |
| Louvre Abu Dhabi | 37 km |
| Saadiyat | 33 km |
| Corniche Beach | 35 km |
| Qasr Al Hosn | 35 km |
With the rental car into the desert of Abu Dhabi
No trip to the Emirate of Abu Dhabi without a desert safari! But the best way to do this is to park your rental car in Abu Dhabi and book a tour with an experienced driver. If you start early in the morning, you can experience a fantastic sunrise over the desert landscape of Abu Dhabi. If you make a stop at a camel farm, you can refresh yourself and take a ride on a camel. Don't miss the opportunity to drift down the dunes on a sandboard. This tour is guaranteed to increase your adrenaline level.
Is a rental car trip to Dubai worthwhile?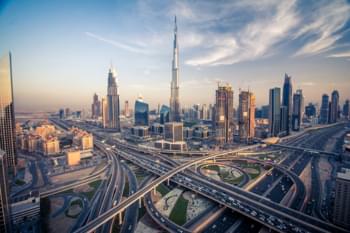 Discovering Dubai
Dubai is a metropolis of millions on the Persian Gulf and the largest city in the United Arab Emirates. It has been one of the most visited cities in the world for many years, which is why you should not miss a visit to Dubai by rental car. Immerse yourself in the fairytale city of 1001 nights. Stroll through spice markets, visit the Al-Fahidi Fort in the centre and then relax in Jumeirah Beach Park, Dubai's most beautiful city park. At Miracle Garden you can picnic and review your impressions. If you want to explore all the impressive places of the city on your own, you are well advised to rent a car. In that way you are always mobile and can drive to your desired destinations at your own pace.
What traffic rules do I have to follow in Abu Dhabi with a rental car?
In the UAE, right-hand traffic applies.
Speed limits: 60 km/h in urban areas, 80 km/h on country roads and 120 km/h on motorways
The speed limit on the motorway between Abu Dhabi and Dubai is 160 km/h.
On certain routes you may have to pay tolls.
In the United Arab Emirates and therefore also in Abu Dhabi, parking spaces are subject to tolls.
Maximum blood alcohol limit: 0.0 per mille