Your rental car at Abu Dhabi Airport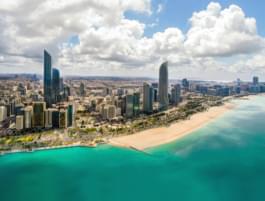 Blick auf Abu Dhabi
Get a rental car at Abu Dhabi Airport (AUH) and look forward to an unforgettable trip to the UAE. Renting a car for Abu Dhabi using online booking at Driveboo.com couldn't be easier, from small cars to luxury cars. Airport car rental companies offer choice, comfort, best service and reliability. Book your desired rental car online in advance and pick it up at Abu Dhabi Airport immediately upon arrival.
Where can I rent a car at Abu Dhabi Airport?
You can rent a car at Skypark Plaza at Abu Dhabi Airport. All car rentals are open 24 hours a day. Skypark Plaza, opposite Terminal 3, is only a short walk from Terminal 1 and Terminal 3.
You arrive at Terminal 2? The Skypark Plaza is only a 5-minute shuttle ride (every 20 minutes outside Terminal 2) or 1 km on foot.
You will find the following international and local car rental companies at Abu Dhabi International Airport:
Budget
Dollar Rent a Car
Europcar
Hertz
Thrifty
Avis
Fast
Payless
Warm spring temperatures in Abu Dhabi
You dream of warm temperatures, sun, beach and sea in spring? Then you won't have to wait much longer, because Abu Dhabi is waiting for you with an unforgettable spring holiday! Spring in Abu Dhabi will be an unforgettable time for you. Let the cold months be a thing of the past and recharge your batteries in the sunshine of Abu Dhabi. Enjoy the spring months with a stroll through the city, on the beach or on a camel safari in the desert. Spring in Abu Dhabi may be warm, but it's not yet uncomfortably hot. Nevertheless, we recommend that you rent a car with air conditioning. Look forward to a variety of excursions that will make your spring trip to Abu Dhabi a highlight.
General information about Abu Dhabi Airport
Abu Dhabi Airport (AUH), or Abu Dhabi International Airport, is an international airport in the emirate of Abu Dhabi, the capital of the United Arab Emirates (UAE).
The airport, located 30.6 km east of Abu Dhabi, is the second largest airport in the United Arab Emirates.
Abu Dhabi Airport is visited by some 20 million passengers every year.
It has three passenger terminals - Terminal 1 (divided into Terminals 1A and 1B), Terminal 2 and Terminal 3 - occupying an area of 3,400 hectares.
The terminal is dominated by the counters and facilities of Etihad Airways, which is the national airline of the United Arab Emirates and the second largest in the UAE after Emirates.
More than 30 airlines offer over 120 destinations in more than 60 countries with non-stop connections to all six inhabited continents of the world.
The city terminal: a check-in desk in the city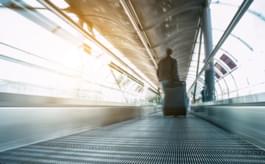 Easy check-in at the city terminal
A check-in desk is located in downtown Abu Dhabi for travellers who want to check in in downtown Abu Dhabi before travelling to the airport. This facility, known as the City Terminal, resembles an airport terminal building and has lounge and transportation facilities. After check-in at the city terminal, passengers must arrive at the airport one hour before departure. Another check-in facility is operated by Etihad Airways at the Etihad Travel Mall on the outskirts of Dubai.
What are the transport connections to Abu Dhabi Airport?
The airport is connected to the city centre of Abu Dhabi by three roads: Al Khaleej Al Arabi Street (Highway 30), Sheikh Rashid Al Maktoum Street (Highway 2) and Al Salam Street (Highway 8). The E 10 motorway to Dubai is about ten kilometres from the terminals.
Public transport links are provided by shuttle buses with the city centre terminal (an outsourced check-in desk), scheduled bus services to the rest of the city centre, as well as taxis or private minibus operators.
Taxis are, after renting a car, the preferred way to travel. They are cheap and run by a state-owned company. Rates start from around US$ 1.50 and you can get from one side of the city to the other for less than US$10. Taxi drivers are mostly from India or other Asian countries and can speak English relatively well. Many taxis are equipped with an on-board computer that combines a taxi meter and navigation system.
Etihad Airways offers a luxury bus service from Abu Dhabi International Airport to Al Ain International Airport and Dubai Travel Mall for its customers.
The UAE Department of Transportation offers buses to destinations throughout the emirate of Abu Dhabi and to other cities such as Dubai, Sharjah and Fujairah.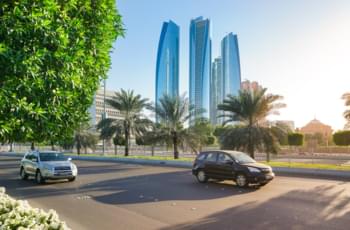 On the road in Abu Dhabi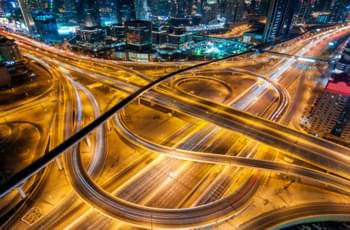 City highway Abu Dhabi
Car Rental from Abu Dhabi Airport
The UAE has a modern road system. Renting a car or driving in the UAE requires an international driving licence, which is basically a translation of your local driving licence and can be obtained from a national automobile association.
Car rentals are relatively cheap. There is a flat fee per day for renting a rental car based on the size and equipment of the car. Petrol is cheap according to European standards.
The road system is based on British or European standards, with many roundabouts and heavily concentrated traffic. But the traffic signs are easy to understand and are clear and visible in most places. The drivers in the UAE, especially in urban areas, are usually very aggressive - therefore, do not insist on your rights and adapt to the local conditions.
The lack of good road maps or detailed signage outside the cities makes the use of a GPS helpful, especially if you want to drive outside the motorway.
Desert safaris or "wadi bashing" are popular attractions near Dubai, but check carefully your rental car for this purpose; it should be a four-wheel drive one. Desert safaris are usually also offered by travel agencies and offer good value for money. You can often drive the SUV in desert sand for a while yourself.