Rental car Veracruz: Travelling flexibly along Mexico's east coast
Book a rental car and discover Veracruz, the region on the Gulf of Mexico. In Veracruz you will not only experience a rich culture, but also an incredible variety of landscapes. Discover exciting sights with a rental car on your own and get infected by the Mexican joy of life. The Veracruz region is not visited by as many tourists as Quintana Roo. So it's the perfect place to relax and take a ride in a rental car.

Veracruz in Mexico
Where can I pick up a rental car in Veracruz?
In order to travel flexibly and independently in Veracruz at any time, it is best to take a rental car. Simply visit our portal Driveboo.com and compare the prices of car rental companies. You can pick up your rental car either in the capital Xalapa or at one of these locations:
Which highlights should be on my list for Veracruz?
On your trip to Veracruz, make sure to stroll through one of the markets in the capital Xalapa. You shouldn't miss a trip by rental car to the pyramids of El Tajin. If you like action during your holiday, you can go whitewater rafting. In addition you should drive with the rented car to the following places:
Lago de Catemaco
Pico de Orizaba
San Juan de Ulúa
Isla de Sacrificios
Papantla
Embark on a road trip to Veracruz' neighboring regions and cities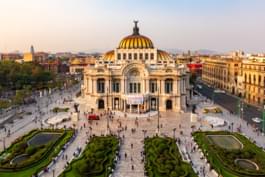 Palacio de Bellas Artes, Mexico City
If you are a fan of Mexico, you should not miss the other regions of Mexico and their beautiful cities. With a rental car you can arrange your trip individually. In the following table you will find some suggestions for short trips as well as the distance from Veracruz.
Ever heard of the one-way rental?
If you want to make a road trip in Mexico, you can choose the one-way rental option. This means that you pick up the rental car at the desired pick-up location and simply return it to another station. Using the search mask, you can select the one-way rental option and find the best deals.