Discover Mexico City with a rental car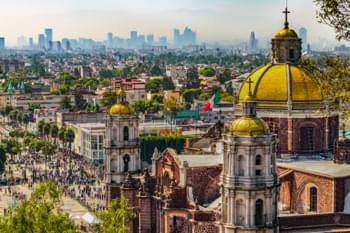 View over Mexico City
Are you planning a trip to Mexico? Then you should definitely plan a visit with the rental car in the capital Mexico City. With a rental car you can explore the city as well as the surrounding country and discover the numerous attractions on your own. As an independent comparison portal, we have made it our mission to offer you an overview of the various car rental services around the world. Therefore, you can compare the different offers in Mexico City and make an informed choice about your rental car. Book the perfect rental car for your trip to Mexico City with Driveboo.com and look forward to an unforgettable adventure.
Facts and figures about Mexico City
Mexico City is the capital of Mexico.
Mexico City is located in the valley of Mexico in the center of the country and is surrounded by numerous mountains.
Mexico City is divided into 16 districts.
The entire state, in which the capital is located, lies at about 2,240 meters above sea level.
About 9 million people live in Mexico City.
Mexico City International Airport is located about 13 kilometers from the center of the capital.
Mexico City is the political, economic, social and cultural center and the country's largest transportation hub.
Are there car rentals at Mexico City Airport?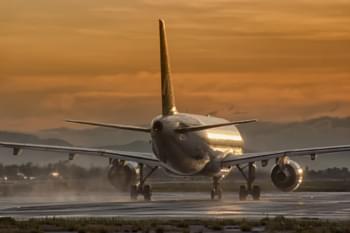 Aircraft at Mexico City Airport
At Mexico City Airport you can pick up a rental car immediately after your arrival. In this way you are flexible from the first minute and able to travel independent of public transport. The airport itself ranks among the top 30 in the world and offers you a wide range of car rental services from the moment you arrive. Like that you can easily rent a car for your time in Mexico City. If you would like to return your rental car to another location at the end of your journey, you can select the one-way rental option directly when booking on Driveboo.com. A return to the airport is not mandatory.
Find a cheap car rental in Mexico City
If you are looking for a rental car service for your stay in Mexico City, then you have come to the right place. Here you can compare different car rental services and then select the one that suits you best. The advantages are clear: with this method you can search for a rental car according to your wishes - whether a small car, a middle class or a limousine. With the help of our comparison, you are sure to find the car of your dreams in Mexico City that will take you on a journey of discovery through the capital and the land of the Aztecs.
Places of interest in Mexico City
If you are wondering what great sights are waiting for you in Mexico's capital, you can see an overview of the highlights in Mexico City here: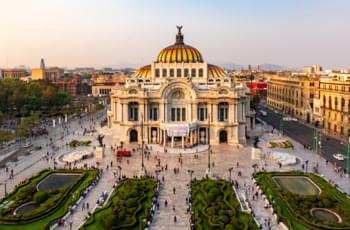 Palacio de Bellas Artes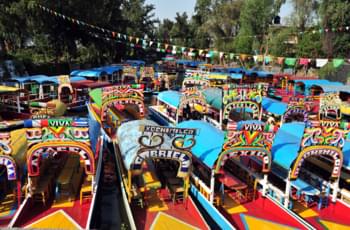 Floating gardens of Xochimilco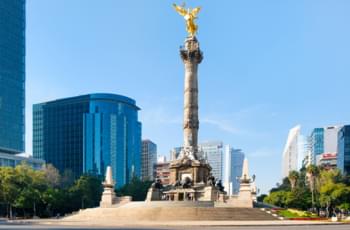 Àngel de la Independencia
Palacio Nacional
Catedral Metropolitana de la Asunción de María de la Ciudad de México
Templo Mayor
Palacio de Bellas Artes
El Ángel de la Independencia
Basilica de Guadalupe
Floating gardens of Xochimilco
What do I need to look out for in Mexico with my rental car?
Roadtrip Mexico: Travelling in Mexico with a rental car
Mexico is a very diversified country. For this reason, you should not only visit the capital Mexico City when travelling to Mexico, but also explore the surrounding area with a rental car. Go on an unforgettable road trip through Mexico. Relax on beautiful beaches, visit historical ruins and immerse yourself in the Mexican joy of life.
Surfing in Puerto Escondido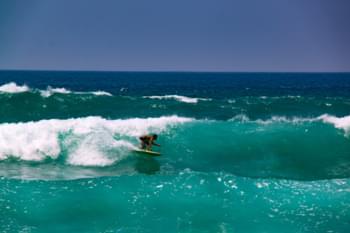 Surfen in Puerto Escondido
The city of Puerto Escondido in southwestern Mexico means "hidden harbour" and is famous for its perfect surf spots. In the legendary "Mexican Pipeline" one of the fastest and biggest waves in the world is created. Puerto Escondido was once a quiet fishing village that now attracts surfers from all over the world. However, you should only board if you are an experienced surfer. The huge waves are not for beginners. But even if you don't want to surf, you won't get bored in Puerto Escondido. Take a boat trip for example and look forward to seeing dolphins, turtles and flying fish.
Cenotes in Yucatán
A road trip through Mexico should also include a visit to some Cenotes. Cenotes are limestone holes filled with fresh water. They were formed by the collapse of a cave ceiling. Get into your rental car and discover the adventurous locations on your own. We recommend the following cenotes in Yucatán:
Grand Cenote
Cenote Calavera
Cenote Ik'kil
Cenote X'keken
Chichén Itzá
Chichén Itzá is one of the most impressive ruins in the world and dates back to the Mayan era. The ruins have been a UNESCO World Heritage Site since 1988. Park your rental car and discover the impressive buildings on foot. The ruins will leave you speechless. If you want to escape the crowds of tourists, the best thing to do is to come to Chichén Itzá early in the morning.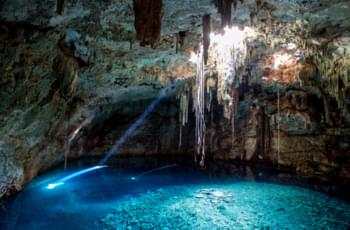 Cenote in Yucatán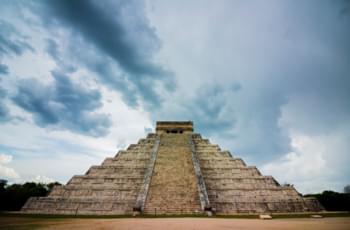 Chichén Itzá