Rental Car at Mexico City Airport
Mexico is also for Summer and Fall 2020 a wonderful holiday destination. With its immense size, Mexico City is the logical capital. About 20 million people live here. Throughout the months June, July, August and September you can expect constant temperatures around 23 degrees upon arrival. Should you fly to Mexico during the Fall months October or November, you are welcomed by mild temperatures around 21 degrees. The airport is of course the hub of the country. With more than 40 million passengers per year, it is quite gigantic. Life pulsates here. It has no official name, but is colloquially named after the statesman Benito Juarez. If you want to travel around the country with a rental car, it is best to book it in advance via Internet with a rental car check and pick it up directly at Mexico City Airport (MEX). And, what is quite remarkable: the city has such an extension that the airport is already located in the settlement area.
Where can I pick up my rental car at Mexico City Airport?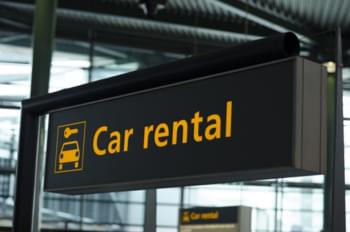 Car rental stations convenient located
One can imagine that there are several providers at such a large airport and that the cars can be picked up at various parking lots. First of all a general remark: If the car park is outside, you will either be taken to your car by shuttle or the car will be picked up for you. Just ask in advance how it is handled at your rental company to avoid unnecessary waiting times or the like. The rental offices are located everywhere in the terminal building and also northeast along Calle Sonora.
Which car suppliers are located at Mexico City Airport?
To make a complete list seems to us almost hopeless. Here we offer a list, which should cover at least the majority of them:
IN THE TERMINAL BUILDING YOU WILL FIND (FROM WEST TO EAST):
National Car
Hertz
Capote Jimenez Irma
Cold Car Rental
Alamo
Budget
Sixt
Mex Rent a Car
Europcar
ACE
Thrifty
E-Z Rent-a-car
Avis
in front of the terminal building you will find (from west to east):
Allianza Movil
Tipoa Rental Car
Econo Movil
along the CALLE SONORA eastwards
Avis car park
Mex office
Hertz
Sixt car park
Budget car park
Mex car park
Europcar car park
Alamo car park
Fill up the tank before drop-off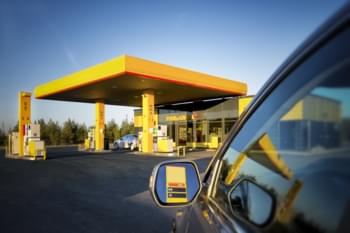 Many gas stations along Calle Sonora
The rental car must always be returned fully refuelled. Therefore, plan the stop of the refuelling as well as the time needed for the return. Since the car parks are just outside the airport, you should allow some time for the transfer to the terminal. Fortunately, there are many of these along Calle Sonora, which leads past the terminal. One particularly noteworthy aspect is therefore not relevant.
Travel time from Mexico City Airport to other cities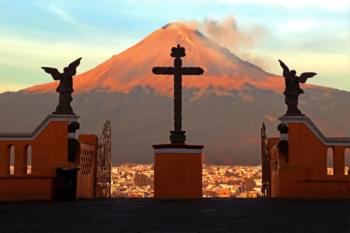 Cholula close to Puebla
The airport is located in the urban area. The city is so gigantic that if you want to travel from the airport to the southeastern tip of the city (Chalco de Diaz Covarrubias), you have to expect 33 km and 40 minutes by car. If you want to go to Buenavista in the north of the city, you need the same distance for the same route. In short: you are already in the middle of the city. If you want to go somewhere else, we will list some domiciles so that you have some guide marks.
Destinations from Mexico City Airport
Connections from the airport car rental service
The airport is well connected to the public transport network. Buses, trains, subways, taxis. You are spoilt for choice. If your rental office is closed for any reason, which will not be the case at this metropolitan airport, you have every opportunity to travel to the city by other means of transport, such as checking in for a night in the vicinity to pick up the car a day late.
Everything you need to know about Mexico City Airport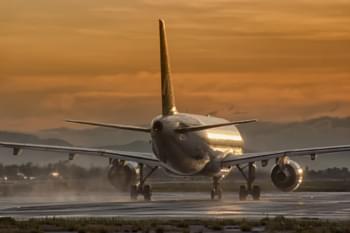 Airplane arriving in Mexico City
The metropolis is the capital of the country. Many people do not like the fact that the city has already grown around the airport. A new, even bigger airport is therefore planned outside the city. It should therefore have 6 runways and be able to handle 120 million passengers per year. Those who have to bridge waiting times here can benefit from the many shops and snacks on offer. As I said before - it is a gigantic airport with a very large offer.
Drive through Mexico with you Rental Car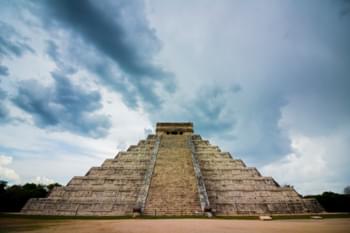 Chichen Itza in Yucatan
Book your rental car in time. Especially if you want to leave Mexico City to explore the vast expanses of the country, you need a rideable vehicle. Otherwise, the distances are much too long. Just consider a simple example that reflects the distances: the pyramid of Kukulcán is an incredible 1430 km away. An international driving licence should be carried in addition to the national one. Attention: There is an environmental program of the government "Hoy no curcula", which prohibits driving on some days. Rental car drivers must also adhere to it.
Traffic rules in Mexico
Many roads are toll roads. These are marked with a "D" after the street number. Those without toll are "libre", but mostly in bad condition and unsafe. The speed limits are 50 km/h and 100 km/h in and out of town. Speeders are severely punished here. Alcohol is tolerated in moderation 0.8 per mille is the limit.