Book a rental car in Tuscany
Tuscany is a region in central Italy that you can explore optimally with a rental car. Tuscany consists of 10 provinces and its capital is Florence. Book a rental car and drive flexibly to all your desired destinations in Tuscany. The landscape has a history rich in tradition and has developed over the decades into an important cultural landscape. The region is very hilly and dotted with pines, cypresses and olive trees. Leave your rental car and take a walk in one of the many forest and nature reserves. In Tuscany you will also find wide coastal landscapes with numerous beaches, for example between Pisa and Grosseto.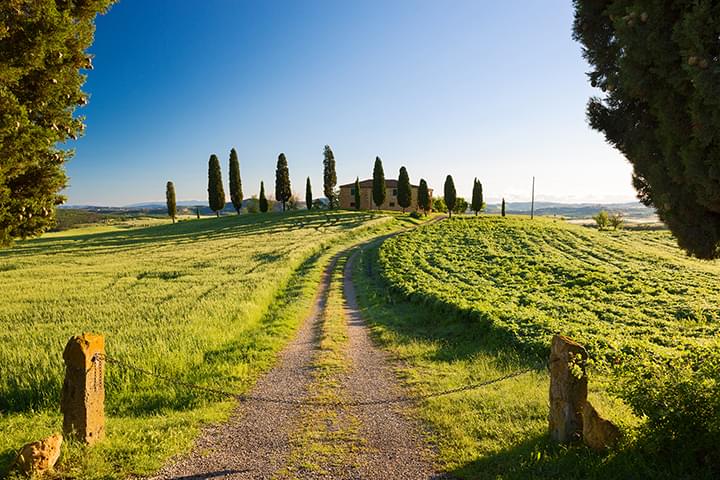 Explore Tuscany with a rental car
Experience culture and nature up close in Tuscany
Tuscany, with its beautiful countryside, seems to invite its visitors to explore the region with a rental car. Let yourself be enchanted - drive between romantic vineyards, traditional olive groves and green avenues.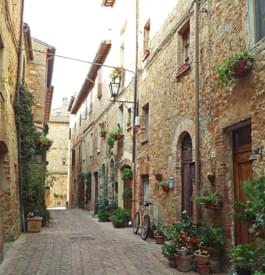 Street in Tuscany
Not only scenically but also culturally Tuscany has a lot to offer. Visit the Leaning Tower of Pisa with your rental car. Here you can take some funny photos. Or take a trip to the Ponte Vecchio and the cathedral in Florence. We also recommend an excursion to the village of Cortona, which will fascinate you with its original character.
If you want to give your rental car a day's rest, relax in one of the many thermal springs and health resorts. However, if you are looking for a sporting adventure, we recommend the beaches of the Gulf of Lacona or the Gulf of Stella. These are ideal for water sports of all kinds.
Discover exciting places in Tuscany with a rental car
The island of Elba belongs to the Tuscan province of Livorno. It is a popular holiday destination that has something to offer for every taste. Its variety ranges from beautiful sandy and pebble beaches to green hills, dry out areas and steep cliffs.
With a rental car on Elba you can explore the whole island comfortably and get to know its special features. Discover hidden places and enjoy the landscape. The island is also perfect for diving, sailing or kayaking.
You should also add the following cities to your list: