Rental car Skåne län: Discover the beauty of Sweden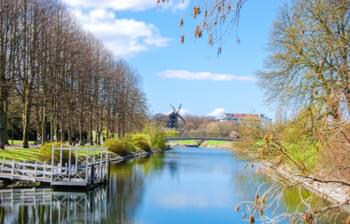 Lake near Malmö
Book a rental car and discover sweet little towns like Malmö and breathtaking nature in the province of Skåne län in Sweden. Skåne County is the southernmost province of Sweden and awaits you with some highlights. The best way to explore the sights of Skåne län is by rental car. This way you are always flexible and independent of public transport. You can find the right rental car on Driveboo.com. Our portal will help you compare car rental offers in Skåne län. This gives you transparency and helps you find the best price for your rental car. Look forward to your well-deserved holiday with a rental car in the province of Skåne län.
Car rental Skåne län: Where do I get my rental car?
You can rent a car in many different places in Skåne län province. Simply book your desired car online in advance. You can choose from a variety of rental car models and other features. You can pick up a rental car at one of the following locations in Skåne County:
Malmö
Lund
Trelleborg
Kristianstad
The right rental car for your trip to Skåne län
Do you vary between a minivan, a small car and an SUV when choosing the right rental car for Skåne län? Then simply orient yourself to what is most important to you on your journey. For example, if you are travelling to Skåne County on business, then a premium class rental car would be something for you. On the other hand, if you're travelling to Sweden with the whole family, you probably attach great importance to space and storage. Then a minivan is just the thing. We can recommend a convertible for all sun worshippers. With a cabriolet as a rental car, you can cruise through Sweden's countryside and enjoy the sun. As you can see, you will find the right rental car for every occasion on our portal.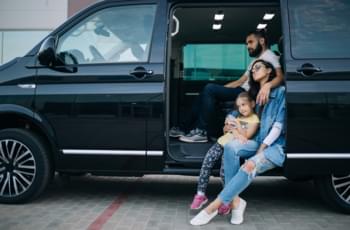 Minivan: Space for the whole family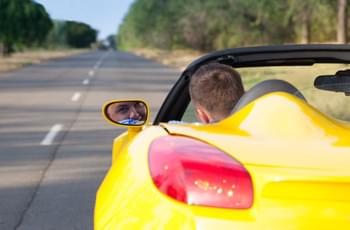 Pure sun in a convertible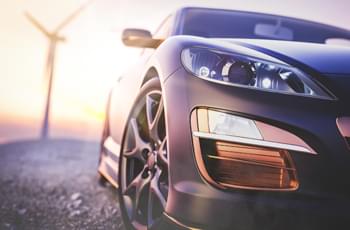 Convincing with the premium class
What are the traffic rules in Skåne län, Sweden?
Right-hand traffic applies in Sweden.
The tram always has right of way.
Blood alcohol limit: 0.2 per mille
Motorways are free of charge throughout the country.
Speed limits:
*Each community sets its own speed limit.
Always watch out for wildlife, especially on side roads.
Take a rental car to the highlights in Skåne län
Turning Torso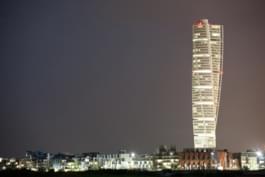 Turning Torso at night
Visit one of the most popular sights in the province of Skåne län in Sweden with your rental car. The Turning Torso was designed by the Spanish architect Santiago Calatrava and completed in 2005. It is located in Malmö and is the highest building in Scandinavia. Park your rental car at the Turning Torso and visit the 190-metre high residential tower. It consists of nine cube-shaped blocks and rotates 90 degrees from top to bottom. From the top of the tower you have an unbelievable view over Malmö.
Ales stenar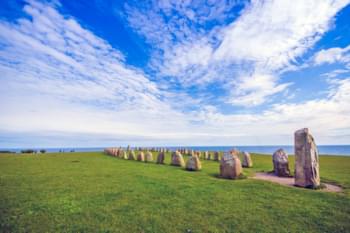 Ales Stenar
The 59 stones of Ales Stenar are located on a hill directly on the south coast of Sweden. Park your rental car at the entrance to Kåseberga and walk to this breathtaking place from where you can enjoy a magnificent view of the sea. The stones are arranged in the shape of a ship and have been there since 600 A.D. The site is interpreted as a burial ground or even a solar calendar. If you would like to get something to eat after your visit, you will find a harbour below Ales Stenar with cafés, restaurants and souvenir shops. Be sure to try the Baltic herring, also known as Strömming.
MORE SIGHTS TO SEE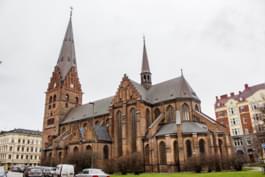 Saint Peter
Malmöhus
Sofiero Castle
Saint Peter
Stenshuvud National Park
Kullen
Lund Cathedral
Kärnan
Is it worth taking a trip to Denmark in a rental car?
Would you like to make a trip to Denmark with a rental car? That is a good idea! From Sweden, you can easily reach Denmark by rental car via the Öresund Bridge. The bridge has been open to traffic since 2000. Find out in advance about the fees for the bridge. When you rent a car, make sure that you are entitled to drive to another country. When all this has been cleared up, you can look forward to seeing some exciting sights in Denmark.