Discovering Santorini independently by rental car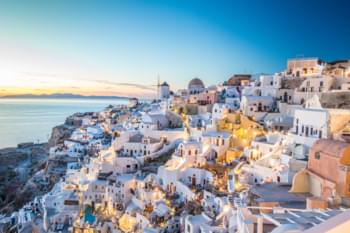 Sunset in Santorini
Enjoy the Greek archipelago of Santorini with a rental car and book your rental car in advance via our price comparison Driveboo.com. On our website you can compare the offers of all well-known car rental companies on Santorini. In this way you can save money when renting your car.
The Greek island is ideal to be discovered with your own car. The sweet villages in combination with untouched nature invite you to a voyage of discovery. Look forward to an exciting trip with the rental car over Santorini.
Things to know about Santorini
Santorini is a group of five islands belonging to Greece.
The main island is Thira.
Santorini originated from a volcano whose rocks can still be seen everywhere on the island.
Santorini has the most hours of sunshine in Greece.
The island lives almost from tourism.
What charming places should I visit in Santorini by rental car?
Oia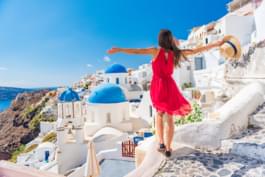 Visit Oia
Oia is a town in the north of the island, located on cliffs. In addition to a breathtaking view, you will also find many other interesting places. The city inspires with unique architecture and a lot of charm. The snow-white houses with blue doors and windows have made Oia famous all over the world. Stroll through the narrow streets and enjoy the wonderful sunsets in Oia.
Imerovigli
Drive by rental car to Santorini's highest town. In Imerovigli you can enjoy a gigantic view. You should also visit the imposing ruins of a former castle. This is located on the Skáros rock near the city.
Don't miss a visit to the white Theosképasti church on the west side!
Kamari
In Kamari you will find one of the most beautiful beaches of Santorini. The town gets its characteristic appearance thanks to the dark stones of the beach, which are impressively situated in front of the rock cape Méssa Vounó. If you are tired of lazing around on Kamari beach, you can visit the Zoodócho Pigi Chapel. From this windless place you have a wide and stunning view.
Food & drink in Santorini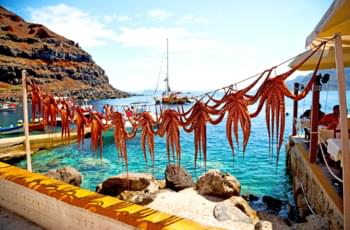 Fresh seafood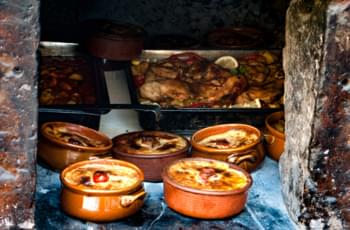 Delicious moussaka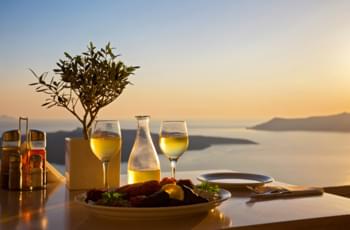 Enjoy wine with a view
Fancy some typical Greek specialities? On Santorini you will find a variety of taverns, restaurants, cafés and bars offering all kinds of Greek delicacies. Look forward to Greek wine, fabulous moussaka and all kinds of seafood with a wonderful view over the island. It is best to ask the waiter for his recommendation of the day. This way you will always get a fresh dish. In the following table you will find an overview of typical Greek dishes:
Visit other exciting Greek islands
Did you like Santorini? Then you should visit one of these islands during your next holiday: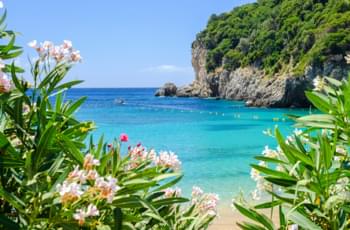 Bay in Corfu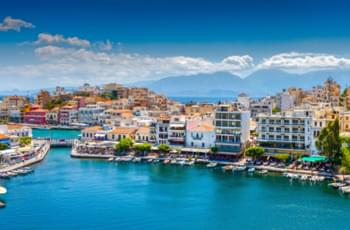 Crete
Corfu
If you are travelling to Corfu, you can pick up your rental car at Corfu Airport immediately after your arrival. Write all the sights you don't want to miss on your individual travel list and visit Sidari, Achilleion or Paleokastritsa. There is no time for boredom during this holiday!
CRETE
One of the most popular Greek islands is Crete. It is a highlight not only for sun worshippers but also for culture and nature lovers. You can pick up your rental car for Crete either directly at Heraklion Airport, at Chania Airport or at one of the many pick-up stations in your holiday resort. With a rental car you are perfectly equipped to start your holiday.
Rhodes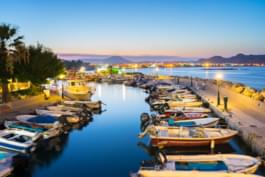 Port of Rhodes
Rhodes is one of the most beautiful destinations in the Mediterranean. Drive with your rental car to the cities of Lardos or Rhodes City and visit the beaches of Faliraki or Lindos. Let your soul dangle with an ice-cold cocktail and enjoy the charm of the island to the full.
What are the traffic rules in Santorini?
The following traffic rules apply in Greece and therefore also in Santorini: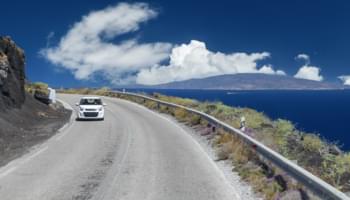 Santorini by rental car
The maximum speed is 50 km/h inner cities, 90-110 km/h out of town and 130 km/h on motorways.
The blood alcohol limit is 0.5 per mille. For beginners and motorcyclists, however, the limit is 0.2 per mill.
The person who enters the roundabout has the right of way.
The obligatory inventory in the rental car includes: warning triangle, first aid kit and fire extinguisher.
Seat belts are obligatory for all vehicle occupants.
Children under 135 cm or under 12 years must have a children's seat.