Explore Rhodes by rental car
Rhodes is located at the northern tip of the Greek island of the same name and can be explored by rental car. It consists of a modern and an ancient part. Drive through the old town that is completely surrounded by a city wall and considered to be one of the best preserved medieval cities in Europe in a rental car. If you prefer some action, the new town offers a pulsating nightlife and modern architecture. On Driveboo you can compare offers of car rental companies in Rhodes and book your Rhodes rental car quickly and simply online.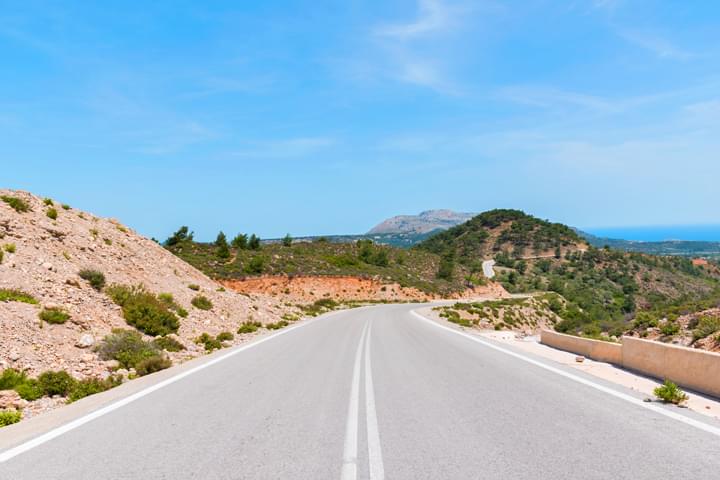 Rhodes by rental car
Where is the best place to rent a car in Rhodes?
There are plenty of rental car companies waiting for you both in Rhodes city and at the airport. You can choose the pick-up location according to your plans. If you arrive at Rhodes Airport (RHO) and want to start your journey right away with a rental car, there are cheap rental cars from numerous providers available directly at the airport.
Your advantages of renting a car at the airport
cheap offers for rental cars
longer opening hours
higher availability of vehicles
Where can I park my rental car free of charge in Rhodes?
In Rhodes, you can park your car free of charge in the zones marked in white. If, on the other hand, the roadsides are marked yellow, parking is prohibited. Blue zones are subject to charges. Additionally pay attention to the signs. Wrong parking in Rhodes will cost 80 euros.
How to include an additional driver for the rental car
If you are going to visit Rhodes with a friend or your partner and want to share the time driving, you can include an additional driver for the rental car at the car rental company. A small additional fee will be charged in return. There are also offers that include an additional driver free of charge. An online comparison in advance on Driveboo is worthwhile.
When to visit Rhodes?
The island in the Mediterranean Sea off the Turkish coast awaits its visitors with long summers and mild winters. Especially between May and November Rhodes is a perfect holiday destination. If you are an active vacationers, we recommend a trip to the island in spring. At this time of the year the whole island is in full bloom. It`s the perfect time to go hiking. From April on the temperatures will be a pleasant 20 degrees. For all those, who are longing for sun and beach, the hot summer is recommendable.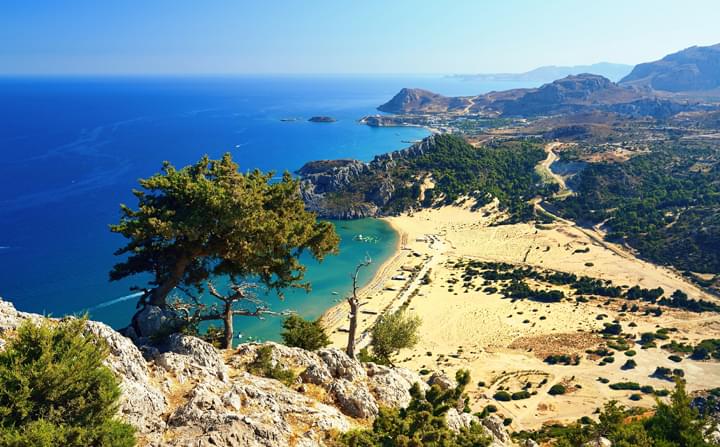 View over the sea, Rhodes
Discover Rhodes and its surroundings by rental car
The typical Greek ambience of Rhodes attracts many visitors every year. They are thrilled by the culture, sun and the prospect of pure relaxation. If you want to enjoy full flexibility and explore the versatile nature on the Mediterranean island, get into your rental car and go on a road trip.
Discover special highlights in Rhodes by rental car
the Old Town, which is a UNESCO World Heritage Site
the Grand Master Palace of the Order of St John
the Archaeological Museum
the Museum of Decorative Art
the Byzantine Museum in the Church of Our Lady Panagia tou Kástrou
the Museum of Modern Greek Art
Roadtrip around Rhodes by rental car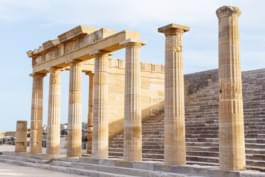 Acropolis, Lindos
Rhodes can be perfectly explored by rental car. You will be able to discover the island independently in all its splendour if you decide on renting a car during your stay. Visit the former fishing village of Faliraki, where you can find a wide range of water sports offers. Culture lovers should definitely plan a visit to Lindos. You will find the second largest acropolis in the country there.
We have listed particularly beautiful and interesting excursion destinations in the following table:
| Excursions | Distance by car from Rhodes-city | Duration |
| --- | --- | --- |
| Faliraki | 15 km | 25 minutes |
| Lindos | 60 km | 55 minutes |
| Profítis Ilías | 45 km | 1 hour |
| Prasonisi | 90 km | 1 hour 40 minutes |
| Filerimos | 15 km | 25 minutes |
| Tsambika | 30 km | 35 minutes |
The city and island of Rhodes offer an exciting mix of culture, nature and different activities. With your rental car you can experience every facet of the island. You will be flexible in planning where to spend your time.
Greek vocabulary for the rental car trip
The following typical Greek vocabulary will hopefully help you getting around in Rhodes with ease.
| English | Greek |
| --- | --- |
| Parking lot | Státhmef̱si̱ |
| Petrol station | Vensinathiko |
| Insurance | Asfalisi |
| Rental car | Enoikiáseis af̱tokiní̱to̱n |
| (Unleaded) petrol | Vensini |
| Diesel | Diesel |