Car rentals in Greece: Most popular car rental destinations
Discover Greece with a rental car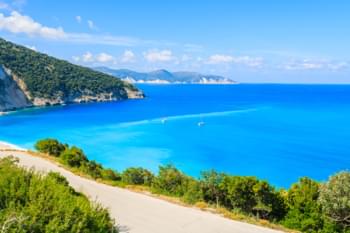 Discover Greece by rental car
A long and fascinating history, countless secluded coves, endless sandy beaches, and numerous ancient monuments and archaeological sites are just some of the reasons holidaymakers love Greece. Over the past few decades, the country has become one of Europe's top tourist destinations.
Lovers of history and archaeology will find plenty of attractions across the Greek mainland. Holidaymakers who would like to spend a couple of idyllic days on Europe's best beaches should choose one of the Greek islands - such as Corfu, Rhodes, Kos, Crete, or Zakynthos. The easiest way to explore the many and varied Greek attractions, regardless of whether you choose the mainland or one of the Greek islands, is to hire a car. With DriveBoo, you can compare car rental deals and book a vehicle online.
Where can I find the best car rentals in Greece?
All major Greek cities offer a wide variety of car hire companies. However, the most convenient way to hire your dream vehicle is often directly at the airport.
Initially, the wide variety of vehicle types might seem a little bit daunting, but with DriveBoo you will have a unique opportunity to compare vehicles and offers.
What are the major airports in Greece?
Driving around Greece with a rental car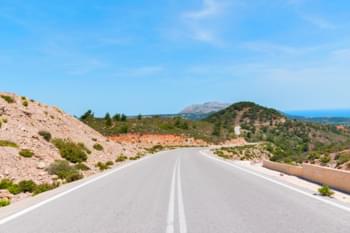 On the road in Greece
A standard national driving licence from your home country will be accepted at all car hire companies across Greece.
When driving in Greece, you always need to have the following documents with you: proof of insurance (it's best to opt for third party liability insurance, which is the required minimum in Greece), ID or passport, and a valid driver's licence.
You must always overtake vehicles on the left and drive on the right.
Vehicles that come from your right hand side have the priority.
Greece follows the international light system.
You should avoid using your horn inside cities. The only exception to this rule is when you want to avoid an accident.
What are the rules concerning seatbelts in Greece?
All passengers are obliged to wear seatbelts. However, if you cannot wear a seatbelt on certain medical grounds, you must carry with you a special certificate explaining the situation. The certificate has to be translated into Greek.
Other important traffic rules in Greece
In order to drive in Greece, you need to be 18 years old. In the case of car rental, you have to be at least 21-23.
The average fine for not wearing a seatbelt is EUR 350.
It is forbidden to use mobile phones while driving, but GPS systems can be freely used.
Many roads in Greece possess three lanes, and the middle one can be used for overtaking on both sides.
Parking metres and ticket machines are commonplace in the centres of major cities.
Mandatory car equipment in Greece features:
Warning triangle
Fire extinguisher
First aid kit
Headlamp beam deflectors
Crash helmets (motorcyclists only)
What is the legal alcohol limit in Greece?
The permissible blood alcohol level is 0.05 % (or 0.00% for motorcyclists). A lower limit of 0.02% applies to individuals who have less than two years' driving experience.
What are the speed limits in Greece?
Other applicable speed limits are indicated on the road signs.
What are the emergency phone numbers on Corfu?
Whenever you need assistance from the fire department, police, or ambulance you should call the European emergency number: 112.
Explore the beauty of Greece with a rental car
The sheer number and diversity of things to do in Greece can initially be overwhelming. However, all types of tourists will find something of interest. Renting a car will give you the freedom to reach all of the Greek gems you want to see. Below, you will find descriptions of just a few of the notable tourist attractions Greece has to offer. However, there are many more to discover.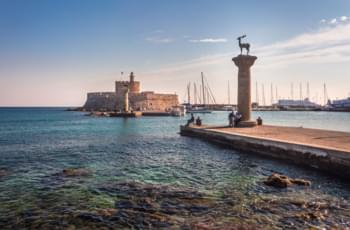 Rhodes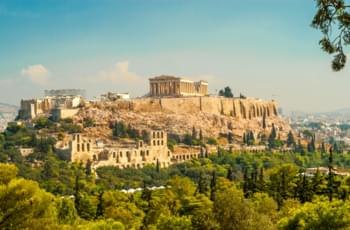 Acropolis in Athens
Athens: The Acropolis

One of the many iconic symbols of Greece, the Acropolis is a rocky outcrop located in the heart of a modern city. At its summit, you will find three of the most important temples in the region. They date back to the 5th century BC and are among the most popular tourist attractions in the country. The most important is, of course, the Parthenon, which features 58 columns supporting its decorative roof. Just a stone's throw from the Acropolis, you will also find the ancient Agora, Kerameikos, the Temple of Olympian Zeus, and many other notable attractions.
Santorini

One of the most beautiful Greek islands, Santorini offers scenic beaches, delicious local food, and stunning monuments. Its best known for its two popular tourist cities—Fira and Oia. There, you will find bustling town centres, lively streets, and great accommodation that welcomes all types of tourists.
Delphi

Delphi is a UNESCO World Heritage site that can be found on Mount Parnassus. Delphi overlooks a large gorge, which was considered sacred by the ancient dwellers of this region. In the area, you will also find stunning temples, a Greek theatre, stadia, and the popular Delphi Archaeological Museum where you will learn more on the history of this fascinating region.
Meteora Monasteries

Considered some of the most stunning Greek attractions, the Meteora Monasteries can be found on the Thessaly Plain. Here, you will have the opportunity to admire the astounding rocky outcrops. On the top of each of those outcrops, you will find a number of monasteries, six of which are open to the public.
Rhodes Town

The capital of Rhodes Island will be an ideal choice for those seeking fancy shopping venues and beautiful ancient monuments. Enclosed in an intricate fortification system, Rhodes Town offers a wide variety of tourist attractions. It is also a great gateway for the exploration of the island. Nearby attractions include towns such as Lindos, Archangelos, Faliraki, and Monolithos.