Discover Salzburg by rental car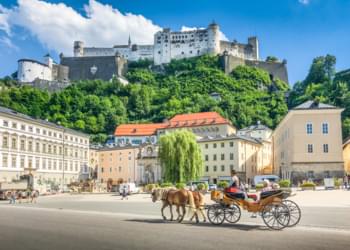 Beautiful Salzburg, Austria
Do you want to explore Salzburg by rental car? That is an excellent idea. Salzburg is the fourth largest city in Austria and one of the country's cultural metropolises. The city is known as the venue of the world-famous Salzburg Festival and has a lot to offer musically and culturally. The best way to reach your desired locations in Salzburg is by rental car. The historic center of the city is a UNESCO World Heritage Site and is architecturally impressive. Salzburg is located on the northern edge of the Alps directly on the German border in the immediate vicinity of the Berchtengardener Land. Visit the Hohensalzburg Fortress, the Mirabell Garden and numerous other sights of Salzburg with your rental car and let yourself be enchanted by Mozart's birthplace!
Dreamlike winter in Salzburg
Those who travel to Salzburg in winter can look forward to a multi-faceted city. Salzburg convinces with a sensual Christmas time in a wintry scenery. Go for a round of ice skating or take a carriage ride through the winter wonderland of Salzburg. But even after the Christmas season a winter trip to Salzburg is always worthwhile. Look forward to varied winter weeks with culture, music and nature. Listen to the sounds of Mozart and take romantic winter walks. If you take a walk to the Hohensalzburg Fortress in the evening, you will be rewarded with a magnificent view of the illuminated city. You can also reach numerous winter sports areas in the Salzburger Land from Salzburg by rental car.
Car rentals in Salzburg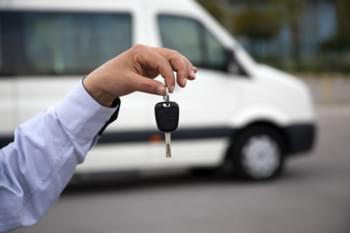 Car rental in Salzburg
Book your rental car in one of the many car rental agencies in the center of Salzburg or at Salzburg Airport. It is best to use the comparison platform Driveboo.com to find out in advance about the local providers and their offers of rental cars and to reserve your dream car. Ask directly about the equipment you need, such as a navigation system or child seats, to ensure that they are available. At Salzburg Airport you will find many car rental companies to choose from and you can pick up your dream car directly. Salzburg Airport W. A. Mozart is located about 6 km from the city center.
On the road in Austria with a rental car
No matter if you are driving in Vienna or Graz, Austria can be discovered very well and comfortably by rental car. The well-developed road network and the mostly moderate traffic make travelling easy. As Austria is an important transit country for travelers all over Europe, it is best to inform yourself in advance to avoid the peak travel times and routes and to enjoy the picturesque nature in a relaxed way.
Traffic rules and regulations in Austria
The maximum speed limit on freeways in Austria is 130 km/h, on country roads 100 km/h and in towns 50 km/h.
The blood alcohol limit is 0.5 - it is best to avoid alcohol altogether.
The use of cell phones at the wheel is generally forbidden and is only permitted via a hands-free device.
Whoever is on the road in Austria during the winter months should keep in mind that winter tires are mandatory between November 1st and April 15th and it is best to have this confirmed at the car rental company.
When you make your reservation, please make sure that you have the necessary child seats, because children under 14 years and under 1.50 m tall must be secured with a suitable child seat.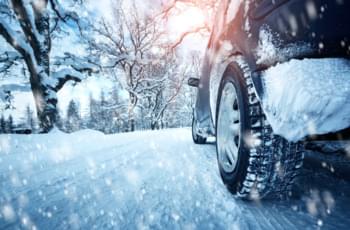 Do not forget winter tires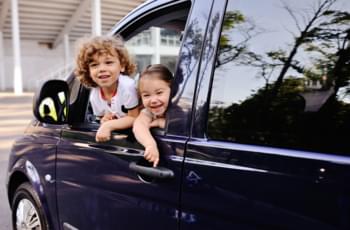 Think about the child seat
Do I have to pay toll in Austria?
In Austria there is a general toll obligation, a valid vignette must be used. If your rental car does not yet have a valid vignette, you can buy one at customs stations, gas stations or at the post office. Currently, ten days cost 7.90 Euro and two months cost 23 Euro. The vignette is stuck to the inside of the windshield, it must be clearly visible. For some tunnels and roads there are also separate fees that you can pay directly on site. It is best to ask at your car rental agency or at the tourist information, they will be happy to advise you.
Music City Salzburg
Salzburg is the city of music and the city of Mozart. Here you can walk in the footsteps of the famous composer, visit the house where he was born and where he lived and get in the mood for music. The popular Mozartkugeln are a good and tasty souvenir for those at home.
Touring the Salzburg area by rental car
The Salzburg region offers impressive mountain landscapes and excursion possibilities with unique mountain panoramas. With your rental car you are flexible and independent - use the freedom for an excursion in the attractive Salzburg area!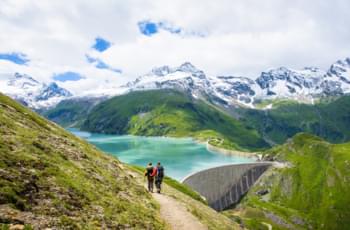 Hohe Tauern National Park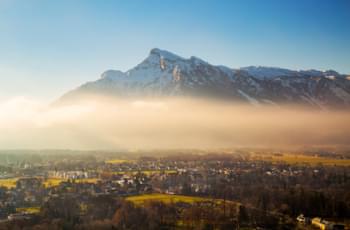 View of Untersberg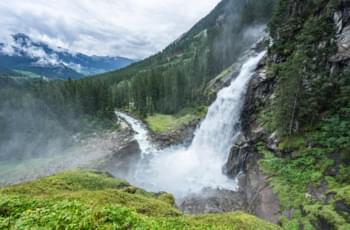 Krimml Waterfalls
Hohe Tauern National Park
The National Park Hohe Tauern consists of a multitude of glaciers between high mountains in untouched nature. Hiking trails and numerous sports facilities in a spectacular scenery await the visitors.
Untersberg
The Untersberg is the local mountain of the city of Salzburg and one of the most popular local recreation areas. Magnificent views await you here. Park your rental car near the station and take the Untersberg cable car to get up the mountain.
Krimml Waterfalls
The Krimml Waterfalls in Krimml near Salzburg are the highest waterfalls at 385 meters. They are located in the scenic National Park Hohen Tauern and can be explored on foot over serpentine paths with a little bit of endurance.
Salt Worlds Hallein
In the Hallein Salt Worlds large and small visitors get their money's worth. Learn in the three accessible salt mines why Salzburg is called Salzburg and how traditional salt production works.
In the following table you will get an overview of the distances of the excursion destinations by rental car from Salzburg: