Rental car Vienna: Discover the capital of Austria
The beautiful city of Vienna in Austria is always worth a visit. To plan a city trip, you also need to move from one place to another quickly. Therefore, if you are not travelling by car but by plane, you can also book a rental car from a local car rental company at the airport. This makes you independent of travel groups or public transport. The big city has many sights and other attractions that can be easily reached by car from your holiday accommodation. This way you will also have more of your holiday if you can avoid long waiting times by renting a car. You can find many offers for car rentals, which you can rent cheaply, by comparing prices on the Internet. Immediately you can book through this website and later receive the rental car at the desired location, for example at the Vienna Airport (VIE) at the terminal. This way, your relaxing holiday begins as soon as you reach the city.
Visit Vienna in winter - tips for your city trip!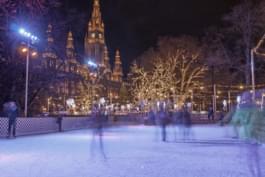 Ice rink by the town hall of Vienna
In summer Vienna is known for its several green spaces, great parks and many city beaches. Sounds amazing right? But also during the colder winter months, there are many reasons why you should go see the capital of Austria. No matter if you go to the 'Christkindlesmarkt' aka Christmas market, or to one of the many coffee houses. Vienna is definitely one of the coolest cities to see! Here you can see our tips for your next city trip to the capital of Austria:
CHRISTKINDLESMARKT EVERYWHERE!
Gingerbread, Christmas trees and many other things conjure up a wonderful Christmas atmosphere in the city. The first markets start in November and continue until the end of December. We recommend not to miss the following markets.
Rathausplatz
Spittelberg
Schloss Schönbrunn
Hirschstetten
Karlsplatz
Freyung
Another highlight that opens its doors in winter is the Wiener Eistraum. During the months from January to March, an ice rink of over 5,400 square meters opens its doors. Children and beginners can practice here during the day. In the evening, various DJs come and create a disco atmosphere on the ice. Interested? Vienna is waiting for you!
DISCOVER THE COFFEE HOUSES

Vienna in the wintertime. You should definitely visit one of the many great Coffee Houses for a slice of cake and a hot drink. Here you will not only find live piano music but also great and splendid architecture and furnishing. Other great ideas for your stay include winter sports or exploring the many thermal baths and spas in the city.
Book a cheap rental car for Vienna - Compare prices
Ideally, you are already looking for a rental car via the Internet before you start your trip to Vienna in Austria. On the Internet, you can compare prices. This way you receive all offers for rental cars and insurance at a glance. Using the Internet price comparison you can find a cheap rental car for Vienna and book it directly.
When choosing the insurance, make sure that you take out a fully comprehensive insurance policy with no excess and include an additional driver. This way, you are on the safe side when damage to your car occurs or you do not want to drive yourself, but want to leave it to your girlfriend /boyfriend. If you book a rental car via the internet, you can find a cheap rental car here at Driveboo.com. She rental car is then provided to you at the desired location by the car rental company, for example on arrival at Vienna Airport. If you first ask for a rental car on the spot, these are usually more expensive here. The deposit for the rental car in Vienna will then be deposited with the car rental company at the desk, for example at the airport.
One-way rentals Vienna: What do you need to know?
As the name says, one-way rentals, this way you book a rental car for only one way. This means that you can pick up the rental car at the desired location, for example at Vienna Airport at the car rental service and return it later on to another station. For example, you might arrive in Vienna by plane and pick up your rental car. You will then continue your journey to the to one of the ski areas in Austria. And from here you want to go back home by train, for example. If you book one-way rentals, you can pick up the rental car at the place of arrival and return it later at the place of departure. Of course, an insurance policy for such a used rental car is also required via the one-way rentals, usually as fully comprehensive insurance with no excess and a deposit upon collection. Of course, you can also specify an additional driver here so that you don't have to drive all the way alone. For this reason, you should specify when making your online booking whether you want to pick up the rental car at the same location, for example at Vienna Airport, where you would like to return it, or whether you choose two different locations for collection and return. You can also find many offers for one-way rentals by comparing prices on our website.
Rental car Vienna: Additional driver and insurance
When concluding the contract, it is important that you also choose the right insurance. With a comprehensive insurance policy with no excess, you are always on the safe side. Especially in the dense city traffic of Vienna, it can happen that you have a small rear-end collision or the rental car has otherwise been damaged. If you have chosen the insurance as comprehensive insurance without any excess, you will have probably no costs. Even if this does not appear to be quite so cheap and you have to pay higher premiums, it is still useful. You should also include an additional driver when concluding the contract if you are not travelling alone. Because even if you mainly want to drive yourself, there can still always be a situation in which another driver has to take the steering wheel. Even in such a case, it makes sense to take out comprehensive insurance without a deductible when taking out insurance for your rental car.
Why is a deposit required for renting a car in Vienna?
A deposit is always required from the car rental company when renting a car. Even if you search and find offers for rental cars on the Internet via price comparison, you must still pay a deposit. This is usually done via your credit card. As soon as you have returned the rental car, the deposit will be refunded. To do this, go to the airport car rental service and register for your car, which you have already booked via the Internet price comparison. Here you present your credit card and you will immediately receive the vehicle of your choice, which can be a small car, a family van or an SUV.
Explore Vienna and its city attractions
Vienna, the Smartcity with the highest quality of life is not only a special city for the locals. Once you have visited the capital of Austria, you want to come back again and again. This is where the charm of the coffee houses and modernity come together.
You can reach and visit many places of interest in your rental car. When you think of Vienna, of course, you are inevitably thinking of the Prater. This large amusement park and park with its largest attraction, the "Giant Ferris Wheel", is a must-see for every visitor to Vienna.
However, the variety of sights in Vienna is much greater. Some tourists, especially families with children, visit the zoo, while others prefer a trip to Schönbrunn Palace (big castle) or the Hofgarten. If you have looked for a cheap rental car in advance by comparing offers, you can reach all these locations quickly and easily.
Visit the cathedral and the castles
Of course, the Stephansdom cathedral should not be missing on your sightseeing tour through Vienna, because with its magnificent appearance it is an experience for everyone. After an extensive city tour with a rented car, the Stadtpark provides a little peace and quiet. Here you can stroll to your heart's content, enjoy the tranquillity and nature and get away from the hectic city life.
If you travel to Vienna without children, then it is, of course, possible to rent a car for a round trip from a museum to the museum in Vienna. There is something for every taste, the variety of museums in Vienna is endless. And after an eventful day in the city, you simply park your limousine in front of one of the many cafés in the city.