Explore Graz flexibel and independent by car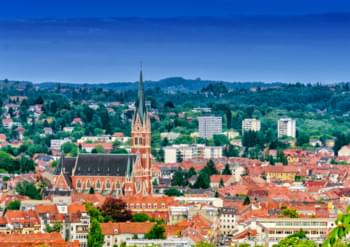 Exploring the beauty of Graz by your own rental car
Austria is a popular vacation destination. Vienna, Salzburg and Tyrol are considered world-famous destinations. With a rental car you can also explore the pearl of Austria, Graz. Where is Graz? The city lies in the southeast of the alpine republic. It is the second largest city in the country. Graz and its surroundings are considered to be especially fun to drive. On our independent comparison portal you can compare the offers of car rental companies in Graz quickly and easily. So everyone can find the cheapest rental car in Graz!
Renting a car at the Graz Airport for even more variety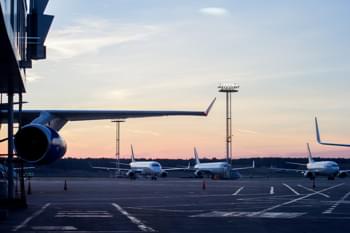 Picking up your rental car at the Graz Airport
If you want to start your vacation in Graz immediately and in a relaxed manner, you can rent a car directly at Graz Airport (GRZ). Drive to the city center ten kilometers away. For all those who arrive by plane, this is certainly the easiest option. However, if you arrive directly in Graz by train, for example, there are also numerous stations within the city. Do the check and find the perfect vehicle for your needs.
Benefits from a pick-up at the Airport
greater choice of suppliers in one place
adjusted opening hours
more choice of rental vehicles
Attention with the rental car: vignette obligation
If you want to rent a car in Austria and drive on the freeway, you should definitely have a vignette on your vehicle. Normally most rental cars already have an annual vignette (cost: 86.40 Euro). Alternatively, you can purchase a "Pickerl" (affectionately called in Austria) for ten days (cost: 8.90 Euro) or two months (cost: 25.90 Euro).
Tip: Be careful - Styria is very close to Slovenia and therefore invites you for a short trip across the state border. However, vignettes are also mandatory in Slovenia. You can get them directly at the border.
The parking situation in Graz and its surroundings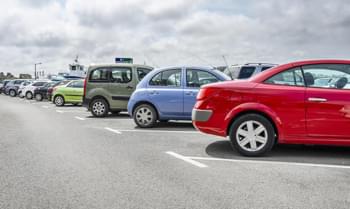 Find easily a parking lot in Graz
The state capital is a parking lot for all car drivers. Although the prices are now considered high, they are still considered absolutely affordable compared to many other cities in Europe. The availability of parking spaces, even in the city center, is also high. So you will certainly always be able to park your car.
Green zone: For long-term parkers just outside the city center. Valid on weekdays, i.e. Monday to Friday: at least 30 minutes (0.60 Euro), then in steps of 0.10 Euro. Day ticket (7 Euro), two day ticket (14 Euro)
Blue zone: For short term parking in the city center. Valid on weekdays 9 - 20 hrs / Saturdays 9 - 13 hrs: minimum 30 minutes (0,90€), maximum 3 hours.
Choosing the right insurance for your rental car in Graz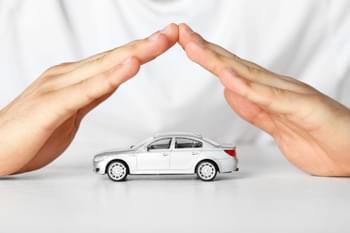 Choosing the best insurance policy for your car
With all offers on Driveboo the legal liability is contained. This protects you in general things and is to be selected best with a high covering sum. Even better you drive with a fully comprehensive insurance. It is best to choose this without excess. The surcharge then has a positive effect on the amount of the deposit, which we explain in the next section.
Die Kaution für Ihren Mietwagen einfach erklärt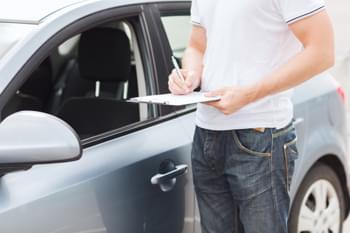 Obligatory inspection of all damages on your car
As security for the rental car, most car rental companies require a deposit. This is calculated according to the value of your rental car and special services. The deposit is an indicator for serious partners. At MietwagenCheck we have selected all our partners with great care. The deposit is simply paid by credit card and will be refunded directly if the car is returned undamaged.
The best option when traveling in company: an additional driver
Are you travelling in pairs and would like to split the route with a rental car if necessary? Then you should include a second driver in the contract. Your co-driver will enjoy full insurance cover just like you.
Refuelling - this is also necessary!
Good news: the fuel prices in Austria are still comparatively cheap. To save even more money, it is best to opt for the fair fuel regulation. With this you pick up your rental car with a full tank and return it. Another advantage is the possibility to start directly.
Important numbers to keep in mind for your rental car
Was gibt es in Graz zu entdecken?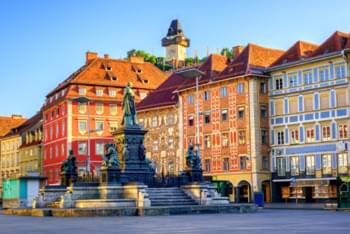 View on the beautiful buildings of Graz
Graz has charm. Vienna and Salzburg are also beautiful, but here in Styria you will get to know the other side of Austria. Graz is a lively student city full of culture, which has blossomed in recent years. Old town and traditions are combined here with hip, trendy quarters. If you look out over the panorama of the city from the Schlossberg, you will immediately see the characteristic red roofs. In the middle, the lightning blue, round Kunsthaus - often called Alien - catches the eye. A prime example of the diversity of this unique city.
Explore the so called Syrian Toscana by car
The surrounding area of the state capital is called Styrian Toscana. It is always worthwhile to rent a car to view the beautiful vineyards. Explore the steep and winding roads with a rental car through this wonderful nature. An excursion around Graz is a highlight and with your rental car you are wonderfully flexible. Arrange your trip as individually as you like.
Explore the highlights of Graz:
The wine regions of Southern Styria
Zotter chocolate factory
The indomitable Erzberg
The famous Green Lake
Old town Graz and all its fascinations
Riegersburg
Bärenschützklamm and many other hiking trails