Reus Airport (REU): Get your rental car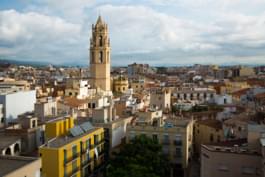 View on Reus
Are you landing at Reus Airport (REU) and would like to explore Reus and Costa Dorada with your own rental car? Then you make a very good decision if you book your rental car early at one of the three car rental agencies at the airport. Compare all rental car offers of the car rental companies at Reus Airport with Driveboo.com before you start your vacation or business trip, maybe even benefit from an early booking discount and, if desired, book useful accessories such as a navigation system or a child seat at the same time.
Pick-up station for your rental car at Reus Airport
Fortunately, you will find the car rental counters also at Reus Airport directly after you have passed through customs, so that after your short flight, you can immediately take delivery of your online reserved rental car including papers to start into a relaxed vacation adventure.
Spend autumn and winter in Reus
You do not feel like the cold? Then spend the autumn and winter months quite simply in Reus. Since it is not so hot in the low season, you can make plenty of excursions. Simply book a rental car and explore the surrounding countryside on your own. In Reus it is not too cold even in autumn and winter, so you will certainly have a lot of fun. In the table below you will find an overview of the temperatures in the months of September to February:
How many car rental companies are there at Reus Airport?
Unfortunately, so far only three car rental companies have set up shop at Reus Airport (REU) where you can rent a car, so it is of great advantage if you have reserved a rental car well in advance of your trip. You can rent a car at the airport from the following car rental companies:
Where can I refuel at Reus Airport?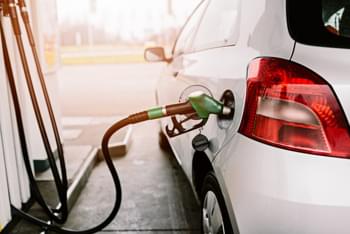 Refueling a rental car
If you plan to drive directly from Reus Airport with your own rental car, you will make a good decision if you choose a fully fueled rental car with a fair refueling policy, since there is no gas station at the airport and therefore you do not have to go directly in search of a gas station. The nearest EsclatOil gas station is located at "Carrer Argentina, 13" and another Estació de Servei Cepsa Cim del Camp is located at the "Autovia del Mediterrani", near the entrance to the A7 in the direction of Tarragona.
Renting a car at Reus Airport (REU): On a discovery tour
Although Reus is often used by most tourists only as a springboard for a city trip in Barcelona or a beach stay in Tarragona, the city has much more to offer than you might think at first glance. Just take your rental car on a short tour and look into the Gaudi Center, enjoy a coffee on the Plaza del Mercadal, take a look at the Pere Mata Institute, a former mental hospital or let the ceiling paintings in the magnificent Bofarull Palace take you back in time. If you would like to make some side trips in the surrounding area with your rental car or even start a round trip, then you will find some kilometer and driving time information below, which may help you in your travel planning.
CAR RENTAL DESTINATIONS FROM REUS AIRPORT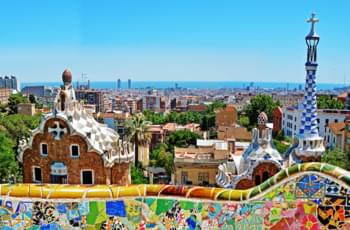 Park Güell in Barcelona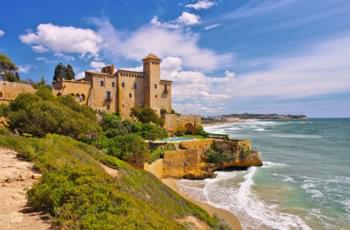 Castle near Tarragona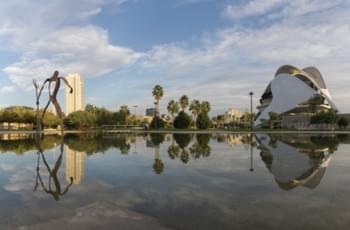 Ciudad de las Artes in Valencia
Service offers at the airport Reus
Unfortunately, you have to do without an extensive range of services at Reus Airport. Nevertheless, you do not have to board your plane with an empty stomach, since at least two small restaurants have settled at the airport, where you can get only small things to eat and drink. In addition, there is a duty-free store and a magazine store in the airport, so that you do not have to start your flight without the necessary reading material.
Rental car round trip Reus: Along the Costa Dorada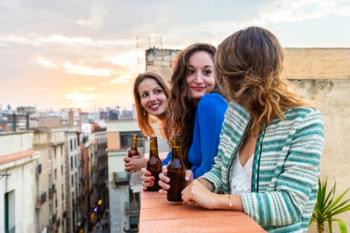 Trip to Barcelona with friends
Crystal-clear water, wonderful, gently sloping beach sections and a breathtaking hinterland characterized by cedars and cypresses, makes the Costa Dorada not only a paradise for all water rats, but also for all nature-loving travelers who like to walk a distance. Reason enough to set off on a unique voyage of discovery between Barcelona and Valencia in a rental car. Drive along the coast, take a look at churches, monasteries and museums or make a longer stopover in the metropolis of Barcelona and surrender to the flair of the city. We have compiled a few sights that you should definitely head for with your rental car below:
Sitges Old Town
Pont del Diable in Tarragona
Santa Maria Cathedral in Tarragona
Parque Natural del Garraf in Olivella
Amphitheater in Tarragona
Parque del Pescador in Cambrils