Rental car Reus: On the road in Catalonia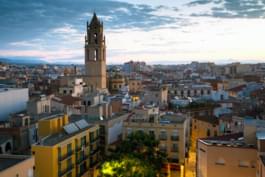 View over Reus
Are you looking for an adventurous road trip through Catalonia with a rental car? Then start your journey at a car rental in Reus in the province of Tarragona. With a rental car you can travel flexibly and independently at any time. From Reus you can reach the Mediterranean Sea in a few minutes by rental car. But the city itself also has a lot to offer. Look forward to exciting sights and interesting excursion destinations in and around Reus in Catalonia.
Where can I get my rental car in Reus?
If you are travelling to Reus by plane, it is a good idea to pick up your rental car directly after your arrival at the airport at one of the car rental companies. Reus Airport (REU) is only 4 km from Reus and 9 km from Tarragona. You can also easily reach Barcelona from here. The capital of the Spanish region of Catalonia is only 89 km from the airport. In the table below you will find an overview of the distances from Reus Airport:
To the highlights in Reus by rental car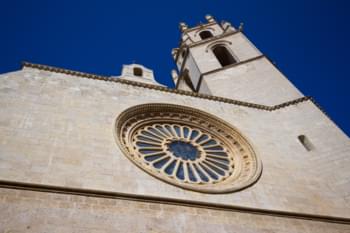 Reus is famous for its impressive modernist buildings, which you can admire on a walk through the city. Reus is the birthplace of Antoni Gaudí and a true cultural city with numerous festivals of music, theatre, poetry and much more. Visit one of the museums or stroll to the cathedral Prioral de Sant Pere. The Parc Sant Jordi provides some relaxation. Here you can enjoy a picnic and relax.
These are the traffic rules in Spain
If you are planning a road trip with a rental car from Reus along the coast of Spain, you should be aware of the following traffic rules:
In Spain, right-hand traffic applies.
Speed limits: 50 km/h in urban areas, 90 km/h out of town, 100 km/h on country roads, 120 km/h on motorways
Blood-alcohol limit: 0.5 per mille
Attention: For beginners there is a blood-alcohol limit of 0.3 per mil!
During the journey, telephone calls are only permitted via a hands-free system.
Suitable restraint devices must be installed for children under 135 cm in height.
In the event of an accident with the rental car, you can reach the police, ambulance and fire brigade at the emergency number 112.
The perfect travel time for a holiday in Reus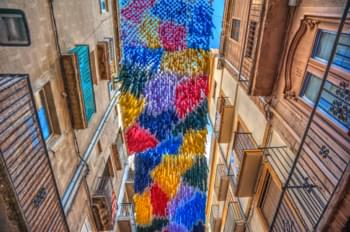 Discovering Reus
Basically, you can travel to Reus at any time of the year, depending on your preferences. Very good weather is usually from April to November, but from July to September it can be very hot. The summer months are therefore particularly suitable for bathing holidays. It is cooler from December to March. These months are excellent for city trips, as you will be spared from large crowds of tourists. If you like to visit folk festivals, you should come to Reus in June or September. The Festa Major de Sant Pere takes place at the end of June and the Festa de Misericórdia at the end of September. On this occasion the city is always beautifully decorated.
A road trip by rental car along the coast of Catalonia
Are you looking for an exciting road trip from Reus to Barcelona, along the coast? Then buy some snacks for your trip and turn up the radio volume. Get into your rental car and look forward to an adventurous trip.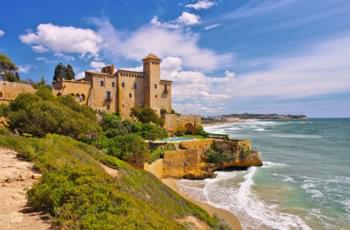 Tamarit Castle near Tarragona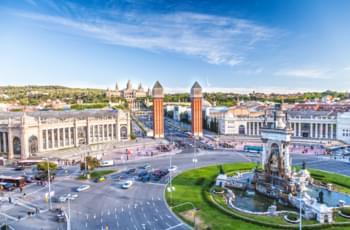 On the road in Barcelona
Tarragona
The first part of your trip only takes 15 minutes, but a visit to the city of Tarragona is a must. The port city awaits you with some highlights, such as the Tamarit Castle or the 2nd century amphitheatre on the Mediterranean coast. If you want to enjoy a great view of the city, you can take a walk on the Passeig Arqueològic. Don't miss the chance to stroll through the old El Serrallo district and enjoy the fantastic gastronomy. If you want to relax, you can end the day on one of the fine sandy beaches and enjoy the sunset from there.
MORE PLACES TO VISIT ALONG THE WAY
Vilanova i la Geltrú
Sitges
Castelldefels
Barcelona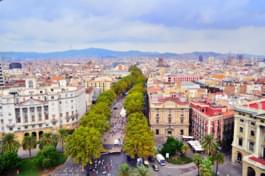 La Rambla, Barcelona
The destination of your road trip is approaching: Barcelona! Park your rental car in one of the car parks and explore the capital of Catalonia on foot. Visit the Sagrada Família, the Museu Picasso and the Park Güell. You should also stroll along the La Rambla promenade and immerse yourself in the hustle and bustle of Barcelona. In the evening you can go for tapas and dance in one of the clubs. Barcelona is guaranteed not to be boring!
Try Catalan delicacies
If you are travelling to Catalonia, you should also try dishes from the Catalan cuisine. Allioli is often served in advance. The whitish garlic paste tastes excellent on bread or with meat. Escalivada is ideal for vegetable lovers. These are previously grilled, cold, marinated aubergines, tomatoes, peppers and onions. Similar to a paella is Arròs amb Conill (rice with rabbit) or Arròs Negre. This is black rice with squid, which is coloured black because of the ink. For dessert you can try the Crema Catalana, a delicious pudding with a layer of caramel.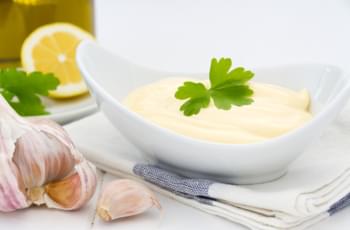 Allioli as a starter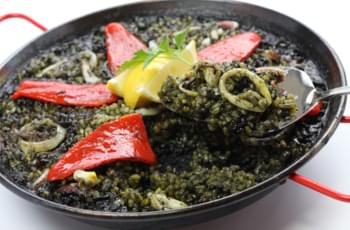 The famous Arròs Negre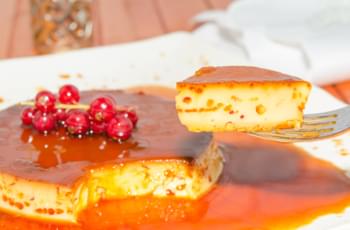 Delicious Crema Catalana