Discover New Orleans by rental car
Explore the famous city of New Orleans independently by rental car and enjoy various highlights. The city is famous for its music and festivals. If you want to travel New Orleans and Louisiana, maybe even bordering states, you can do this with a rental car. You can rent a car directly at New Orleans International Airport (MSY) or in the city center. Booking the vehicle is easy. Compare the offers of various car rental companies with Driveboo and benefit from best offers!
Why experience New Orleans by rental car?

Bourbon Street at the French Quarter
New Orleans has a very special flair. The city on the delta of the Mississippi River is home to just over 1.3 million inhabitants in the metropolitan region, and around 350,000 inhabitants live in the city itself. Surprisingly, almost 50% of the city's territory is water, thanks to the sandy delta. You almost feel like you're visiting some kind of Venice. The city is located just below sea level and is protected from water by dikes leading to the Gulf of Mexico. New Orleans gained fame for several reasons. Firstly, the city is for the formative music. This is where jazz has its roots. Various festivals bring the fans of Jazz, Rhythm and Blues and Rock' n' Roll together on a regular basis and let the fans celebrate equally.
What is the best way to get to New Orleans?

Fly straight to town. Your destination is Louis Armstrong New Orleans International Airport (MSY). The airport is located about 12 miles west of New Orleans and is one of the busiest in the USA. Passengers are transported via two terminals within the USA or to the Caribbean, Canada and also to Latin America. If you want to travel comfortably, you should have booked a rental car in advance. This will then be ready for you. Simply pick up, get in and the journey can start.
Informations about New Orleans and Louisiana
Louisiana has a very mild climate and is located on the coast of the Gulf of Mexico, where the sea reaches exceptionally warm temperatures. This means that there are several target groups for whom a holiday in this state is likely to be of interest. City tourists get their money's worth just because of New Orleans. If you can travel across several states and have plenty of time, you might also want to consider Houston, Orlando, Atlanta and some cities on the East Coast as your travel itinerary. Those who want to explore the vast expanses of the USA, the national parks, will also have their joy. The De Soto National Forest is one of them in the immediate vicinity. But also the Kisatchie National Forest or the Homochitto National Forest are only a few hours drive away. Bathing holidaymakers also get their money's worth. The south coast offers many bathing possibilities and fantastic beaches.
Important information about car hire in New Orleans
The roads in New Orleans and its surroundings are often multi-tracked, straight and the speed is strictly monitored. Nevertheless, there is no need to be afraid of driving in the States. It is more defensive and comfortable. If you abide by the law, you won't even come into contact with the famous sheriffs.
What speed limits apply in New Orleans?
You should always turn on the light, because in some states this is mandatory. Driving under the influence of alcohol is forbidden.
Parking with a rental car in New Orleans
The public, huge parking lots are common in the States, where you can pay cash or by credit card at the pay machine. Wild parking should be avoided to avoid penalties
Emergency numbers while travelling by rental car in New Orleans
See New Orleans and surroundings by rental car

As already written: There is something for everyone. Especially for music lovers, New Orleans is a place to be. New Orleans is a good starting point if you want to experience a round trip through the south of the USA. Have a good trip!
Car hire New Orleans - Discover attractions!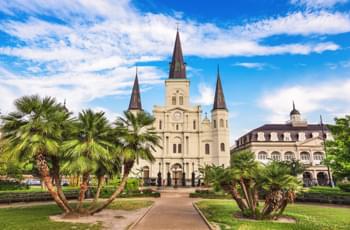 Jackson Square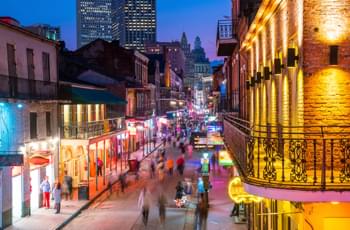 Bourbon Street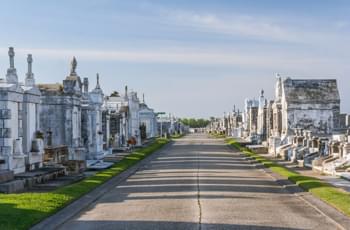 Lafayette
Jackson Square
St. Louis Cathedral
Mercedes Benz Superdome
Bourbon Street
Baton Rouge
Lafayette
Homochitto National Forest
De Soto National Forest
A complete list is impossible to write. We can only list a few destinations so that you can estimate how long the distances really are and see that a rental car makes perfect sense.
When is New Orleans the best time to travel?
In summer it could be quite hot and humid. In addition, it is the time when storms often come down. Autumn is the hurricane season, which is probably better avoided if you can. If you are not heat-resistant, you might prefer the late spring. Then it is also flowering time and it is not quite as dry as in midsummer.