Car rentals in Macedonia: Most popular car rental destinations
Travelling in Macedonia by rental car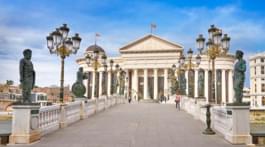 Archaeological Museum in Skopje
The best way to explore Macedonia is by rental car. This way you will always be independent and flexible in Macedonia. You can find the right rental car for your trip to Macedonia on Driveboo.com. Our portal will help you with both the comparison of car rentals and the booking. You can choose a fast sports car or opt for a spacious SUV. Whichever model suits you best, on Driveboo.com you will find the right rental car at the best price for your trip to Macedonia.
Car rental Macedonia: Where can I pick up my rental car?
If you are travelling to Macedonia by plane, it is a good idea to pick up your rental car directly at one of the stations at Ohrid Airport (OHD) or Skopje International Airport (SKP). In this way, you are mobile from the first moment you arrive in Macedonia and can set off on discovery tours immediately. Alternatively, you can pick up a rental car in these cities:
Visit cities in Macedonia's neighboring countries
If you want to see more of Europe besides Macedonia, then visit a few cities of the neighboring countries. What about one of the following cities? With a rental car you will be flexible at any time and able to customize your travel plans.
Highlights Macedonia: Which sights should I visit?
Look forward to an exciting journey through Macedonia by rental car. With a rental car you can drive to all the places you would like to visit and are not dependent on public transport. Make sure to visit these must-sees in Macedonia:
Matka-Canyon
Vodno
Kaneo
Skopje Fortress
Church of Saints Clement and Panteleimon
Macedonia Square
Ancient Theatre of Ohrid
Kokino
Museum of Macedonia