Rent a car at Skopje Airport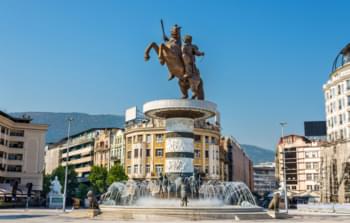 You land at Skopje Airport (SKP) and want to explore Skopje by rental car? Then it is best to rent your rental car directly at the airport from one of the approximately 15 car rental companies at Skopje Airport. With Driveboo you have the possibility to compare not only the prices of the rental cars, but also their insurance conditions and special equipment.
Take a visit to Skopje in spring or autumn
Thanks to the airport's ideal location on the A2 highway, you can reach downtown Skopje in just over 20 minutes and start exploring Skopje in spring/autumn immediately after checking into your hotel. Stroll from the old bazaar across the historic stone bridge to the Mother Teresa's memorial or drive your rental car to the Millennium Cross, where you can enjoy fantastic views of the countryside. Are you staying longer and want to explore Macedonia on your own? Then the following mileage might help you plan your trip: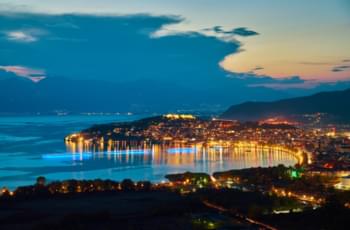 Which car rental companies are available at Skopje Airport?
As at all other European airports, you will find quite a few of the worldwide car rental companies at Skopje Airport. In addition, however, some regional car rental companies also offer their services, so you can rent your rental car from them as well.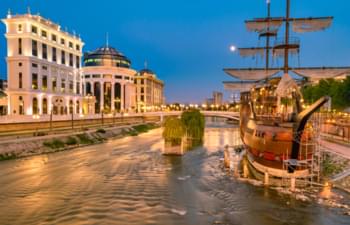 Below we have listed some of the car rental companies operating at Skopje Airport:
Avis
Enterprise
Hertz
InterRent
How to get from Skopje SKP Airport to the city center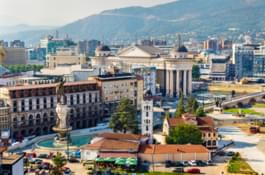 If you might want to return your rental car to the city center the day before you leave, so you don't have to sweat it on the day of your departure, you can also reach Skopje's airport all the time by taxi or bus. Buses and cabs both go to the city center as well, with a cab ride to the city center costing 1220 denars, or about 20 euros, and a one-way bus ticket costing 175 denars, or about 3 euros.
Our tip: You can find the current bus times on the airport website.
Skopje Airport - food, drinks and more
With only about 1.4 million passengers per year, the international airport of the Macedonian capital Skopje is not one of the largest airports in Europe, which is why you have to do without an extensive range of restaurants at the airport. However, some fast food chains and cafés have settled, so that you can at least buy a snack for the small hunger. You don't have to get bored, however, as you can make yourself comfortable in the Primeclass Business Lounge with free WLAN and also find a few duty-free stores.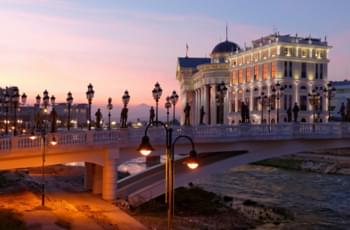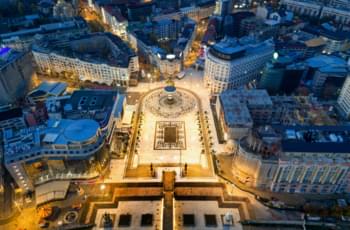 Small cars or SUVs - a look at car rentals at Skopje Airport
Tangled alleys and confusing roads give you a sense of adventure when driving in Macedonia. However, if you only want to stay in the larger towns, it is worth considering renting a maneuverable small car, with which you can find a parking space everywhere. An overview of all available offers for car rental at Skopje Airport SKP can be found in the price comparison and so you can easily select the offer that best suits your needs by booking online.