Discover Tirana and Albania by rental car
The capital of Albania, Tirana, is located in the heart of what is probably the most underestimated holiday destination for a 2020 summer holiday in the Balkans. The warm summer months of May, June, July, August and the early autumn months of September and October encourage you to explore the region by car. With Driveboo, you have the opportunity to rent your personal car for a tour through Albania. Benefit from endless freedom in one of the cheapest travel destinations in Europe, where you can enjoy the city, beach, countryside and culture without breaking your budget. What neighboring Greece has to offer at higher prices, you will be able to find at a cheaper price on a summer holiday in Albania.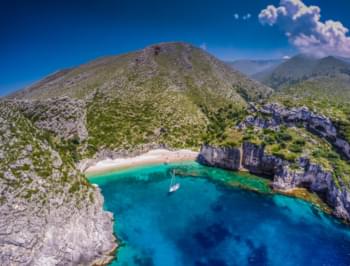 Stunning Grama Bay hidden in Albania
On which coastline is Albania? The southeast European country stretches along the beautiful Adriatic coast, which you are usually only familiar with from beach getaways in Italy and Croatia. Albania is still untouched and hidden and is inviting you to lonely sandy beaches along the coasts and breathtaking mountain landscapes in the country's inner regions. No matter what kind of trip you prefer, you don't have to make any compromises when traveling to Albania. With a proper rental car it has never been easier to get to know the country and its people fully. To make sure that you can enjoy your trip in the best possible way before the coming rush of mass tourism in the years to follow, we will use your search to compare directly available rental cars for pick-up in the capital of Albania, Tirana, in a easy and transparent way. Before you dive into the wideness of the country, it is recommended to visit the sights that Tirana has to offer.
Where can I pick up my rental car in Tirana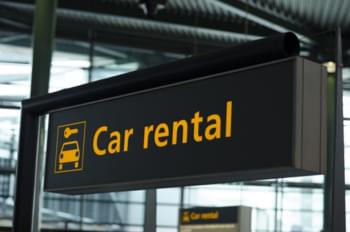 Best pick-up options directly at the airport
The majority of tourists come to Tirana by plane (TIA), so you can rent a car directly at the airport for a reasonable price from a car rental company. Here you will find all the major car rental companies in one place and you can easily get a good deal and compare prices. Furthermore, at the airport you usually have better and longer opening hours and a higher chance of availability of special vehicles like convertibles, sports cars or SUV's. Tirana International Airport (TIA), situated 17 km northwest of Tirana, is the only civil airport in Albania. There are regular connections to various cities in Italy, Germany, Austria, Slovenia, Greece and Turkey.
Reasons Tirana is worth a visit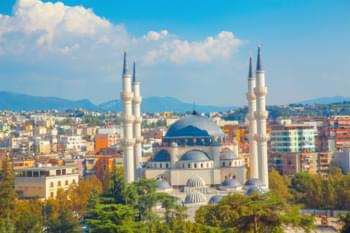 Capital of Albania: Tirana
Tirana, the capital of Albania, is known for its diversity caused by the Ottoman, fascist and Soviet era. Pastel colored buildings surround the city center, Skanderbeg Square, which is named after its statue of a national hero on horseback. At the northern end of the square is the National History Museum, which covers pre-historic times through the communist rule and the anti-communist uprisings of the 1990s. Visitors generally see Tirana as a beautiful and charming city, where cosmopolitan and village life is combined with a lively nightlife. Many of the formerly monotonous buildings have been newly painted, but there is still a lot of work to be completed. English is rapidly gaining in importance as a second language for young people, but many older residents also speak Italian. Albanians are very welcoming to foreigners. The locals prefer to spend their free time in one of the many cafes and city park. Tirana is a youthful and lively city that is constantly changing. A popular way to get to the top of Dajti Mountain is by cable car, where you can get a great panoramic view of the city
Important notes about traffic and parking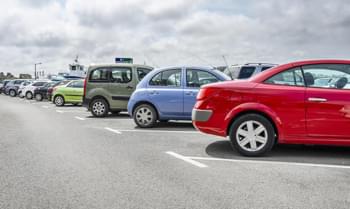 Park only at secured parking spaces
Located in the middle of the country, the Tirana area forms the junction of the Albanian transport network. Since the 2000s, Albania's road network in particular has been renovated and developed - investments have also been made in the city centre in recent years to enable the roads to deal with the greatly expanded traffic. Despite this, it can happen that the roads in the city centre are regularly blocked by traffic. In particular the access roads have been upgraded and enlarged in the last few years. There is a secure parking lot for buses and cars in the center of Tirana, where you can also park your rental car. There are also some more secure parking spaces for a fee. Parking on free spaces in the city centre is not suggested, the situation is very confusing regarding parking regulations and it is not very safe either. In addition, most hotels and accommodations offer parking spaces.
Here are some further information regarding rules and regulations when driving in Albania:
What are the speed limits in Albania?
40 kp/h in towns
80 kp/h land routes
90 kp/h on expressways (marked blue)
110 kp/h on highways (marked green)
What are the emergency numbers in Albania?