Have fun around Leeds with a rental car
Renting a car is an ideal way to discover Leeds, one of the largest cities in West Yorkshire. This stunning academic and cultural centre enjoys a pleasant location on the River Aire.
In the past, Leeds was one of the most important industrial and textile centres in this part of England. Today, it has also gained importance as Yorkshires' financial and commercial hub.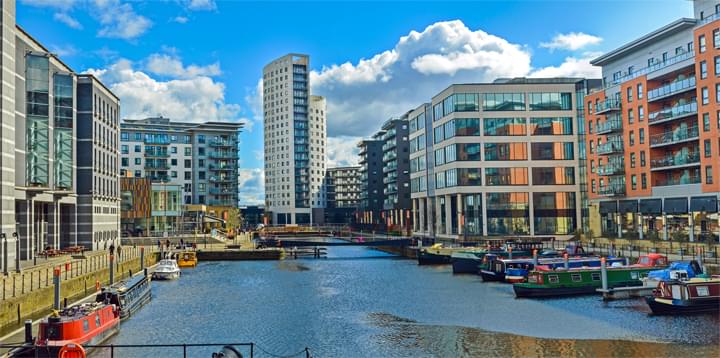 For those who enjoy fun-packed holidays, Leeds is a treasure trove of attractions ranging from art galleries and museums, to concert halls and shopping malls. The easiest way to move around such a diverse mix of places is with a hired car. With DriveBoo, you can easily compare different car rental offers and book your rental car directly online.
Where is it best to rent a car in Leeds?
Car rental spots in Leeds can be found in a number of locations around the city. However, you can also choose from the car rental companies at one of the nearest airports.
The two nearest airports are Leeds Bradford Airport (LBA), located approximately 8 miles (13 m) from the city centre, and Manchester Airport (MAN), which can be found around 60 miles (97 km) from Leeds. With a wide choice of rental car companies at both airports, starting your journey right after touchdown will be a piece of cake.
Airports near to Leeds
Insurance of a rental car in Leeds
If you decided to rent you car online, you might come across one of the following terms: Car Excess Reimbursement, Total Damage Excess Waiver (TDEW), Fully refundable excess, Excess Protection, etc. The terms are connected with the purchase of additional insurance options for the hired car. Insurance bought online will be less expensive than in person. Remember to read the terms carefully at all times, as the insurance may cover different types of damage.
Driving a rental car in Leeds
European driver's licence is sufficient to rent a car in England. However, remember that if you are an inexperienced driver, you may have problems with adjusting to the left-hand traffic. Still, you can practice your skills on less frequented roads.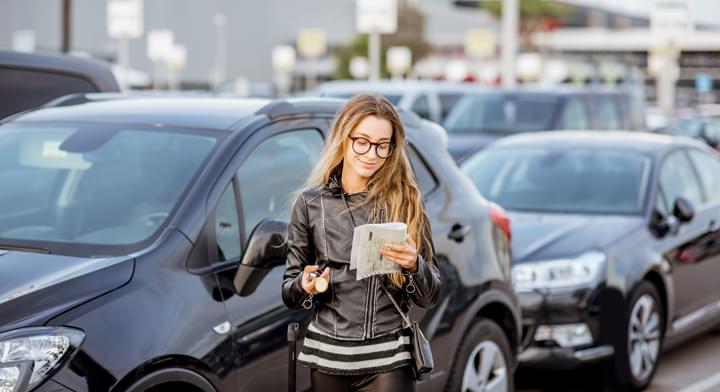 Rental car with 18
What is more, all drivers in England must be at least 18 years old and have a valid driving licence. Even though all passengers must wear seat belts, drivers are only responsible for themselves and minors.
What are the speed limits for cars in England?
Other information concerning driving a rental car around England
In England, there exists only one toll road – M6 Toll.
You will find several bridges and tunnels where tolls are collected.
The permissible level of alcohol content in a driver's body is 80 mg per 100 ml of blood (35 mg per 100 ml of breath).
The minimum speeding fine in England is L100 and the maximum fine is L1,000 (or L2,500 on a motorway), depending on the offence.
Emergency phone numbers in England
Highlights of Leeds that you can explore with a rental car
Apart from being an academic centre, Leeds is also a cultural hub offering a plethora of things to do. The city hosts events including the Leeds Festival, the Leeds International Concert Season, and the Leeds International Film Festival. Therefore, it is definitely worth visiting the city when these festivals are taking place.
Most of the festivals are held in city's attractive parks, which are perfect for long walks. Roundhay Park, one of the largest parks in Europe, together with Golden Acre Park, are examples of green spots in Leeds. Holidaymakers searching for a more active stay should try the Yorkshire Dales, offering great hiking trails and biking roads.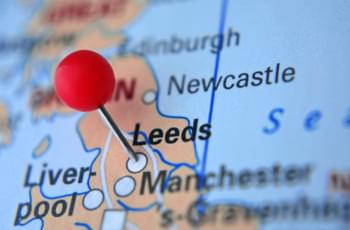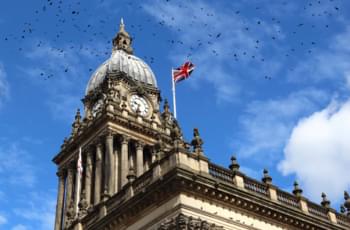 The city's Civic Quarter is a paradise for avid fans of art. Spectacular architecture represented by buildings such as Town Hall, Joseph Priestley Church, Victoria Hall, and Leed's Clock Tower will be long remembered. The quarter is also known for Leeds Art Gallery, with a great collection of works by multiple British artists, and Leeds City Museum.
St John the Evangelist's Church is considered one of the finest churches erected in Leeds. The construction of this church was finished in 1634. The interior is characterised by original Renaissance details and beautiful religious art.
Tourists visiting Leeds shouldn't miss Harewood House. It is an exquisite country manor completed at the end of the 18th century. Its interior was designed by the famous Robert Adam and the furniture that can be found inside features masterpieces prepared by Thomas Chippendale.
Explore the surroundings of Leeds with a rental car
After immersing yourself in the city's culture, you might want to explore the attractions of the wider region. This can be easily done with your rental car.
The following table includes a list of interesting places that can be found in the vicinity of Leeds. The distance to each place is specified below: