Find your rental car at Ivalo Airport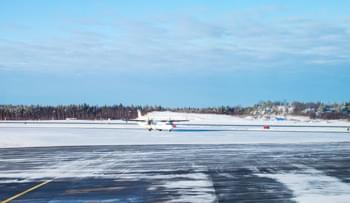 Airplane landing at Ivalo Airport
Are you searching for an adventure in Scandinavia? Ivalo Airport is the airport that connects the municipality of Inari in the North of Finland with its capital Helsinki. It is the northernmost airport in the European Union. Finland is an important part of the EU and therefore easy to travel for citizens from other EU members and Switzerland. Planes of the airlines Finnair and Norwegian Air Shuttle are flying daily from Helsinki. Although the airport is not very big, it is an important traffic junction to the north of the country and the whole landscape (maakunta) of Lapland. Lapland is the largest maakunta in the country. Few people live here, spread over a huge area of land. If you want to explore this great region, you should definitely rent your own car.
Here you can see the partners of Driveboo which offer rental cars at the airport:
Avis
Budget
Europcar
Green Motion
Hertz
Thrifty
Driveboo car rental lexicon
The English level of the Finns is among the best in the world. Therefore you should have no problems with your car rental tour in Lapland. At the same time the national languages of the Finns are also among the most difficult in the world. Do you know what Rental car station means in different languages? Probably most of us don't! In order to make a trip by car as relaxed as possible, it can be helpful to know a few Finnish words that are important in traffic and at the car rental station.
Explore Finland with a rental car
The municipality of Inari, where Ivalo airport is located, has a population of almost 7000. It is the largest municipality in Lapland. In the north of Finland you can experience a unique nature and landscape, which is especially characterized by reindeer herds. Since the distances are long and places are far apart, a rental car is recommended. Inari is especially popular for hiking. In the middle of the wilderness you can admire exciting Sami culture, which is still alive today.
Here are some places you can visit during your rental car trip.
Waters of lake Inarijärvi
Saariselkä Fjellgebiet
Lemmenjoki National Parks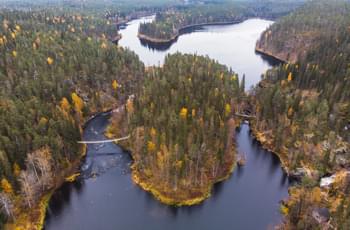 Autumn view of Oulanka National Park
Beautiful forest in Lemmenjoki National Park
What insurance do I need for a rental car trip?
While being abroad, you should be well-prepared before departure. If you decide to rent a car for your stay in Finland, you should also consider insurance and liability issues. Usually offers which you find on Driveboo can be put into three categories. Offers that do not include insurance coverage, a fully comprehensive insurance with excess or a fully comprehensive insurance without excess.