Rental car Helsinki: On the road in the far north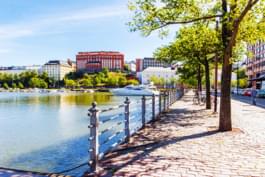 Discovering Helsinki in summer
Exploring Finland's capital Helsinki and the surrounding area by rental car is definitely an adventure. Especially Helsinki's city centre is a dream. Rent a rental car and see for yourself. Helsinki with its 600.000 inhabitants is the capital of Finland and the economic, political and cultural centre of the country. Geographically Helsinki lies in the south of Finland at the Gulf of Finland, opposite the Estonian capital Tallinn. So what could be better than a trip by rental car? In this way, you are always mobile and independent of public transport. Look forward to an unforgettable time with the rental car in the far north.
Christmas markets in Helsinki - Enjoy the winter in Scandinavia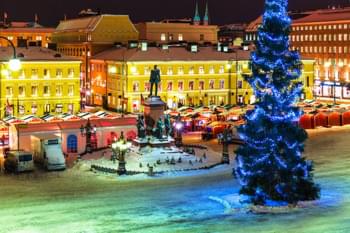 Christmas market in Helsinki
Winter in Scandinavia is a cold but also magical time for a rental car trip. In Helsinki the first snow falls in early December and melts at the end of March and April. The traditional Christmas markets should not be missed at this time of year. The lights, smells and snow create a festive atmosphere. In Finland, as in other European countries, the Christmas season begins at the beginning of December. Here people celebrate pikkujoulu, which can be seen as a small Christmas. Come with a rental car, enjoy the atmosphere and a Glögi (Finnish mulled wine) and stay for a while. Do I have to install snow chains in Finland in winter? Snow chains should be put on as soon as it is necessary. This is often the case outside cities.
Please note that in Finland you should not drink either. Therefore, it is better to leave the car on an evening with Glögi. As in Germany or Austria and Switzerland, the alcohol limit is 0.5 per mille.
Find a car rental company in Helsinki
Find good and cheap car rentals in Helsinki with Driveboo. Just compare the offers of different providers and book a cheap rental car in the capital of Finland. You can rent a car in Helsinki upon arrival at Helsinki Airport or in the city centre.
If you want to be flexible in Helsinki from the very first minute, it is best to pick up your rental car right after your arrival at the airport. In this way you won't waste precious time waiting.
What are the traffic rules in Helsinki?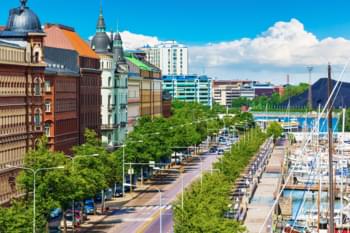 Traffic in Helsinki
Right-hand traffic
Obligatory equipment: breakdown triangle, warning vest
Winter equipment: Winter tyres (obligatory from December to February)
Safety belts: obligatory on all seats
Driving lights: dipped headlights are mandatory day and night
Mobile phone: no mobile phone use while driving
Drive particularly carefully in zones with wildlife crossing warning signs! Here moose or reindeer can cross the roads unexpectedly. The danger of a wildlife accident is higher than usual at dusk and at night, especially between May and October.
In the event of a wildlife accident, call the nearest police station on 112.
Road infrastructure in Finland - facts worth knowing
Exploring Finland by rental car is the easiest way to get to know the country. This way you can tailor your trip through Helsinki and the rest of Finland to your individual needs without being dependent on public transport timetables. You will also find a very well developed road network in Finland. There are more than 78,000 km of main roads and almost 740 km of motorway. Only from November to March smaller, sometimes unpaved roads in the north of Finland may not be passable and closed. Otherwise the roads remain open in winter as well.
By the way, there are no charges for road use!
The best travel time for Helsinki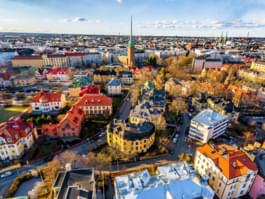 Summer in Helsinki
Helsinki is always worth a visit! Depending on your personal preferences and plans for Helsinki, different months are suitable for your holiday in the Finnish capital and its surroundings. Would you like to go for walks, shopping, picnics, ...?
In the following table you will find an overview of the respective months and what the weather will be like in Helsinki during this time.
What should I definitely not miss in Helsinki?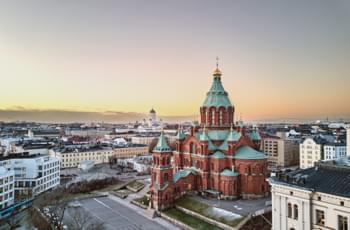 View of Uspenski Cathedral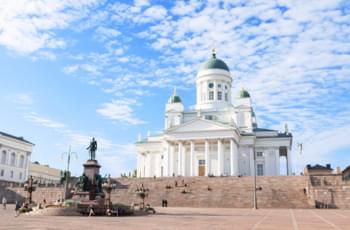 Helsinki Cathedral
If you are travelling with your rental car, make sure you visit the city's two promenades, the Aleksanterinkatu and the Esplanadi. There is the Stockhaus, the largest department store in the Nordic countries. From the market square, take a boat trip to Suomenlinna Fortress, UNESCO World Heritage Site, or visit the Finnish National Theatre. Also a visit to Uspenski and Helsinki Cathedral is definitely worth a trip by rental car.
What you should do in Finland
Are you ready for an unforgettable holiday in Finland? Then you should add the following activities to your Bucket List:
Staying overnight in a glass igloo
Visiting a lighthouse island
Hiking through a national park
Riding a reindeer or husky sled
Marveling at the northern lights or the midnight sun
First taking a sauna, then jumping into the lake.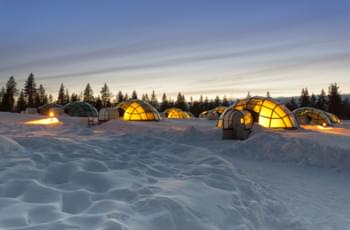 Staying in a glass igloo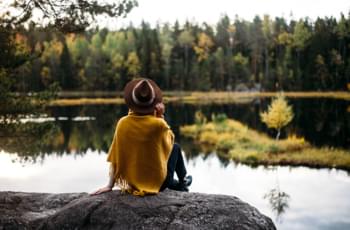 Take a hike in a National Park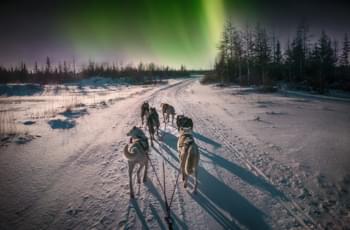 Husky sled