Car rentals in Ireland: Most popular car rental destinations
Car rental Ireland - discover the green island by car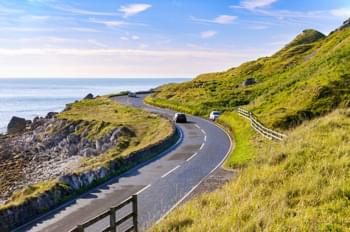 Discovering Ireland by rental car
Discover Ireland by rental car and enjoy the green countryside. Compare offers of car rental in Ireland on Driveboo. In our car rental comparison you will find rental cars from all major car rental companies in Ireland. We recommend that you book your car early, as this usually reduces the prices. Do you have any questions about booking? Then please contact our service team via chat or phone. We will be happy to help you with any questions you may have about booking a rental car.
Facts about Ireland
The island of Ireland is located to the west of Great Britain and borders on Northern Ireland in the north.
The just over 70,000 square kilometres of Ireland are surrounded by the Irish Sea and the Atlantic Ocean.
It is especially popular to rent a car in Dublin and start a roadtrip from there.
Rent a car at the airport in Ireland
Driveboo works with all major car rental companies at the airports in Ireland. Simply compare car rental prices on our portal and book a rental car for your holidays in Ireland.
Enjoy the scenery of Ireland with your rental car
Ireland is often referred to as the "green island". This is due to the approximately 40 shades of green that one sees when looking over the vastness of the island.
The landscape of the island of Ireland is unmistakably diverse. When you take a tour with the rental car, you feel as if you're taken out of the window to a different time. Historical cultural treasures are reminiscent of a medieval Ireland and countless walls at the same time of a modern work of art.
Exploring Ireland by rental car is an experience
There are many possibilities on an Ireland tour with a rental car. Coastal tours are particularly popular, for example from Belfast to Londonderry. It is important to note that there is left-hand traffic in Ireland.