Simple Car Rentals in Cork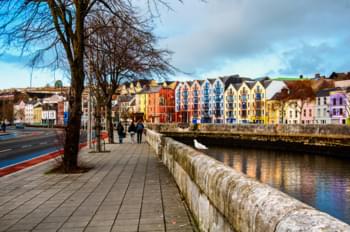 In Cork with a rental car
Cork is a beautiful county located on the south coast of Ireland. This historic city is located on an island created by a split of the river Lee. With its varied landscape and rich history you can make the most beautiful trips by car in and around Cork. Rent a car so you have the opportunity to explore the impressive surroundings of Southwest Ireland and make the best trips. Even if it rains, you will still be dry and you don't have to postpone your plans because of the weather. Irish people are known for their hospitality and you will certainly experience their warm-hearted welcoming in Cork.
Departure from the airport in your rental car
The Cork Airport belongs together with Shannon and Dublin to the three major airports of Ireland. From the airport you can choose the best routes to explore the area with your rental car. Cork city centre is about 10 minutes from the airport, a great starting point to travel to the south coast of Ireland. Rent a car quickly and easily and your carefree holiday can begin. Tip: think in advance which trips you want to make from Cork because the area is very extensive.
Beautiful destinations by rental car in Cork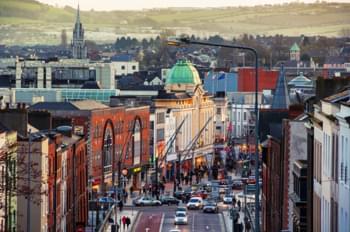 Cork Zentrum
The cosy shopping streets and authentic Irish pubs give Cork a unique atmosphere. The two large cathedrals are impressive: St Finbar's Cathedral and St Mary's Cathedral. St. Patrick's Street is a must for shopaholics. Thanks to your rental car, you don't have to lug around your shopping on the train or bus, because you can easily take it all with you in the car. There are many restaurants in this pleasant city. Enjoy a snack and a drink in one of the typical Irish pubs or one of the atmospheric restaurants that will take you back in time. Famous dishes of this region are black pudding and sheep's stomach. The locals prefer to eat this in combination with their own brewed Beamish beer. Would you like to get to know the local products? Then visit the English Market in Cork. In this Victorian-style covered market you can taste the specialities of the region.
Parking your car rental in Cork
Cork has a separate parking policy. For parking in the center of Cork you need a parking disc. You can just buy it in several shops in Cork itself. They are a kind of scratch cards on which times are mentioned. Also pay attention to the signs because often it is stated exactly how long you can park somewhere. The best place to park your rental car is in the Car Park on North Main Street.
National Holidays in Ireland
St. Patrick's Day is the national holiday in Ireland. On 17 March, the Irish commemorate the patron Saint Patrick. Besides this holiday, Ireland has more holidays:
On these days it can be busier in the centre of Cork, or at special attractions, than usual. Consider this when planning your trip.
By rental car along the Irish countryside
For both culture and nature lovers, the south coast of Ireland is a true paradise. With a rental car in Ireland you will pass the most beautiful nature reserves with historic buildings and rugged landscapes. This typical Irish landscape with green hills, rugged coastline and picturesque villages offers something for everyone. You can choose from several interesting museums such as the Butter Museum. This museum dates back to 1849 and revives the history of Ireland. Here you'll learn all about the former butter trade. Another interesting sight to see is the City Goals, a real prison that looks like a castle. Near Cork is the oldest castle in the country: Blarney Castle. This castle is best known for its romantic challenge: Kissing the Stone.
Car Driving in Ireland
The most important thing in Irish traffic is of course that you have to drive on the left side of the road. It will take some getting used to in the beginning, but once you get into traffic, it's very natural. The signage is well signposted and not only in Irish but also in English. Tip: it is useful if you rent a car in Ireland to choose an automatic gearbox, then you don't have to switch with links.