Car rentals in Hungary: Most popular car rental destinations
Discover Hungary by rental car
Get into your rental car and embark on a road trip through Hungary. With a rental car you can make city tours or a trip through the Hungarian villages. The wine regions of Tokaj, Eger, Sopron, Balaton and Villány can also be reached quickly by rental car. What are you waiting for? Book the right rental car for your trip to Hungary on Driveboo.com and start your well-deserved holiday!

View over Budapest, Hungary
Things to know about Hungary
Hungary is located in Central Europe and covers an area of 93,030 sq km. Approximately 50 percent of Hungary consists of lowlands. Especially popular with tourists is Lake Balaton. This is the warmest and largest inland lake in Central Europe and invites you to a bathing and sunbathing holiday. You can reach it easily by rental car. Rental stations for your rental car can be found at these locations:
This should be noted:
Keep in mind that the zeropromille limit applies in Hungary!
Visit the highlights in Hungary by rental car
During your holiday in Hungary, make sure to visit the capital Budapest. Here you will find the beauty of the Danube paired with a pulsating old town. Car rentals can be found directly at Budapest Airport. North of the capital you will find romantic castles and palaces, which can be easily reached with a rental car.

Visit Budapest
Get behind the wheel of your rental car and drive to Lake Balaton in western Hungary. Here you can relax as well as be active. Rent a surfboard or kayak and set sail. Afterwards you can enjoy a beef goulash in one of the restaurants.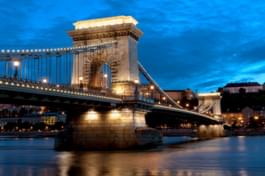 Chain Bridge in Budapest at night
Make sure you visit the following highlights in Hungary:
Margaret Island
St. Stephen's Basilica
Chain Bridge
Gellért mountain
Andrássy út
Hungarian State Opera