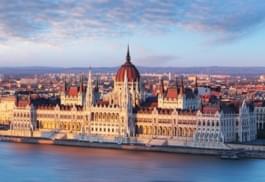 Explore Budapest by rental car
You can find a cheap rental car at Budapest Airport from as little as 50 $ per week.
If you would like to book the rental car for one day only, you can do so for only 8 $ per day.
Small cars are especially popular in Budapest. At Budapest Airport you can find small cars from 50 $ per week.
Family cars are also recommended for a trip to Budapest. With a large vehicle you have enough space for your family and luggage. A family car is available at Budapest Airport from 110 $ per week.