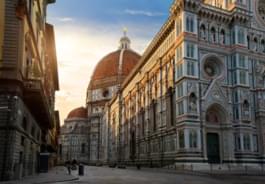 Returning your rental car at Florence Airport
Plan enough buffer time for the return of your rental car. Depending on the selected refueling regulation, you must fill up your rental car accordingly. The return of the rental car can take place just as the acceptance quite simply outside the opening hours of your chosen car rental. In contrast to the acceptance outside the opening hours no surcharge is necessary. If you return your rental car during opening hours, the friendly service employee will check any damage to the rental car. Should you return the rental car in the same condition, you will either receive the deposit back directly or the amount will be released to your credit card.
Returning a rental car outside opening hours is just as easy. Park your rental car according to the instructions of the respective car rental company. Place the vehicle keys in the compartment provided. A service employee will check your rental car for any damage and release the observed amount on your credit card.
We recommend that you take a short video to record your rental car before and after you return it. Since on both videos date and time are noted, you are in any case on the safe side concerning your deposit.