Car rental Faroe Islands: Paradise for all nature lovers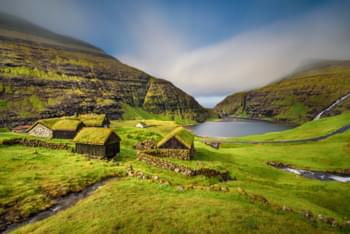 Discover the landscape of the Faroe Islands
Book a rental car and discover the breathtaking nature of the Faroe Islands on your own! The Faeroe Islands are a group of 18 volcanic rock islands located in the North Atlantic between Norway and Iceland. By rental car you can reach the different islands of the Faroe Islands via bridges, ferries and dam roads. You can find the right rental car for your trip to the archipelago on Driveboo.com. The portal will help you compare offers of car rental companies and book your rental car at the best price. Pick up the car of your choice comfortably after your arrival in the Faroe Islands either in Sørvágur or at Vágar Airport. What are you waiting for? Look forward to an unforgettable trip to the Faroe Islands by rental car.
Which car rental models are available in the Faroe Islands?
On our portal you can select your desired vehicle including additional options. So the rental car is tailored to your individual needs. You can choose from these vehicle models:
If you take out fully comprehensive insurance without excess, you will always travel stress-free during your holiday. Even in the event of damage, you will not incur any further costs.
Discover the highlights of the Faroe Islands
Park your rental car and discover the capital of the Faroe Islands, Tórshavn, on foot. Stroll through the many narrow streets of the old town and immerse yourself in the lively and exuberant atmosphere of the cultural scene.

Panoramic view of Tórshavn, Faroe Islands
Slættaratindur is the highest mountain of the Faroe Islands and means "flat summit". Leave your rental car and set off for an unforgettable hike. The mountain lies in the north of the second largest island of the Faroe Islands, on Eysturoy. From the summit you can see all 18 islands of the Faroe Islands on a clear day. This view is guaranteed to leave you speechless.
You can also drive to these Faroese attractions by rental car:
Mykines
Sørvágsvatn
Nólsoy
Koltur
Tindhólmur
Lítla Dímun