Compare and book a cheap rental car at Chios Airport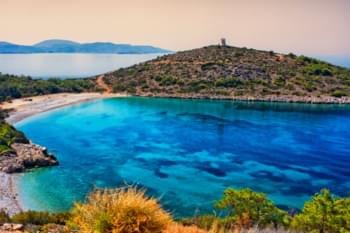 Exploring Chios
Vacations in Chios, Greece, are always popular, especially with your own rental car. The warm temperatures and gorgeous islands make the country a popular year-round vacation destination. The most famous islands of Greece are Crete, Zakynthos, Kos, Corfu and Santorini. An insider tip among the Greek islands is Chios. This island is particularly easy to reach through the airport of Chios. It is best to book a rental car in order to travel flexibly and independently from the moment of arrival. Drive from the airport to the most beautiful beaches of the island. Enjoy the delicious Greek cuisine in a particularly authentic ambience. Be smart and compare the best deals on rental cars on our portal. You will find the cheapest rental cars quickly and easily from home. We cooperate with all car rental companies located at the airport to guarantee you a particularly wide range.
Discover new things in autumn on Chios
The Greek island of Chios is still relatively unexplored compared to other Greek dream destinations. So let's go to Chios in autumn and explore the island on your own. Look forward to secrets, surprises and hidden treasures during your autumn vacation on Chios. The island enchants with its authentic charm and lets you immerse yourself in its nature and history. If you travel with your own rental car during your autumn vacation on Chios, you are always flexible and independent of public transport. Look forward to pleasant temperatures that invite you to varied excursions. This is Chios in autumn.
Explore the dream island of Chios flexibly with a rental car
Chios is one of the most original islands of Greece. The fifth largest island of the country still enjoys the status of insider tip. Far away from mass tourism you will find dream beaches, traditional villages and a wild landscape. The island is best explored independently and flexibly with a rental car. Since offers on islands are usually rare, we recommend you to book it before arrival. This will guarantee you an exciting exploration of this treasure of Greece.
With the rental car to the most beautiful beaches of the island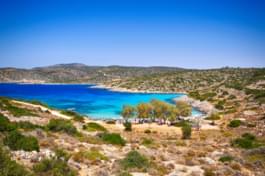 With the rental car to Agia Dynami Beach
Like all Greek islands Chios offers beautiful beaches. These can be reached best with a rental car. The geographical location of Greece offers warm temperatures all year round so you can look forward to many dream beaches. Cheap accommodations and rental cars can be found quickly.
We are happy to give you an overview of the top 3 beaches on the island:
BY RENTAL CAR TO AGIA DYNAMI BEACH
Crystal clear water awaits you at Agia Dynami Beach. This dreamlike bay can be easily reached by rental car. The natural beach offers shaded areas for a small extra charge. The southern beach is located at the mastic village Olimpi. Here the authentic Greek cuisine awaits you. Let yourself be spoiled by traditional dishes at reasonable prices.
BY RENTAL CAR TO MAVRA VOLIA BEACH
Mavra Volia Beach should also be on your bucket list. This beach is special in many ways! The black volcanic rock is more reminiscent of the gorgeous Canary Islands. The water is crystal clear, as it is on the whole island. Cool drinks are sold right on the beach.
BY RENTAL CAR TO TRACHILI BEACH
If you always wanted to experience a lonely dream beach, you should go to Trachili Beach. The azure blue water completes the dreamlike scenery. From the beach you can enjoy a breathtaking view of the offshore island.
Drive to the UNESCO World Heritage Site with a rental car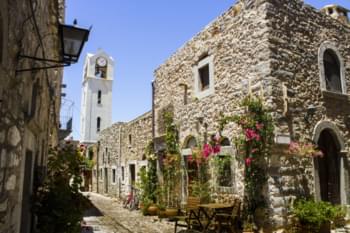 Villages on Chios: UNESCO World Heritage Site
The town's mastic villages are particularly fascinating away from the beaches. The architecture of the villages has been awarded the UNESCO World Heritage Site. The villages bear the name because of the high production of mastic. Mastic is a resin that is said to have many health benefits. Probably the most beautiful village on Chios is Mesta. Here you should definitely go to the Taxiarchis church. This is secretly the landmark of the island of Chios. Not far from Mesta is Olimpi. Here you will find the Agia Dynami Beach mentioned above. The village itself is worth a visit because of its beautiful murals. Not far from the village there is a stalactite cave Olimpis Cave.
All sights of Chios at a glance:
Nea Moni
Chios Mastic Museum
Paralia Vroulidia
Castle of Chios
Daskaloperta
Everything you need to know about your rental car on Chios
Which driving license do I need for Greece? A driving license issued in the EU entitles you equally as an international driving license. Booking a cheap rental car is easier than you think. Through our portal you will quickly find the right companion for your dream vacation. Compare directly available rental cars at the best prices. Beside the price, still further factors decide on the quality of the offer. With pleasure we help you to clarify all your questions around a rented car.
Generally we recommend you always to decide for the fair tank regulation (full/full). With this you pick up your rental car with a full tank and return it in the same way. Besides saving money, you can start your exciting trip directly. In addition, the performance all kilometers free always makes sense. This allows you to make a round trip around the whole island without hesitation. If you are traveling in company, you should consider an additional driver. Through this service, your passenger will be entitled to drive the rental car. He or she thereby enjoys full insurance coverage just like you. The registration takes place quite relaxed on the spot by depositing the personal data.
THE RIGHT INSURANCE FOR YOUR RENTAL CAR ON CHIOS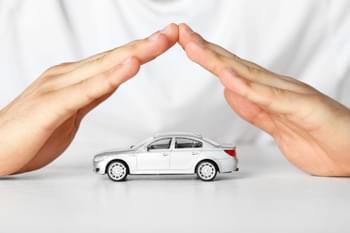 Safely on the road on Chios with fully comprehensive insurance
Which insurance do I need for a rental car in Greece? In Greece you need the same as in Germany the legal liability. This is already included in all offers on Driveboo.com. It is best to choose this insurance with a high coverage. Even better you drive with a comprehensive insurance. Ideally, you should choose one with no deductible. Fortunately, fully comprehensive insurance is already included in the base price of a large number of offers. Optional insurances can easily be added on our portal.