Car rental Catania Airport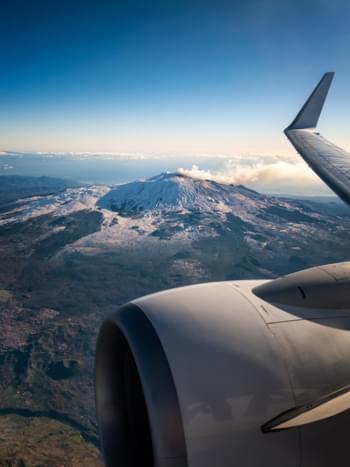 Flight to Catania, Sicily
The city of Catania, located in Sicily, is one of the ten largest metropolises in the vacation destination Italy and can be optimally explored with a rental car. Nearly 300,000 inhabitants live in the Sicilian metropolis and enjoy a unique scenery, which is characterized by the volcano Etna on the one hand and the azure blue Ionian Sea on the other. In addition to visiting numerous sights such as the cathedral or the Massimo Bellini Theatre, a visit to Playa di Catania, Sicily's longest sandy beach, is also worthwhile. Coming from Germany you can reach Catania comfortably and quickly by plane and land at Fontanarossa Airport. The airport is located in the south of Catania and is about seven kilometers away from the city center. You will arrive at an airport which was completely modernized in 2007 and you will reach the Sicilian metropolis ideally by rental car via the excellently developed freeways A 18 or A 19. Below you will find information about car rental at the airport and how to rent a suitable car at a reasonable price.
With a rental car through autumn in Catania
Nature and hiking lovers beware: in autumn unforgettable colours, smells and other sensory experiences await you in Catania. In the autumnal months of September, October and November, the forests of Etna take on the most breath-taking colours. Put on your hiking boots, pack your camera and off you go on your autumn trip to Etna in Catania. Look forward to the colourful spectacle of the autumn colours red, orange, yellow and brown and dance with the leaves in the wind. Catania in autumn will definitely not disappoint you. In addition, during the autumn months there are plenty of parties and celebrations in and around Catania waiting for their visitors. In Catania, every harvest has its own festival, whether it is a wine, grape, mushroom or chestnut festival. If you are travelling in Sicily in autumn with a rental car, you should definitely make an excursion to a wine tasting. Drive in your rental car to the mountain villages and taste wine, honey, fruit and seasonal sweets. But careful: don't drink and drive! In autumn in Catania, everyone is guaranteed to get their money's worth.
The car rental of your choice at Catania Airport (CAT)
If you have decided to rent a car at a reasonable price and have chosen Hertz car rental, you will find their office in the arrivals hall a few steps away from the baggage carousel. If you are registered with another car rental company, you will have to look for the appropriate counter in either the old or new building of the car rental company. Don't worry, Catania Airport is very easy to navigate, and even in the worst case, it is only a few minutes' walk to your car rental company and its pick-up station.
Rent a car at low cost and discover all of Sicily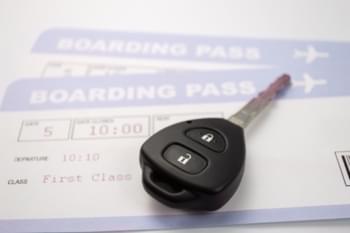 Pick up your rental car
As soon as you have found your car rental or car pick-up location, your Sicily vacation really starts. Don't forget to inspect the rented car thoroughly as well as clarify fundamental things with the car rental company. In the main season rented cars can be substantially more expensive than at other seasons. If, on the other hand, you rent the car in time, you will be able to drive cheaply at any time of the year. If you decide spontaneously, you will either not find a suitable car for rental or you will have to make do with a comparatively expensive compromise.
You should clarify the following details with the car rental company at Catania Airport:
As a young driver, your rental car may become more expensive due to additional fees charged by the car rental company.
Please ask for availability and price in time if you need accessories.
Sicily is a wonderful island with many interesting places. If you want to explore them, you should choose a rental car without mileage limit in advance.
Make sure that the car rental company only blocks the due car rental deposit on the credit card and releases it when you return the car. With some providers, the amount is collected and after the return of the car, the money is transferred back in a time-consuming process.
Regardless of how cheap you can rent a car, it should be optimally insured. Ideally you should choose a rental car with fully comprehensive insurance without excess and opt for additional insurance that covers glass or tire damage.
Also or especially, if you can rent a car at a very reasonable price, you should check the brakes, brake lights, the lighting system and the seat belts for proper functioning when you take over the car at the pick-up station. If the test is negative, insist on a replacement car in your own interest.
Other criteria to consider when you are on vacation in Sicily with a rental car
In Italy, traffic regulations are largely similar to those in Germany, but infringements are often punished at a much higher cost than in Germany. In order that your budget is not diminished by fines and the car you have rented remains cheap, you should internalize the following information and ask for further details at the car rental company:
The speed limits:
In Italy, high penalties are imposed for exceeding the blood alcohol limit (0.5), for violating the obligation to wear seat belts (also for dogs) and for overtaking at level crossings.
In Catania, as in the rest of the country, free parking is marked with white curbs. All other curbstone colors indicate that parking is prohibited or subject to fees.
Furthermore, in Italy, outside built-up areas, you must drive with your headlights on during the day, must not pass school buses that stop and should give way to vehicles entering a traffic circle.
Discover Sicily and Catania with a rental car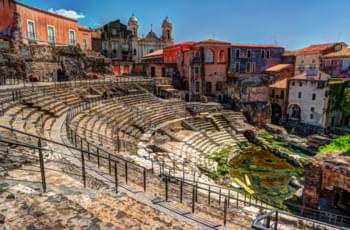 Ancient Theater in Catania, Sicily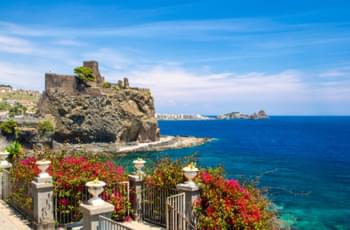 Bay in Catania, Sicily
After spending the night in the city and exploring the most interesting places and buildings, it's time for a trip into the surrounding area. Remember, renting a car cheaply means choosing a rental car with no mileage limit. And with it you can search the 30 kilometers long sandy beach for an appealingly quiet place.
Alternatively, you can take the A18 motorway leading to Taormina and leave the Autostrada at the constantly active volcano Etna for a hiking tour in breathtaking scenery. Exploring Sicily by rental car opens up countless possibilities that we cannot list here. Therefore, please get information in time before your vacation in Italy. You can find out which car rental company offers you a cheap rental car at Catania Airport on our comparison portal.