Rent a car and discover Aarau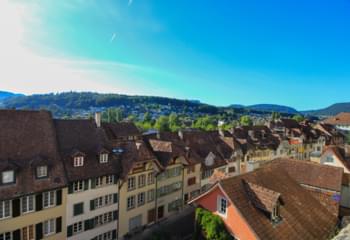 View over Aarau
The city of Aarau lies in the canton of Aargau and is a popular holiday destination for many travellers by rental car. Aarau is close to Baden in Switzerland. The historic city has a lot to offer its visitors and with about 20,000 inhabitants is just waiting to be discovered. In the price comparison on Driveboo.com you can already compare the offers of the local car rental companies before your arrival in Aarau and rent a cheap rental car that suits your plans. Discover Aarau and the surrounding area flexibly with a rental car.
Car rental Aarau: which vehicle categories are there?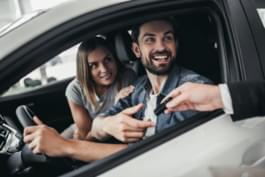 The perfect rental car for your holiday
If you want to rent a car in Aarau, you can choose between different vehicle types. You can choose a small car or a comfortable middle class for a short trip, for example. If you are travelling with your family, a 7- or 9-seater or a minivan might be interesting for you. Thanks to the filters in the price comparison on Driveboo.com, you can select the vehicle type you would like to rent directly in the search preferences. This will help you find the ideal rental car for your visit to Aarau quickly and easily.
Attention: Always keep to the maximum speed in Switzerland. The penalties for exceeding the speed limit are extremely high!
Explore the sights of Aarau by rental car
If you are in Aarau, there are some places of interest which you can reach quickly and easily by rental car and which you should not miss. These are some of the highlights:
Aarau City Museum
Naturama
Roggenhausen Game Park
Aargau Art Museum
Excursions with the rental car from Aarau
From Aarau you can also quickly reach other large cities in Switzerland by rental car. What do you think of Basel, Zurich or Bern, for example?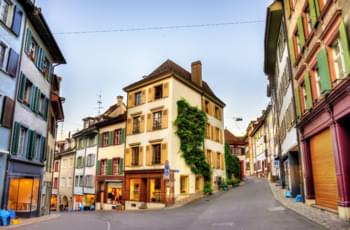 Discovering Basel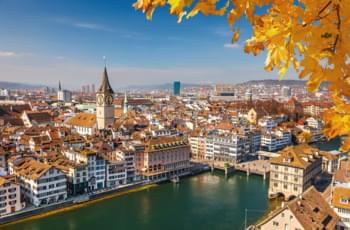 View of Zurich city centre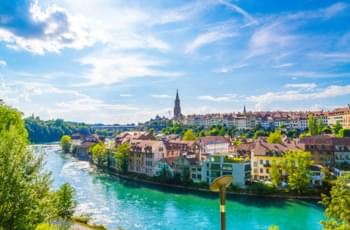 View over Bern
Basel
The journey by rental car to Basel only takes about an hour. Basel is full of sights that you can reach either on foot or by rental car. Stroll through the old town, visit the zoo, take the ferry across the Rhine or walk to the border triangle. You can end the evening in the Bar Rouge - Switzerland's highest bar, located on the top floor of the Messeturm.
Zurich
Zurich is a global centre of banking and finance that you should definitely visit. Park your rental car and stroll through the picturesque streets of the old town. Zurich also has a large number of shops for shopping enthusiasts. You should also not miss an ice cream at Lake Zurich.
Bern
Bern is the capital of Switzerland and lies on a loop of the Aare. Visit the Zeitglockenturm, the Bundeshaus and the BärenPark. In Bern there is something to discover at every corner. So boredom is guaranteed to be a thing of the past.
Is it worth visiting Konstanz with a rental car?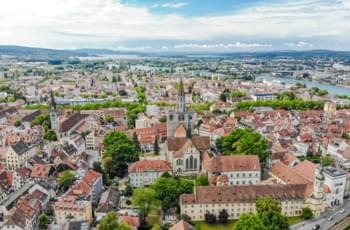 View over Konstanz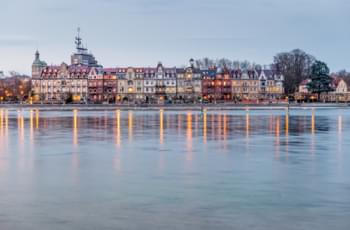 Promenade in Konstanz
Not far from Aarau lies Konstanz on the beautiful Lake Constance. A city that you should definitely visit. Park your rental car and set off on foot. Stroll through the old town, go shopping and then sit down on the shores of Lake Constance. If you like it more sporty, you can also rent a canoe or stand-up paddleboard. Or rent a bicycle and go to the island Reichenau or to the flower island Mainau. You can also visit the cathedral. From the platform you have a wonderful view over Konstanz. You shouldn't miss this.