Your rental car at Zakynthos International Airport ZTH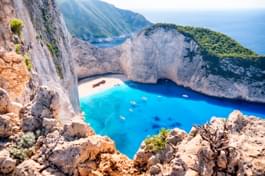 Famous Navagio Beach on Zakynthos
Vacationing in Greece should be on the program for this year! Explore the beautiful island of Zakynthos on your own. Book your rental car directly at Zakynthos International Airport (ZTH). On Driveboo.com you will find your suitable rental car. Start your Greece trip individually according to your wishes. The famous Navagio Beach is world famous. Get more out of your trip with a rental car. Through the favorable price comparison of Driveboo.com you'll save a lot of money. Be smart and book risk-free from home. Should something come up, you are still flexible and secured.
You will find the following car rental companies in the public area of the arrivals hall:
Avis
Budget
Hertz
Thrifty
Water sports in autumn on Zakynthos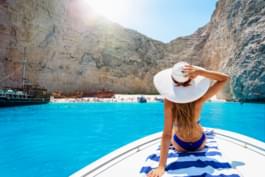 Boat tour on Zakynthos
If you want to extend the warm months a little longer, spend the autumn in Zakynthos. In the autumn months there is not so much going on on the Greek island, so you can relax and pursue your passion in the water. Go diving or snorkeling and discover water turtles. Alternatively, you could take a spin in a kayak and enjoy the scenery from the water. Since it is still pleasantly warm on Zakynthos in autumn, you can once again soak up the sun and energy. You can spend the autumn evenings comfortably in one of the taverns and try Greek delicacies.
Driving off with a rental car at Zakynthos Airport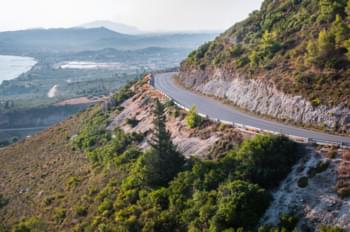 Driving on the roads of Zakynthos
Where is the airport located in Zakynthos? Zakynthos airport is located 5 km from Zakynthos town and is easily accessible. Follow the Zakynthos-Keriou highway and the Stravopodi road. The drive to and from the city center takes about 15 minutes. Laganas is 6.8 km from the airport and the drive from the airport is about 10 minutes. You will enjoy the well-maintained roads of Zakynthos. With an additional driver your trip will be even more relaxed. With many rentals these are already included in the price. Read through the rental conditions before booking.
Cab to and from Zakynthos Airport
Metered cabs are available around the clock outside the airport terminal. The ride from the airport to Zakhynthos town center takes about 10 to 15 minutes and usually costs 10€. With a rental car you save the cab ride. Start directly into your well-deserved vacation. Stow your luggage easily and safely in the trunk. Be smart and enjoy your vacation individually.
Shopping and eating in Zakynthos Airport
Boutique light BLUE: Stylish fashion accessories, tasteful bags and sunglasses, colorful scarves, unique jewelry collections made of real silver, copper, steel and semi-precious stones, exquisite fabrics such as wool, cotton and silk, leather goods and beautiful souvenirs.
Hellenic Duty Free Shops: In a cozy, friendly and inviting environment for shopping, you will find a wide selection of all well-known perfumes & cosmetics brands, tobacco products, spirits, confectionery, Greek gourmet specialties, toys, electronics, watches and accessories as well as the collections of famous brands such as Victoria's Secret, Boss, Emporio Armani & Armani Jeans, Folli Follie, Links of London, Swarovski, Swatch, Juicy Couture, Salvatore Ferragamo, Michael Kors, Polo Ralph Lauren and many more at amazingly low prices.
Aircanteen (in the closed departure area, first floor) restaurant with a modern snack & coffee selection with pies, sandwiches, pizzas, salads and desserts in tastefully inspired combinations and of course a wide selection of specialty coffees full of flavor and rich aroma.
At Mi Cafetal (in the enclosed departure area, mezzanine), your day begins with an excellent, flavorful aromatic coffee. You can also enjoy hot or cold espresso and cappuccino made from selected varieties of 100% Arabica beans. For a quick snack, choose from a variety of sandwiches prepared daily with fresh Greek produce, or choose from traditional Greek cakes, croissants, cookies, muffins and pizza.
Ritazza (public departure area) serves an extensive assortment of coffee.
Welcome to the island of Zakynthos
Explore Zakynthos individually
Zakynthos stands for more than beach vacations. Zakynthos is called "Fior di Levante", flower of the east. Already the Venetians, who ruled here for three centuries, recognized the scenic beauty of the island.
Zakynthos looks particularly green to visitors. Wide plains as well as gentle hills and mountains invite to hiking. The vegetation is dense. In many places you can find olive groves and pretty vineyards. The idyllic picture is rounded off by picturesque mountain villages.
The north of Zákynthos is particularly quiet. Here you will find tourists who are looking for silence and relaxation.
While on Ios and Kos you will find with party vacations. Rhodes and Crete with family vacations, the island of Zakynthos offers both. Most beaches and towns are located along the south and east coasts. The west and north coasts are very mountainous and mostly uninhabited.
The beautiful white cliffs that drop steeply into the azure sea towards Keri are a highlight. The water is wonderfully clear and it is worth renting a boat to visit these sights.
Explore Zákynthos Town by rental car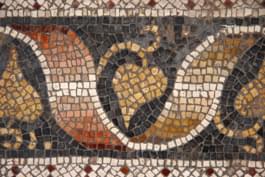 Visiting the Byzantine Museum
A visit to Zákynthos Town is a must for all vacationers. In 1953 a big earthquake hit the town. At least many art treasures could be saved. The reconstruction took place with the inclusion of historical building plans. The town was able to preserve its old face.
Today Zákynthos Town is a mixture of adapted new buildings and reconstructed architecture.
MAIN SIGHTS OF ZAKYNTHOS:
Among the most important sights of Zákynthos Town are the Monastery of Agios Dionisios, whose campanile, visible from afar, resembles the bell tower of San Marco in Venice. Also visit the Byzantine Museum. You will have a unique opportunity to follow the development of Ionian painting.
An idyllic place to watch the sunset, the city at dusk and at night, and the stars is the top of the hill in Bohali. It opens a panoramic view of the entire bay and the twinkling lights of Zakynthos town.